A Strong Case That We're Living in a Golden Age of Horror: The Best Horror of the Year: Volume Six
A Strong Case That We're Living in a Golden Age of Horror: The Best Horror of the Year: Volume Six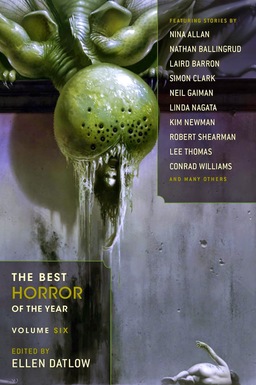 If you haven't heard, we're currently in a golden age of horror fiction, especially for short story fiction.
At least that seems to be the consensus of those "in the know." I personally don't claim to have a comprehensive grasp of the current field. But if Ellen Datlow's The Best Horror of the Year: Volume Six is any indication, I'm in strong agreement that we are indeed in a great time for short horror fiction.
If you're not familiar with Ellen Datlow's editorial work, where have you been? Datlow has a long list of science fiction and fantasy anthologies in her resume. But in recent years, her name is often most associated with some of the best horror anthologies around, such as Lovecraft Unbound and Supernatural Noir.
In addition, Datlow has been publishing The Best Horror of the Year series through Night Shade Books for a few years now. This year marks volume six, and I think this is probably the best one yet. This is a really terrific anthology that makes a strong case that we are definitely living in a golden horror age.
I say this alongside a clear confession of my own personal horror bias. I don't really consider myself a die-hard horror kind of guy. I'm a huge fan of H. P. Lovecraft, T. E. D. Klein, and Laird Barron. I love that flavor of horror — the sort of "cosmic horror" that doesn't leave you depressed, but rather hungry for more. I'm not really into splatter-punk, ghost stories, psychological horror, slasher stories, or whatever.
But even though there is a plurality of horror styles in The Best Horror of the Year: Volume Six, I find that I really love the overwhelming majority of the stories. There are just some excellent writers here who have really mastered the craft of short story horror. Let me highlight a few, and give you a sense of the different kinds of stories within.
I recently reviewed Nathan Ballingrud's collection. One story from that book, "The Good Husband," appears here. It's about a husband who is slowly losing his marriage, while his wife has recently become a zombie. As I've said before, describing one of Ballingrud's stories makes them sound goofy. But, like his others, this is terrifying tale in the context of a husband desperately and dismally attempting to mend his marriage.
Since I'm a big fan of Laird Barron, you probably cannot trust my unbridled enthusiasm for his "Jaws of Saturn." But, in my opinion, it is another truly scary story of the kind Barron is so good at. It tells the tale of a mobster thug whose girlfriend has been going to some sort of quack for therapy. Unfortunately, the therapist turns out to be truly terrible — in more than just the counseling sense.
"Call Out" by Steve Toase concerns a veterinarian who is goes to a farm on a call, but is then locked in a barn with a hideous creature recently — and tragically — born to a herd animal. It seems that the farmer hopes to "sacrifice" the vet to this creature in order to appease it. This is a high-tension story. You really feel the terror of the trapped veterinarian.
For most of Lee Thomas's "Fine in the Fire," you expect something far weirder than what actually comes about. The story is about a guy whose older brother had some sort of episode that brought about some weird actions in the family. But the real horror is just straightforward ignorance and fear. Nevertheless, I did not feel let down by the denouement.
"Halfway Home" by Linda Nagata takes place on a doomed airline flight. An excellent story whose beginning is heightened with tension and the expectation of doom. I didn't really care for the end, which "resolves" in a sort of heroic, though unexpected, fashion. Interestingly, I didn't feel that it ruined the story.
"The Anatomist's Mnemonic" by Priya Sharma has a sort of Silence of the Lambs vibe and was without doubt the most disgusting of the stories contained here. Not usually my cup of tea, but I was hooked to the very end.
There are a few somewhat conventional ghost tales, like "The Fox" by Conrad Williams and "Majorlena" by Jane Jakeman. But they are unconventional in setting and character situation. Both also gave unexpected endings. There is also a very good haunted house story by Lynda E. Rucker called "The House on Cobb Street," which contains some time shifting perspectives that always amaze me when authors pull them off without confusing the reader.
Datlow always includes a fairly lengthy section at the beginning of these best horror volumes that is a summation of the horror field for the past year. This information is incredibly helpful since it gives a whole heap of information concerning horror publications and websites that many of us are probably unfamiliar with. I think this section also serves as a sort of barometer of the horror field, which right now seems to indicate sunny weather for quite awhile!
If you enjoy well-written horror stories, I highly recommend this new volume.
The Best Horror of the Year: Volume Six was published by Night Shade Books on June 3, 2014. It is 397 pages. It retails for $15.99 for the paperback and $9.99 for the digital edition.