Werewolves, Vampires, Zombies, Serial Killers, and the Horror of Mundane Lives: Nathan Ballingrud's North American Lake Monsters
Werewolves, Vampires, Zombies, Serial Killers, and the Horror of Mundane Lives: Nathan Ballingrud's North American Lake Monsters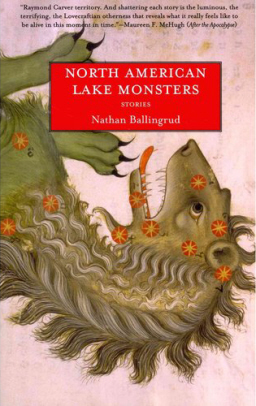 Nathan Ballingrud's short stories have been making the rounds for a while, with some of the most prestigious names in contemporary weird fiction and horror sounding his praises. Jeff VanderMeer calls Ballingrud "One of my favorite short fiction writers" and Laird Barron claims that Ballingrud's debut horror collection "deserves a place of honor in the canon of the dark fantastic." Thus I've had my eye on Ballingrud's collection, North American Lake Monsters, since last summer when it first came out. I recently got my hands on it and it was definitely worth the wait.
Ballingrud's fiction is an amalgamation of some of the best elements of current dark fiction. The stories of North American Lake Monsters are poetic and literary (think Kelly Link or Caitlin Kiernan), forbidding and nihilistic (think John Langan), very real and raw (think Nic Pizzolatto), while also scaring the bejesus out of you (think Laird Barron).
I'm not a big fan of some of the dark and weird fiction coming out nowadays. Though much of it takes its trajectory from cosmic horror, which I love, set by late nineteenth and early twentieth century writers like Robert W. Chambers, Ambrose Bierce, Algernon Blackwood, and most singularly that of H. P. Lovecraft, the stories of many current masters, such as Thomas Ligotti, tend to leave me more depressed than horrified. (Not necessarily a criticism, more of a personal bias.)
Though Ballingrud's stories are similarly dark and depressing in many ways, his characterizations, his use of horror tropes, and his building of suspense are so good that I usually end one of his stories with more of a horrified thrill than just simple heavy-heartedness.
This being the case, it will surprise many that Ballingrud makes use of some fairly old-school horror and fantasy tropes: werewolves, vampires, zombies, serial killers, monsters, angels, etc. But such items are usually merely dressing for the real terrors — the horror of people's mundane or tortured lives. It is a deadly but infectious concoction that Ballingrud mixes up, making you want to come back for more and more. Here are a few examples from North American Lake Monsters.
When you boil it all down, "Wild Acre" is mainly about a construction contractor whose business and marriage is slowly going toward dissolution. But said dissolution is inextricably tied to werewolf attacks. That last sentence may sound goofy. But believe me, this is an intriguing and utterly terrifying tale. Ballingrud really knows how to draw the reader in. You really get to know this guy and understand why he makes the (poor) decisions that he does. But when the horror comes, it really nails you.
It's somewhat easy to compare "The Crevasse" with H. P. Lovecraft's novella At the Mountains of Madness, or with John Carpenter's movie The Thing. The story is about a group of Antarctic explorers (scientists?) who run into an accident. Setting up camp, they encounter some creepy things from a big hole in the ground. I found the description of animal deaths in this story to be more horrendous than anything.
"Sunbleached" was my absolute favorite Ballingrud story. It centers upon Joshua, a young boy, who discovers a badly injured vampire (due to over-exposure to sunlight) living under the crawlspace of his house. The boy agrees to help the vampire recover in exchange for being made a vampire himself. The scenes between these two are fairly frightening.
"Invite me in," it said.

"Later," John said. "Not yet. After you finish changing me."

The vampire coughed; it sounded like a snapping bone. Something wet hit the ground. "Well come here then, boy." It moved again, this time closer to the amber light. Its face emerged from the shadows like something rising from deep water. It hunched on its hands and knees, swinging its head like a dog trying to catch a scent. Its face had been burnt off. Thin, parchment-strips of skin hung from blackened sinew and muscle. Its eyes were dark, hollow caves. Even in this wretched state, though, it seemed weirdly graceful. A dancer pretending to be a spider.
This is a touchy game since Joshua has a family that he still cares for in the above house and doesn't want the vampire to kill them. At another time, we see the following play out:
"Wait!" the vampire said. "I need to feed first."

Joshua decided to ignore it. He was already crawling out, and he didn't have the energy to turn around.

"BOY!"

He froze, and looked behind him. The vampire lunged forward, and its head passed into a sunbeam. The flesh hissed, emitting a thin coil of smoke. A candle flame flared around it, and the stench of ruined flesh rolled over him in a wave, as though a bag of rancid meat had been torn open.

The vampire pulled back, the blind sockets of his eyes seemed to float in the dim white bone. "Don't play with me, boy."
The utter indifference and cold attitude that Joshua displays throughout is sometimes more chilling than the scenes with the vampire. Though Joshua eventually gets his wish, he learns that there is a much higher price to pay than he had thought.
North American Lake Monsters was published by the modest yet well acclaimed Small Beer Press in 2013. It's only 205 pages, priced at $24 hardback, $16 paperback and $8.99 for the digital edition. It is an addictive page-turner, leaving you more than a little disquieted. I highly recommend it.