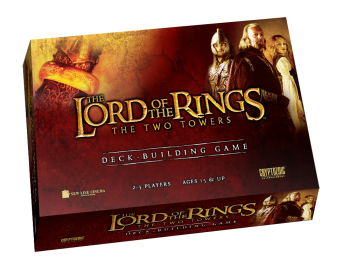 I wasn't sure what to expect upon opening The Lord of the Rings: The Two Towers Deck Building Game (Amazon) from Cryptozoic. I was familiar with the basic concept of deck building games and had played both Ascension and Marvel Legendary, but the only deck building game I actually owned was the science fiction game Eminent Domain. Fortunately, LOTR: The Two Towers contains some engaging variations on basic deck-building strategy, resulting in a fun competitive game that is sure to entertain fans of the series for endless variations of play, especially when combined with other deck-building games in the series.
If you've never played one, here's the basic mechanic behind deck-building games: Each player begins with a small default deck of cards (10 starting out in all of the above games) and goes through rounds in which they play cards from their hands to buy more cards into their discard pile. When they run through all their cards, the player shuffles it back into the deck. Many of the cards have a secondary ability, such as letting the player draw more cards out of the deck, take cards from the discard pile, or eliminate useless cards from their hand or discard pile. The goal is to gain effective cards and streamline your deck to get as many effective cards into your hand as quickly as possible.
The first thing that makes The Lord of the Rings: The Two Towers stand out is that each player gets to assume the role of one of the characters from the film: Samwise, Frodo, Legolas, Aragorn, Merry & Pippin, Gimli, or King Theoden. By drawing from a selection of oversized Hero cards, the player randomly determine which character they are (or you can just choose). Each different character gets a unique card that goes into their starting deck. For example, Frodo's card (called "It's Getting Heavier") allows him to gain control of The One Ring card while Samwise's card ("There's Some Good in This World") protects from possible negative results from cards and allows you to draw another card.
---