New Treasures: Hooded Man by Paul Kane
New Treasures: Hooded Man by Paul Kane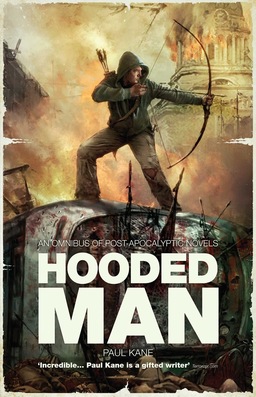 There are lots of retellings of Dracula out there (just in the last two weeks William Patrick Maynard covered of Marvel's Dracula, Lord of the Undead, James Maliszewski examined Bela Lugosi's turn as Count Dracula in the 1931 Universal film, and John R. Fultz looked at NBC's new series Dracula.) Same with Sherlock Holmes (see the trailer for Season Three of BBC One's adaptation here), and the Tales of King Arthur and his noble knights (examples from the past two weeks here and here).
Hell, they recently retold Carrie and John Carpenter's Halloween, and those stories are barely 30 years old.
For my money, the legend that doesn't get re-told enough is the tale of Robin Hood. I can think of only a handful of really fine versions in the last 30 years, including Parke Godwin's novel Sherwood, Richard Carpenter TV series Robin of Sherwood, and Robin McKinley's novel The Outlaws of Sherwood. So I was pleased to see a new omnibus collecting all three novels of Paul Kane's post apocalyptic retelling, Hooded Man.
When nine-tenths of the world died horrifically, Robert Stokes lost everything, including his wife and his son. The world about him gradually descended into a second Dark Age, and the former policeman retreated into the woods near Nottingham, becoming a hunter, living off the land and avoiding any form of human contact… until now.

A new foreign despot, De Falaise, has looked on England and found it ripe for conquest. He leads an army of mercenaries through the Channel Tunnel and works his way up the country, pillaging as he goes. When De Falaise arrives at Nottingham and sets up his new dominion, Robert finds himself drawn reluctantly into the resistance, and assumes the mantle of the famous legend of Robin Hood, in a guerrilla war that will take him and his followers to the limits of endurance and beyond.
This volumes collects the novels Arrowhead, Broken Arrow, and Arrowland. Paul Kane's other novels include Of Darkness and Light and The Gemini Factor. His short story collection, The Butterfly Man, was released in 2011 by PS Publishing. Although it's standalone, Hooded Man is part of The Afterblight Chronicles series, which also includes School's Out Forever by Scott K. Andrews and The Afterblight Chronciles: America by Simon Spurrier, Rebecca Levene and Al Ewing.
Hooded Man was published June 11, 2013 by Abaddon. It is 704 pages, priced at $12.99 in trade paperback and $9.99 for the digital version.