DRACULA Has Risen From the Grave…Again
DRACULA Has Risen From the Grave…Again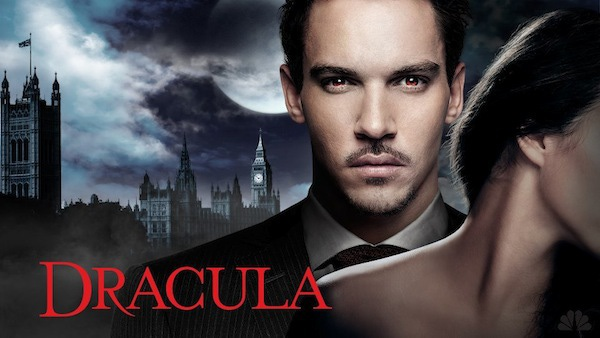 The Original Vampire is back. No, I'm not talking about Christopher Lee in the 1968 classic Dracula Has Risen from the Grave. This time, Vlad Tepes Dracula has risen in a most unexpected and delightful place. Television.
Last Friday, just in time for Halloween, NBC aired the pilot of its new limited series Dracula, starring the great Jonathan Rhys Meyers. The show is a "re-imagining" of the original Bram Stoker novel and is supervised by show runner/head writer Daniel Knauf (HBO's Carnevale). Currently, it is set to run as 10 episodes seeped in blood, romance, and horror, driven by the vampiric charisma of Ryhs Meyers. He stole the show in the BBC's legendary Gormenghast mini-series, but is perhaps best known for his award-winning role as Henry VIII on Showtime's The Tudors.
So, is this new incarnation of Dracula any good? The pilot episode is immediately engaging, with its crypt-raiding, blood-soaked resurrection, its turn-of-the-century London, and its decadent world of aristocracy and privilege. The classic story of DRACULA is entirely familiar, so the producers/writers have gone out of their way to put interesting twists in the story and freshen up the legend. New blood indeed.
In the first of several clever twists, Dracula isn't really the villain in this story. Perhaps it's a sign of the times–our modern culture tends to worship the outlaw, venerate the villain, and glorify the gangster. TV has been moving this way ever since The Sopranos changed television with its shades-of-grey morality and fascinating criminal protagonists. So the trick here is to make Dracula a sympathetic lead without completely stripping him of his "monster" status and thereby turning him into a "sparkly vampire" a la Twilight. Fortunately, the producers of Dracula manage to pull off this feat in a skillful manner. This Dracula is hungry for some bloody justice.
Dracula (posing as an American industrialist in London) is out to annihilate the Order of the Dragon, a secret society of elitist conquerors who have always hidden behind the Cross (i.e. Christianity). He assembles a "list" of modern-day members, accusing them of murder, rape, torture, and the wholesale slaughter of innocents. Ironic that a man remembered by history as "Vlad the Impaler" would be so against these savage practices.
Yet perhaps it was this Order of the Dragon who framed Vlad as a mass-murdering tyrant? That remains to be seen in this particular version. However, the idea of evil potentates masquerading behind Christian values is not a new concept and it rings refreshingly true. Anyone remember the horrors of the Crusades? Entire cities put to the torch by rapacious, baby-killing Templars? Diabolic slaughter in the name of the Church? No wonder Vlad hates the Cross. A sliver of flashback reveals Dracula's vendetta against Christianity–or at least the Order of the Dragon that hides behind it like a shield.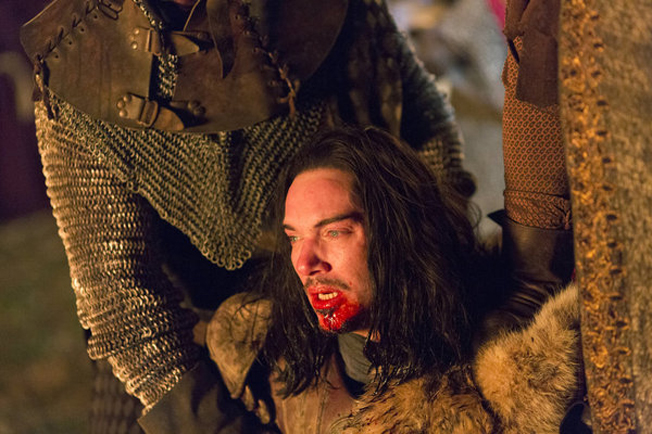 The Order slaughtered Vlad's beloved wife generations earlier–not to mention had him entombed in a crypt until a mysterious tomb-raider brought him fresh blood to stir him from death-sleep. The identity of that mysterious tomb-raider is revealed at the end of the first episode, and it's NOT who you would have expected. Another clever twist, which reveals a clandestine alliance unlike any we've seen before in the Dracula mythos.
In the pilot, we also get the "fatal attraction" of Dracula to Mina Murray (played by the lovely Jessica De Gouw). Yet in this version, Mina is no hapless debutante–she is a promising medical student under the supervision of none other than Dr. Van Helsing. Yes, THAT Van Helsing. However, it's a different vampire-hunter who faces down Dracula in a rooftop battle here: a German named Kruger, who recognizes the true identity of "Alexander Grayson" (Dracula's alias). Kruger has obvious ties to the Order of the Dragon. It appears these vampire-hunters may not be heroes at all, but merely agents of a hidden order that seeks to dominate civilization.
Also of interest is the diversity of casting here, as exemplified by an African-American Renfield, Dracula's traditional servant (played eloquently by Nonso Anozie). However, in this version, Renfield appears to be more of a confidant and consigliere than a whimpering slave. This makes him a far more believable character and provides a new view of Dracula himself. The Lord of Vampires actually has a mortal friend and co-conspirator? Now that's interesting.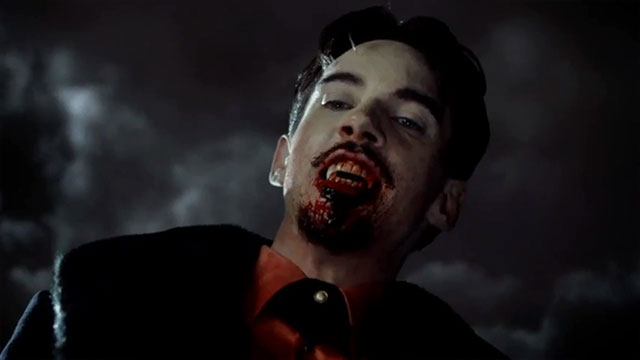 What's more, Dracula appears to be part Nikola Tesla in this incarnation, bringing a heretofore unknown source of electro-magnetic energy to London, ostensibly to find European investors, but in reality to expose and defy the Order of the Dragon, who have basically conquered the world with their petroleum interests. Yes, the bad guys Dracula is out to destroy are ruthless, conniving oilmen. How poignant. This is definitely a 21st century take on the classic 19th-century tale. Drac feeds on red blood; his enemies feed on black petroleum. A clash of monsters is in the works.
Dracula features great set designs, great costuming, and solid acting all around. Rhys Meyers is impeccable as Dracula–the only thing missing is his charming accent, as he's impersonating an American during the entire episode. However, his sheer gravitas, handsome demeanor, and vicious nature perfectly captures the young Dracula who is (literally) Hell-bent on revenge. This Drac also has a bitchin' bone-handle sword, and he knows how to use it.
I've seen some negative online reviews in passing, but these days everyone likes to tear down genre shows. It's become a sport. So allow me to stand up and say "Bravo!" to NBC for taking a chance on this slick and fascinating new version of the Dracula mythos. It's got a lot going for it and the first among them is a redefined title character brought to life by an actor who was born to play the role.
You might think a network show would shy away from blood, but there is plenty of it spilled in the Dracula pilot, and bound to be plenty more before the series is over. We're also bound to find out more about Vlad's history with the Order of the Dragon, and his immortal love for Mina Murray. Then there's that pesky Jonathan Harker snooping around, digging for a news story that will elevate his career. There's a vampire girl kept in a cage, and a sexy vampire-hunter who is destined to cross paths with Vlad sooner than later.
DRACULA is bloody good fun–a celebration of atmospheric pulp adventure.
Tune in on Friday nights and drink deep…