An American Fantasy Master: The Pulp Art of Virgil Finlay
An American Fantasy Master: The Pulp Art of Virgil Finlay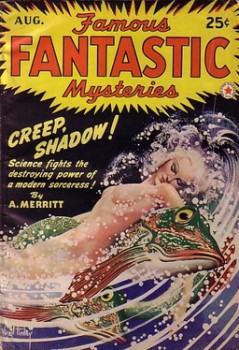 John O'Neill graciously offered me a spot in Black Gate's blogosphere. How nice of him. Silly man, now he has to put up with me.
Most of you probably don't recognize my name, but I've been in the fantasy-sf-comics business for years. I've worked at Cinefantastique magazine (and written for it), Mayfair Games, and First Comics. In 1984, I began freelancing and have worked for a number of specialty presses as designer, consultant, guru, you name it.
A few years ago, I decided I wanted more control of the work I was doing, packaged the first US edition of Creature From the Black Lagoon for DreamHaven Books, and co-edited the Worlds of Edgar Rice Burroughs with Mike Resnick for Baen Books. Go buy them both.
So what can you expect from me in the upcoming weeks and months?
Well, I'll be giving you sneak peeks on things I'm working on, writing retrospectives of great American Fantasists (writers and artists) you should know about, and giving you a lot of information on fantasy films from the silent era to now.
The last bit is because I'm working on a history of fantasy films and occasionally I run across bits that are cool, but just don't fit into the book. I'll share them here.
This time, let's start with a book I'm working on which allows me to talk about that wonderful artist Virgil Finlay.
It's a 192 page 9 x 12 art book Doug Ellis, Bob Weinberg, and I are putting together, with over 150 black and white Finlay illustrations from Doug's and Bob's personal art collections, and a 32 page color section that will include paintings from Glynn Crain's collection as well.
[Click on any of the images in this article for larger versions.]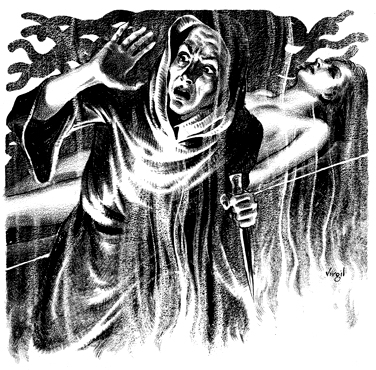 It's a project I've been wanting to do for quite some time. The deciding factor turned out to be that next year is the Centenary of Virgil Finlay's birth and the World Fantasy Convention will be having a special commemoration.
So Doug's Tattered Pages Press and my American Fantasy Press will co-publish this book to premier at the con in Baltimore next October. We're mounting a Kickstarter campaign to cover some of the costs, details of which I'll announce here soon.
So who's this Virgil Finlay guy?
In my opinion, he's the most accomplished and outstanding line artist in American Fantasy history.
From 1936-1971, he illustrated a freakish amount of pulp fiction in the field, beginning at Weird Tales, where his interior art appeared in 62 issues and he painted 19 covers, with his run only ending when the magazine did in 1954.
But he didn't stop there. For years afterward, his work appeared in almost every genre magazine: Amazing, Strange Stories, Fantastic Universe, IF, Galaxy, and more. Through A. Merritt, he got a staff job for American Weekly magazine and even worked for astrology magazines in the 50s.
He did the cover for the most sought-after H. P. Lovecraft collection from Arkham House Publishers, The Outsiders and Others, as well as their edition of Seabury Quinn's Roads. He also illustrated the hardcover edition of A. Merritt's The Ship of Ishtar (see some of his full-page interiors here, here, and here).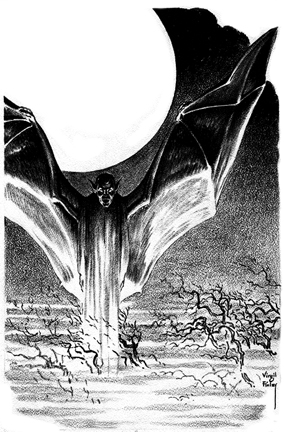 About 2,500 pieces have been cataloged. There's a fine snapshot of the breadth of his work here.
What's remarkable is that most artists in this period did everything at 1.5x size and the artwork was shrunk by the publisher. Finlay did this work "to size" with scratchboard and pen.
For our book, we'll present these interior illustrations at their original size (with only a few exceptions), so people can understand just how remarkable his work is.
As I've been scanning the art for this book, I find myself just staring at the amount of detail in each piece, and marveling at how refined each is. With only some blue-line guides as its basis, Finlay seems to have made the image appear with extremely accurate line work on the first pass.
There are other places you can see the scratchboard grooves than made his art so dramatic. Then there is his insanely accurate stippling work to marvel at.
The best online discussion of his technique, with a fuller look at his career, is found here.
Virgil Finlay is one of those artists that you need to know about. His naked women, whose modesty is only covered by balls of light or stars, will make you smile. His monsters, with their big eyes and curved talons, will disturb you.
His ability to make the most incredible image in a story painstakingly real will astound you. He is most definitely an American Fantasy master.
That's it for this time. Next up, I think I'll tackle The Wizard of Oz movie history. There's some fun stuff there I think you'll enjoy.
–Artwork courtesy of Doug Ellis–