Sword & Sorcery for the Girl Who Wants to be Conan: Gaie Sebold's Babylon Steel
Sword & Sorcery for the Girl Who Wants to be Conan: Gaie Sebold's Babylon Steel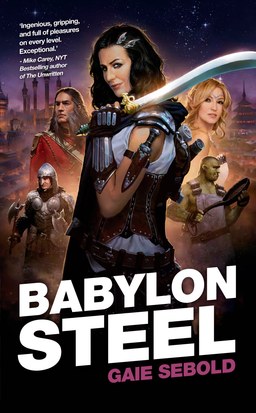 I can't keep up with all the fabulous fiction rolling off the assembly lines of the great factories of modern publishing (I can just barely stay on top of the story-a-week we publish here at Black Gate, truth be told). It's amazing… I spend all day – and most of the night – reading and writing about this genre, and still can't encompass it all. Either we live in amazing times, or being hopelessly clueless is just an intrinsic part of my nature.
Eh. Probably a little of both.
Fortunately, there are other bloggers out there to help me out. Liz Bourke's "Sleeps With Monsters" column at Tor.com helped me out this week, by pointing me to Gaie Sebold's debut fantasy novel, Babylon Steel.
Now, anyone can miss a novel or two, but I have no excuse for not being on top of this one. For one thing, Solaris has been putting out terrific fantasy recently, and obviously deserves more attention; for another, I've had my eye on Gaie Sebold ever since I bought her brilliant and funny "A Touch of Crystal" (co-written with fellow Brit Martin Owton), the tale of a shopkeeper who discovers some of the goods in her New Age shop are actually magical, for Black Gate 9. Here's Liz:
Gaie Sebold's Babylon Steel (Solaris, 2011) is a remarkably entertaining debut. It's as though someone took the best bits of Robert E. Howard and the fantasy noir city of Simon R. Green's Hawk and Fisher novels, threw in some more Cool S**t ™, and reimagined them through a lens that foregrounded female perspectives. This is sword-and-sorcery pulp wish fulfillment for the kind of girl who wanted to be Conan… And that? That makes one of the most awesome things I've read this year…

Sebold evokes mood and atmosphere — and character — very well. And the climactic BOOM LIKE THAT is an earned one.

An excellently entertaining book. Give me more like this. MORE I TELL YOU.
Babylon Steel was nominated in two categories for the Gemmell Awards: The Morningstar (best newcomer) and the Legend (best novel). It came out so long ago now that there's already a sequel (dang! I really am clueless). Dangerous Gifts appeared in January of this year.
Babylon Steel was published in December 2011 by Solaris. It is 544 pages, priced at $7.99 in paperback and $6.99 for the digital edition.