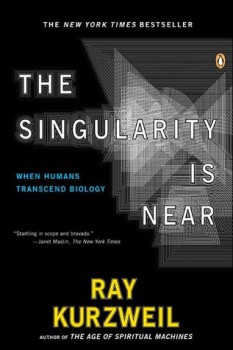 In 2045 we will reach Event Horizon, aka the Singularity. In that year we will transcend biology and our bodies will meld with machines. "There will be no distinction, post-Singularity, between human and machine or between physical and virtual reality," predicts author Ray Kurzweil in his 2005 treatise The Singularity is Near.
Though it built computer intelligence, humanity will be surpassed by its creation. Powered by artificial intelligence, machines will design their next generation without human intervention, growing exponentially beyond all human potential. These machines will not only be smart, but indistinguishable from humans. Writes Kurzweil: "Within several decades information-based technologies will encompass all human knowledge and proficiency, ultimately including the pattern-recognition powers, problem-solving skills, and emotional and moral intelligence of the human brain itself."
Kurzweil's predictions of the Singularity are optimistic: Rather than being reduced to ineffectual dinosaurs headed for slow extinction, or wiped out in some Terminator-like rise of the machines, we will merge with technology, and our bodies will no longer be subject to disease and weakness and age. "We can expect that the full realization of the biotechnology and nanotechnology revolutions will enable us to eliminate virtually all medical causes of death," writes Kurzweil.
So 33 years until immortality. But what sort of a life will we lead in this Brave New World of man-machine perfection?
---