LORE Returns from the Grave
LORE Returns from the Grave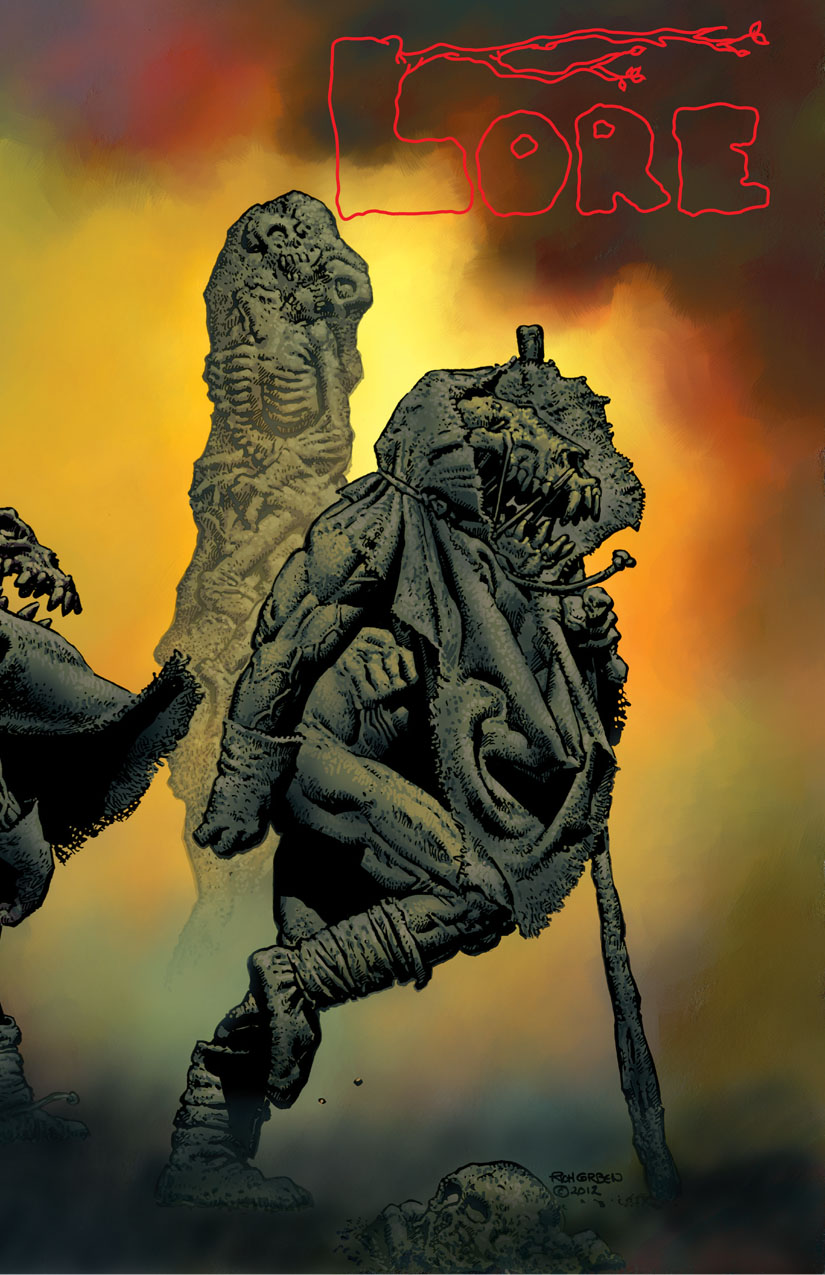 LORE is back!
You can't keep a good mag down. [Insert your own zombie joke here] Back in the 90s LORE was one of the coolest independently-produced horror mags to see the light of day, showcasing stellar talents like Harlan Ellison, Richard Corben, Brian Lumley, and the late, great Brian McNaughton, to name only a few.
Recently LORE dug itself out of its own musty tomb and returned in an improved "2.0" version. I spoke with the mag's co-founder Rod Heather about where LORE came from, where it's going, and the resurrection of McNaughton's THRONE OF BONES setting, Seelura.
More on this and other vital topics follow in the interview:

FULTZ:  For those not familiar with the first incarnation of LORE, can you give us a quick snapshot of the mag's unique history?
We began to put LORE together in 1994, and released our first issue in June, 1995. Back then, we really had no idea about the market … at all. We had never even heard the term "small press."  We have always been avid readers of horror, science fiction and fantasy, and it seemed like it might be fun to publish a magazine of horror stories. And, it was.
Though co-publisher Sean O'Leary and I have written stories of our own in the past, we didn't want to include any of our own stories in LORE. To us, it's tacky when someone publishes his or her own work in a collection or magazine for which they, themselves, have selected the stories. We wanted LORE to consist of wholly original short stories discovered and captured in the wild, as it were.
So we set ourselves to finding out how to make contact with those writers and artists, even hanging homemade fliers in local libraries. Eventually, Janet Fox's Scavengers Newsletter was an invaluable resource back then, and Janet is sorely missed today.
Marketing LORE back then included sending hopeful (perhaps naive) missives to writers and artists who we greatly admired. We had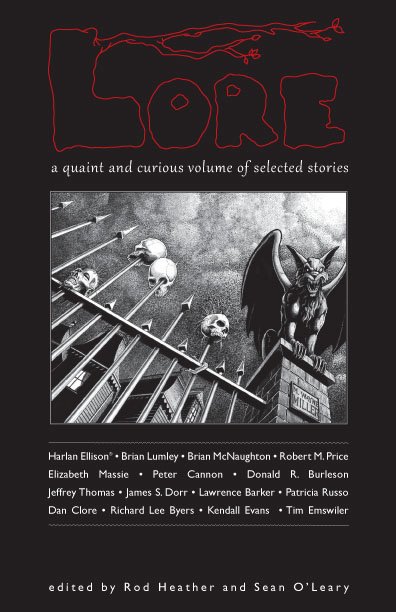 a "well, you never know!" kind of mentality, and it served us well. Our first real break came from Harlan Ellison. He contacted us by phone, and told us we could publish his short story "Chatting with Anubis" before it appeared in his Dream Corridor comicbook series from Dark Horse Comics. You can imagine our reaction, I'm sure. It appeared in our first issue.
That story went on to win The Deathrealm Award and The Bram Stoker Award that year, and having published it, we were able to bask in Harlan's reflected glory. He even called us up to the podium during his acceptance of the Stoker. It was pretty surreal. His acceptance speech ended with him shouting, "Buy their magazine! Buy their magazine!"
I think it was largely because of Harlan that we had such great success from that very early stage. Suddenly, there was this tangible buzz around LORE in that market we were only just discovering. This translated into more and better submissions, accessibility to marketing outlets and even more contacts.
Okay, I think I'm getting out of brief snapshot territory, now.
Suffice to say, LORE ran for nine issues at the end of the twentieth century. We published mostly weird fiction with spectral elements and Lovecraft-influenced themes; things for which we still have an affinity. Through that time, a great many of the stories we published garnered Honorable Mentions from Mss. Datlow & Windling, and we won The Deathrealm Award for Best Magazine and The Dragon's Breath Award for Best New Magazine.
As I had written at the end of the introduction to the recently released LORE: A Collection of Quaint & Curious Selected Stories: "LORE is dead. Long live LORE!" Indeed, that's the best way to see the kinds of things we published in LORE 1.0. LORE: A Collection of Quaint & Curious Selected Stories is a roundup of some great stories we featured through that first incarnation, including Harlan's. It is available for purchase at www.lore-online.com
FULTZ:  How did it come about that you revived LORE after so many years of hiatus?
We have always kept the possibility tucked under our hats. However, Sean definitively and forcefully proposed the idea at the beginning of 2011. We were attending MythosCon in Phoenix, AZ. I was in such fear for my life at the feral look in Sean's eyes (and Dan Clore's almost batrachian, unblinking stare, as it happens) that I was compelled to go along.
It was as easy as Sean suggesting it, really. The idea was there waiting for a catalyst in order to start germinating.
FULTZ:  What will be the main difference between this new version of LORE and the old version?
There are several differences, many of which are realizations of what we wanted to do, ideally, in the first place. For instance, the new LORE's production values have evolved. Where once we were saddle-stitched and almost entirely black and white, LORE 2.0 is perfect bound and will sport full color covers, the first by Richard Corben. We're still discussing possible directions we'll explore concerning interior illustrations for 2.0, as we featured interior illustrations pretty regularly in the Old LORE. Sean and I are both great fans of fantastic artwork, so I have no doubt that interior artwork will begin to appear again in LORE's pages.
Also, LORE is now a pro rate-paying market, according to what the HWA and SFWA consider to be a professional rate. We gradually began to increase our rate back in the day, but wanted to be a pro rate-paying market right out of the gate this time around. I am an occasional fiction writer, so have an especial affinity for the craft of writing. Though some make it look easy, it's quite an accomplishment to pull off a truly great story … an accomplishment that deserves acknowledgement and remuneration.
As technology was at a much different place in the mid- to late nineties, too, another big difference in LORE now is that we've automated quite a bit of our workflow, and have been maintaining a web site. We've made an effort to present a good site, and to ensure that it features compelling articles from the likes of Jeffrey Thomas and Robert M. Price that will keep users coming back. Sean made trips to interview Michael Swanwick and Connie Willis for this purpose, too. The site is a Work-In-Progress and will continue to evolve as, well, [as] we do. We've only just announced in our guidelines that we only accept electronic submissions now. That's a pretty big change. Hell, I still have physical file folders in boxes from LORE 1.0. I used to create an individual physical file folder for everyone who submitted work to us. They were really piling up! I'm glad I did that though, as I have reams of paper correspondence from folks like Brian McNaughton, Wilum Pugmire, Ben Indick and Kenneth E. Abner. Something has been lost in the electronic correspondence of today. Saying, for instance, that Wilum Pugmire "Liked" a Facebook status of mine three months ago just isn't the same. Wilum's were especially artful letters — he even constructed his own raucous stationery in neon colors.
We plan to offer electronic versions of our books, at some point soon, too.
Lastly, we have expanded LORE's focus to include science fiction and fantasy, in addition to horror.
FULTZ:  Do you have any specific goals with the mag, creatively or commercially, or both?
During LORE's first run, Sean and I lived a stone's throw away from eachother in Monmouth County, NJ. Now, I live in the dusty deserts of Los Angeles, and Sean lives in South Jersey, near Philly. One personal goal of mine is to see LORE run as smoothly as possible given the inherent logistical challenges that come with such distance.
I think we would like to see some more people involved, at some point. John Picinich has been our proofreader for LORE 2.1, and for LORE: A Collection of Quaint & Curious Selected Stories. He's done a terrific job! Also, people like David Hill, Robert M. Price and Jeffrey Thomas have helped us with web site content. Ultimately, yes, I would love to see us evolve into something of an honest-to-goodness staff. Presupposing that is justified, of course.
Also, as I mentioned, working out the right particulars for interior illustrations is something we're keen to do in the not-too-distant future.
Right now, we're concentrating on strengthening LORE 2.0's foundation. Hopefully, further vertical growth will follow.
FULTZ:  What kinds of stories are you looking for–are you trying to stick to any certain genres, or willing to mix horror, fantasy, and sci-fi? Do you consider LORE a "weird fiction" mag?
We're definitely willing to mix. Indeed, you can count on seeing SF, fantasy and horror unabashedly represented in LORE 2.0. We also like genre-blending interstitial fiction, or slipstream. Broadly speaking, if a work can be considered imaginative fiction at all, we'll have a crack at it. Weird fiction is something we will consider for publication, but I hesitate to describe LORE 2.0 as a "weird mag," at this point – that seems too limiting somehow considering our wider focus … unless you are judging by LORE's weird publishers.
Having stated that though, there are some things we like and dislike particularly, and those are further described in our guidelines on www.lore-online.com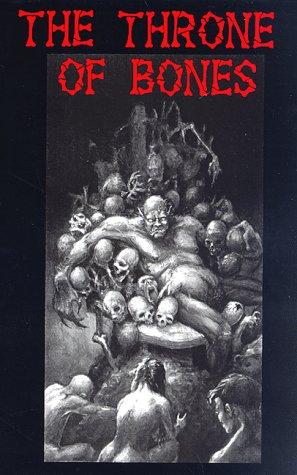 FULTZ:  Tell me about this "lost" Brian McNaughton tale that's coming up in LORE #2.1. All I know at this point is that it's a heretofore unseen part of the Seelura cycle of tales, most of which were featured in Brian's World Fantasy Award-winning THRONE OF BONES. (As a huge fan of that book, I'm super excited to read more Seelura fiction.)
There's a bit of a backstory: I believe I first read Brian McNaughton's work in Mark Rainey's excellent magazine, Deathrealm, and I believe that first story was "To My Dear Friend Hommy-Beg." It had to be late '94 or early '95. In the biographical information accompanying that piece, I noted that Brian lived in Neptune, NJ – just a few miles south from our respective 'hoods. So, I wrote him a glowing fan letter. He responded, and sent along a short story "A Scholar from Sythiphore," to include in LORE #1.
We became fast friends from there. I was Vice President of The Garden State Horror Writers then, and I managed to coerce him into speaking at one of our meetings. Soon, he was accompanying Sean and me to Bob Price's Esoteric Order of Dagon meetings to carouse with folks like Joe Pulver, Derrick Hussey and Mike Cisco, or to meet S. T. Joshi and Stefan Dziemianowicz in New York City for Kalem Club meetings, or to NecronomiCon in Providence, RI. We had some great times together. After awhile, he was even reading submissions for LORE under a pseudonym. We were like a geeky street gang.
We were in regular correspondence all this time, and some time in 2004 he sent "The Deposition of Leodiel Fand" to us to ask what we thought of it. The tale was, we estimate now, about 75% completed. His health was already in decline by then, but we never suspected he would be taken from us so quickly.
THE THRONE OF BONES had won The World Fantasy Award at that point, and we're both big fans of that collection so, of course, we loved this longish story set in Seelura, and expressed as much to him at the time.
We've had the story since then. It is incomplete, but what is there is wonderful! It is only fitting that we publish it in our first new issue. I am sure that Brian would be thrilled – but probably frustrated that he never got to finish it. Still, it's over 16,000 words of wonderful McNaughtonalia. Unfortunately, among the last we'll see.
Still, I am confident that "The Deposition of Leodiel Fand" is a great read, in its own right, even if unfinished. I have no doubt that McNaughton's narrative voice will cast its spell over a number of readers who are presently unfamiliar with his work. Three complete McNaughton tales are presented in LORE: A Collection of Quaint & Curious Selected Stories.
FULTZ:  Are there any more unpublished Seelura tales in the works?
All I can say to that, at this point, is 'who knows what the future holds?' We were certain the Coelacanth was extinct until recently.
FULTZ:  What does LORE offer today's genre readers that they can't find anywhere else?
An eclectic mix of imaginative fiction. Any publishing venture of this nature is an extension of the editors who choose the contents, and their own particular proclivities. We hope to set ourselves apart in some ways on an ongoing basis. Nowhere else, for example, can you find 16,000 words of unpublished Brian McNaughton Seelura fiction. Also, we're very excited about presenting a full color, wraparound cover by Richard Corben on LORE 2.1, available now at  www.lore-online.com. Indeed, we've just been informed that Richard's cover piece has been selected to appear in this year's Spectrum Fantastic Art Live book, Spectrum 19.
We are also featuring a madcap round robin in LORE 2.1 called "Splash." Its participants include Paul DiFilippo, Richard Lupoff and Don Webb. It's a glorious riot!
FULTZ:  Can you talk a bit about working with Richard Corben? He's done the cover for #2.1, and as I remember he did a few back in the 90s, during the mag's first run. How did he get involved and what's the process for getting those amazing images from him?
I started corresponding with Corben in the mid-nineties. He was very supportive of LORE 1.0, and we shared a love for all things Lovecraftian.
Shortly after we had released our second issue, he sent along some artwork. You can imagine the look on my face as I pulled that package out of the mailbox! Ultimately, he provided cover images for issues three, five and eight, and was our Featured Artist for issue seven. As Featured Artist, he composed an illustration for a story (John Glasby's "Return To Y'Ha-Nthlei"), and a standalone piece. His standalone piece depicts two ghouls dancing atop my grave! I cherish that illustration, and have had a large, signed copy framed on my wall ever since. My four-year-old son finds it quite fascinating, and amusing.
As you might expect, Richard Corben is a consummate professional in every way. He's the kind of person you learn things from as you work together. To get a chance to work with a legend like Corben is beyond description, what more can I say?
FULTZ:  Please add anything else you'd like to say, and be sure to include a pitch for where readers can obtain their copies of LORE #2.1. (Also the expected release date.)
LORE 2.1 — our first all new issue — is available now at  www.lore-online.com for $10.95 + S&H, as are our submissions guidelines … and some great content. Also, LORE: A Collection of Quaint & Curious Selected Stories is also currently available on our site for $14.95 + S&H. It's a round-up of some great stories from LORE volume 1 (LORE 1.0), including work by Harlan Ellison, Brian Lumley and Brian McNaughton. Our next issue is scheduled for a September, 2012, release.
[A point of clarity: we refer to the nineties LORE as LORE 1.0. That is, volume one. So the third issue of that volume would be LORE 1.3, for example. This new series of LORE is volume two, or LORE 2.0. We have just released the first issue of this new volume, with the Corben cover and McNaughton story; that's LORE 2.1 — technically, our first issue. We released  LORE: A Collection of Quaint & Curious Selected Stories in November, 2011. That was not really part of volume two though, but was a roundup of stories from volume one. To avoid confusion, we'll probably drop citing the volume as we go forward. The next issue is due out around September, 2012, and we'll probably just call that issue two.]
————————————
You heard the man, True Believers! Get your LORE on!!!   www.lore-online.com
ALSO: Brian McNaughton's World Fantasy Award-winning THRONE OF BONES is still available from Amazon in both paperback and Kindle versions: http://www.amazon.com/The-Throne-Bones-Brian-McNaughton/dp/1587151987/ref=sr_1_1?ie=UTF8&qid=1335399146&sr=8-1