Michaele Jordan Reviews The Dead of Winter
Michaele Jordan Reviews The Dead of Winter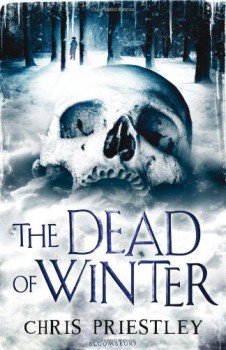 The Dead of Winter
Chris Priestley
Bloomsbury USA Childrens (215 pp, $16.99 hardcover, January 31, 2012)
Reviewed by Michaele Jordan
First and foremost, the reader needs to know that The Dead of Winter is a traditional ghost story. If you are looking for a modern view point or a cross-genre twist, this is not the book for you. It cleaves to Gothic imagery and draws on many classic antecedents.
It is set in the Victorian era; the year is not specified, but the setting makes it plain. Like many earlier works, it is presented as the journal of a first person narrator, told from a distant future, and opening with a solemn assertion that the contents of the book are entirely true, little as the reader may be inclined to believe them. Preface aside, Priestley draws on a Dickensian model to provide the young protagonist so necessary to a children's book.
The story opens with Michael Vyner at his mother's funeral. He is now an orphan, as his father has been dead for years. In fact, the father—an army man—died heroically, saving the life of his superior officer, Sir Stephen Clarendon. Sir Stephen has always been grateful, but Michael's mother was too proud to accept much assistance, so Michael has never met the man his father died to save or even been encouraged to take pride in his father's courageous sacrifice.
All that is about to change. Having no surviving family, Michael is made Sir Stephen's ward, and summarily shipped off to spend Christmas with his new guardian, prior to being enrolled in a prestigious new school. His situation is not genuinely intolerable, as Sir Stephen is both wealthy and well-intentioned, but Michael is still too bereft to appreciate any kindness done him, and takes the sudden changes in his circumstances badly. It is a sullen and ill-mannered child that first comes to Hawton Mere.
Mr. Priestley comes into his own in his description of Hawton Mere. He vividly renders a flat, forbidding landscape in which miles of dank fenland suggest a hopeless future and an empty heart. Before Michael's carriage even reaches the house, he is subjected to his first spectral apparition, a woman in white so seemingly solid that he demands the carriage be stopped and an immediate search conducted for the piteous figure. Of course, no such woman is found; nor is there anywhere in the vicinity she could possibly hide. So Michael arrives in his new home already under suspicion of being either a liar or crazy or both.
Sir Stephen may mean well, but he is decidedly peculiar, and afflicted with an incapacitating nervous disorder. His sister Charlotte is beautiful and mysterious and only slightly less peculiar than her brother. Their home is a monstrous antique pile protected by a moat; its dark and maze-like interior is equipped with numerous shadowy alcoves and a tomb-like priest hole. Within this setting—itself, worthy of The House of Usher—the echoes of earlier tragedy still linger. Lady Clarendon inexplicably fell from a balcony to her death some years before and Sir Stephen has never recovered from the loss of his dear wife. Nor has the memory of his cruel father ever faded.
Michael is plagued almost immediately by inexplicable sounds of banging, weeping and groaning. Panels that have been sealed shut for decades open suddenly to trap him. Of course, no one else can see or hear any of these things but him. And as Christmas draws closer, the apparitions around him grow progressively more dangerous.
It is all resolved in the end, of course. To find out how, you must read the book.
__________
Michaele Jordan is the author of Mirror Maze, brought to you by Pyr, and has placed stories in Redstone Science Fiction, Buzzy Mag and the Magazine of Fantasy and Science Fiction. You can find her posts on SF Signal, or anywhere else that will print her fevered musings. She welcomes new friends on Face Book — as long as you don't expect prompt replies — and invites you to visit her website, www.michaelejordan.com. But be sure to spell her first name correctly or you'll end up looking at basketball pictures.