Michaele Jordan Reviews The Dead of Winter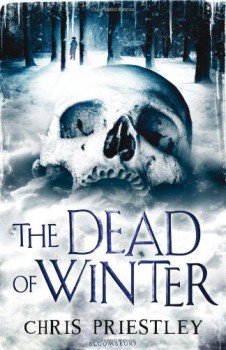 The Dead of Winter
Chris Priestley
Bloomsbury USA Childrens (215 pp, $16.99 hardcover, January 31, 2012)
Reviewed by Michaele Jordan
First and foremost, the reader needs to know that The Dead of Winter is a traditional ghost story. If you are looking for a modern view point or a cross-genre twist, this is not the book for you. It cleaves to Gothic imagery and draws on many classic antecedents.
It is set in the Victorian era; the year is not specified, but the setting makes it plain. Like many earlier works, it is presented as the journal of a first person narrator, told from a distant future, and opening with a solemn assertion that the contents of the book are entirely true, little as the reader may be inclined to believe them. Preface aside, Priestley draws on a Dickensian model to provide the young protagonist so necessary to a children's book.
The story opens with Michael Vyner at his mother's funeral. He is now an orphan, as his father has been dead for years. In fact, the father—an army man—died heroically, saving the life of his superior officer, Sir Stephen Clarendon. Sir Stephen has always been grateful, but Michael's mother was too proud to accept much assistance, so Michael has never met the man his father died to save or even been encouraged to take pride in his father's courageous sacrifice.