New Treasures: Goodis: Five Noir Novels of the 1940s & 50s
New Treasures: Goodis: Five Noir Novels of the 1940s & 50s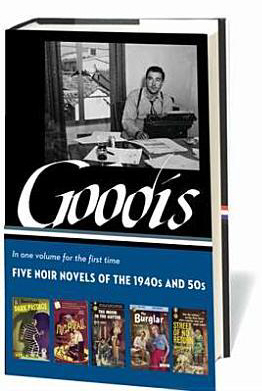 Let's take stock for a minute. Been a busy week, and it's only Tuesday. Is it time for another installment of New Treasures already?
Let's see, let's see… what did we cover last time? Been so long I barely remember. Well look at that — it was a handsome pair of novels from The Library of America. By coincidence, The Library of America also published the book I want to talk about today: Goodis: Five Noir Novels of the 1940s & 50s.
Or maybe it's not coincidence. Maybe The Library of America is just that cool. Here's the back cover copy for today's omnibus collection of five classic crime novels by David Goodis — you decide.
In 1997 The Library of America's Crime Novels: American Noir gathered, in two volumes, eleven classic works of the 1930s, 40s, and 50s — among them David Goodis's moody and intensely lyrical masterpiece Down There, adapted by François Truffaut for his 1960 film Shoot the Piano Player. Now, The Library of America and editor Robert Polito team up again to celebrate the full scope of Goodis's signature style with this landmark volume collecting five great novels from the height of his career. Goodis (1917-1967) was a Philadelphia- born pulp expressionist who brought a jazzy style to his spare, passionate novels of mean streets and doomed protagonists: an innocent man railroaded for his wife's murder (Dark Passage); an artist whose life turns nightmarish because of a cache of stolen money (Nightfall); a dockworker seeking to comprehend his sister's brutal death (The Moon in the Gutter); a petty criminal derailed by irresistible passion (The Burglar); and a famous crooner scarred by violence and descending into dereliction (Street of No Return). Long a cult favorite, Goodis now takes his place alongside Raymond Chandler and Dashiell Hammett in the pantheon of classic American crime writers.
No, it's not fantasy or science fiction. But it's a complete noir library in one attractive package, and it has thumbnail pics of five pulp paperbacks from the 40s & 50s right on the cover wrap. Good enough for me.
Goodis: Five Noir Novels of the 1940s & 50s is 848 pages in hardcover. It was published March 29, 2012, and retails for $35.