"What's Become of Screwloose?" and Other Great Short Fiction by Ron Goulart
"What's Become of Screwloose?" and Other Great Short Fiction by Ron Goulart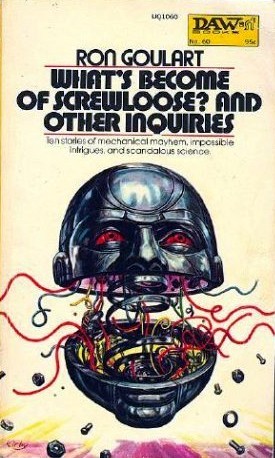 Ron Goulart has written more than 70 novels, most of them science fiction or fantasy, as well as over a dozen non-fiction titles, including Comic Book Culture and the classic history of the pulps, Cheap Thrills: An Informal History of the Pulp Magazines.
I saw his name countless times in the paperback racks where I hunted for science fiction as a teen, on slender DAW volumes like Calling Dr. Patchwork, The Panchronicon Plot, and Big Bang. He had a reputation for light comedy, not something that appealed to me at the time, and I pretty much ignored Goulart for years.
In fact, I truly discovered Ron Goulart for the first time five days ago, shortly before midnight last Wednesday.
I was bagging a collection of Worlds of IF, a science fiction digest that folded in 1974, which I'd gradually accumulated over several weeks on eBay. I was casually flipping through the April 1970 issue when I stumbled on the short story "Swap," by Ron Goulart, with this editorial teaser:
What happens when you swap love partners — and win a hot, curvy bundle of hate?
As a student of short fiction teasers — I've written a few hundred for Black Gate — I know a winner when I see one. I pulled the lever to recline the couch and, surrounded by nearly a dozen stacks of aging science fiction magazines, settled back to enjoy a 42-year old science fiction story.
"Swap" opens with Sam Burse welcoming his robot baby sitter on "swap night." The robot is highly forgetful, knocks over a vase of flowers, and bungles Sam's name. Wondering idly if they should deal with a different sitter agency, Sam and his wife Anita leave their two children in the care of the robot.
Sam is having second thoughts about swap night. He doesn't enjoy it any more.  But Anita clearly looks forward to it, so he goes along good naturedly. They drive to their friends', Maggie and Don, who have a robotic swap unit. Sam learns that there are now a hundred couples in their swap group, the Greater Los Angeles Mate-Swapping Co-op, and Don is surprised to discover that their swap unit can talk.
"Does he talk to you?" asked Don.

"Oh, sure," said Maggie. "When you're at the office he recites love poems to me."

"What kinds of love poems?"

"Your wife is spoofing you, Don," said the swap unit.

"What do you recite if it isn't love poetry?"

"Nothing, Don," said Maggie. "Nothing."

"I joined this unit because we get programmed promiscuity," said Don. "Fun and in the open. Nothing secretive. Now I find you've been having some kind of strange relationship with this machine."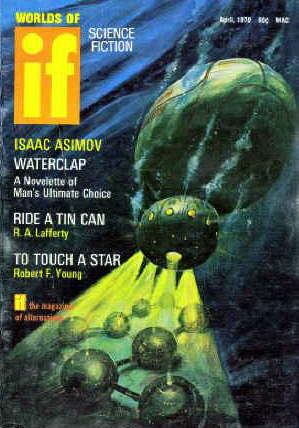 The swap unit has more serious problems than being used by Maggie to tease her husband. It's on the verge of some sort of mechanical failure, and starting to give off wisps of smoke. Sam finds that the third couple who usually joins them aren't coming.
"Yes," said Maggie, rising. "The Verbecks are sick tonight. Flu."

"I think I have a touch of that myself," said the machine. "Say, Mr. Burse, would you feel down behind me and see if I'm flush around my synchronizing device?"
But Don is in a hurry, so the machine's complaint is ignored. Both couples gather around the swap unit, and it spits out the name and contact info for their partners for the evening.
Sam is a little unsettled when his wife seems unusually intrigued by the name she's drawn, but Anita is more concerned by the fact that the unit has forgotten to give Sam a name at all.
"What about Sam?" asked his wife.

"Who?"

"Sam. Him."

She tapped her husband with the hand that didn't hold the card.

"Oh, yes. Oh, yes." The swap unit made a grunting sound and its ratcheting grew louder. "There, it's coming along now. There." A large pale blue punch card snapped into the air, spun like a paddle wheel down to the rug. "Also, this is for you."

A spinning slip of lined yellow paper followed.

Sam took up the two pieces of paper.

"What's all this? I'm supposed to get a card with a name, address and instructions."

"You can't beat us for infinite variety," said the machine. "We don't like to cloy the appetites we feed."

The yellow slip had 107 scrawled on it in pencil. The card was a preprogram for a speedway cab.
The story really picks up after that, as Sam's cab ride leads to a night of adventure  — involving a blind man who's not what he seems, an ambitious and deadly actress, and Lonn DeSoto, the founder and director of the Theater of Murder and the most wanted man in the city.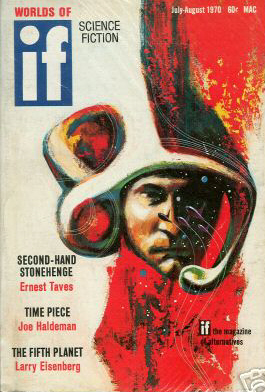 I won't ruin the ending for you, but by the time Sam makes a narrow escape and finds his way home it's nearly dawn. His wife is waiting for him with news of her own interesting evening, and the denouement, and Sam's quiet decision, are unexpected and poignant.
It's a powerful and surprising tale with great characters — especially the non-human ones. Sam is a believable and likable protagonist, but it's the engaging and quirky personalities Goulart gives his robots that really made the story.
I was impressed enough that when I opened the next issue on the pile, the July-August 1970 issue of Worlds of If, and found another tale by Ron Goulart in the table of contents, I turned to it immediately.
The story was "What's Become of Screwloose?" and it was even better. Here's the opening sentences:
I was hardly in the house when the electric dishwasher grabbed me. It shot up its lid and tried to submerge my head in hot, soapy water.
Tom works for Stanley Pope, a brilliant but unorthodox Private Investigator in a world filled with robot tennis partners, killer dishwashers, and even odder mechanisms. He's been hired by his friend Oliver to discover what's happened to Mary Redland, the rich and troubled daughter of a powerful — and recently-deceased — robotics tycoon.
He's at Mary's abandoned beach house when the dishwasher attacks. He lures it onto the sundeck:
Behind me was the Pacific Ocean, about three hundred feet straight down. I drew out my laser and waited…

Soapy water had splashed out here on the bright black topping of the wide deck and as the dishwasher came humming from the kitchen into the sunlight it took a skid. Its arms clutched air, flapped, and it whirled wildly past me. It hit the redwood rail and went right on through, falling toward the ocean, followed by splintered wood. After a giant splash came big bubbles…

I hung up my laser and went carefully back into the beach cottage. The stove looked like it could be nasty in a fight but apparently it wasn't gimmicked.
I laughed out loud at that last line. Give me a seasoned P.I. with a laser pistol and sinister household appliances, and you've got my undivided attention.
The story unfolds in surprising directions. Mary's famous father, it seems, was assisted in his rise to industry dominance by the sudden deaths of all of his competitors, each of whom died in accidents involving machines. One witness even reported seeing one victim being pushed over a cliff at Muir Woods by a soft-drink machine. Since his daughter has gone missing and her home is plagued by deadly  appliances, Tom's boss Stanley Pope senses a disturbing pattern.
Tom manages to track Mary down, hiding in her father's unused mansion. There he learns she's been in therapy for years, until memories of overhearing her beloved father plot the murders of his rivals slowly began to surface — despite the efforts her father took decades ago to make her forget.
"They worked to make you forget?"

"Yes," said Mary finally. "It used to be called — what was it? Brainwashing? It wasn't going to hurt, Dad promised. Seems to me — seems to me it took weeks to do. They used these machines and some others… And my tutor. I had an android. A nice affable robot who taught me and read stories and was nice. I called him professor Screwloose. I don't know why… He helped them do it, and after that he was gone, sent someplace else. For years I forgot, didn't remember. Except it started trying to come back. You know, I had some problems. Yes. I went into therapy finally and I really began to remember." She turned to me. "He was there, though I didn't realize it at first."

"Screwloose," I said.

"Yes," she said. "Calling himself Chuck Mogul and passing for human… nobody turned poor Screwloose off."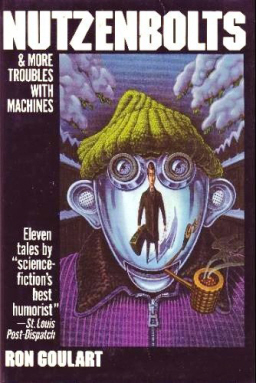 The jovial and entirely lethal Screwloose arrives on stage very shortly thereafter, still obeying its programming, making sure Mary forgets the murders, and doing everything necessary to cover its old master's tracks — including disposing of Tom, naturally. It takes some quick thinking by Tom, and some fine deduction by Stanley Pope, to save the day.
I was so impressed with these two tales that I went in search of two of Goulart's short story collections. "Swap" was reprinted in the appropriately-titled Nutzenbolts and More Troubles With Machines, published in hardcover by Macmillan in 1975, and "What's Become of Screwloose?" appears in What's Become of Screwloose? And Other Inquiries, published in paperback by DAW in 1973.
Ron Goulart's stories are filled with personable, good-natured, highly fallible robots and other mechanisms. Even Screwloose, the lethal robot villain of "What's Become of Screwloose?", is entirely logical and even apologetic, in his own diabolical way.
There's a fine mix of action and humor in these stories, and a love of invention in all its forms. Goulart is unafraid of giving personality to his machines, even entirely lovable foibles, such as the forgetful baby-sitting robot.
While his stories are filled with action and danger, there's no fear of the future in them. Humanity has peopled the world with its deeply flawed creations, and made it a vastly more interesting place as a result. Science fiction hasn't given us a lot of futures I'd like to live in, but Goulart's are an exception.
More to the point, I want to read more of his stories. A lot more.  I've discovered them late, but not too late to enjoy them.
I hope you'll take the time to discover them for yourself.