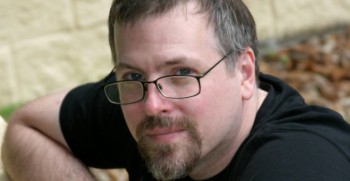 Are you interested in ominous cities covered in creeping, mysterious fungi? What about flamboyant narrators, noir and the New Weird? Yeah? Good. Sit down a spell and have a listen to a man who has written it all – Jeff VanderMeer. The two-time World Fantasy Award winner and creator of Ambergris talked a slice of time to Black Gate about music, new writers and a hep bit of miscellaneous more.
Black Gate:  What do you think are the three best, new albums to come out in 2011?
Jeff VanderMeer: That's tough for me because I haven't listened consistently to a lot of music. What I can tell you is that I'm really high on The Black Keys' El Camino, and the latest releases by Ringside, Three Mile Pilot, Steve Wynn, and the Rosebuds.
Who are three bands that you "discovered" in 2011 and now can't live without?
I really delved back into bands I already knew, for the most part. However, I can say I can't live without Murder by Death, Black Heart Procession, and the sadly defunct Pleasure Forever.
---