Clarkesworld Issue #62
Clarkesworld Issue #62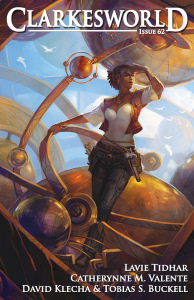 The November issue of Clarkesworld is currently online. Featured fiction: "A Militant Peace" by David Klecha and Tobias S. Buckell, "The Smell of Orange Groves" by Lavie Tidhar and part two of Catherynne M. Valente's "Silently and Very Fast." Non fiction by Nathaniel Tapley, Jeremy L. C. Jones and Neil Clarke.  The cover art is by Julie Dillon.
All of this is available online for free; there's even an audio podcast version of "A Militant Peace" read by Mike Allen. However, nothing is really free. The magazine is supported by "Clarkesworld Citizens" who donate $10 or more.
We last covered Clarkesworld with issue #55.