Clarkesworld #55 Arrives — Featuring E. Lily Yu and Erin M. Hartshorn
Clarkesworld #55 Arrives — Featuring E. Lily Yu and Erin M. Hartshorn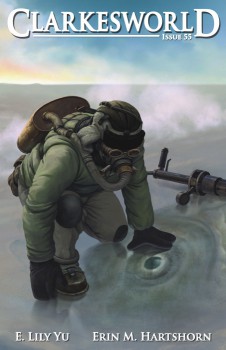 The 55th issue of the Hugo Award-winning online magazine Clarkesworld has now been posted.
Clarkesworld is the brainchild of publisher/editor Neil Clarke, who conceived of the magazine while running his excellent (and sadly now defunct) online bookshop, Clarkesworld Books. The first issue was published in October 2006; since then it has been nominated for the Hugo Award for Best Semiprozine in 2009 and 2010, the World Fantasy Award (in 2010), and was a finalist for the 2010 Locus Award for Best Magazine. In 2010 it won the Hugo Award for Best Semiprozine.
Every issue contains two complete short stories. This issue features "The Cartographer Wasps and the Anarchist Bees" by E. Lily Yu (also available as a podcast, read by Kate Baker), and "Matchmaker" by Erin M. Hartshorn.
Non-Fiction this issue is Linguistics for the World-Builder by Brit Mandelo, and an interview with science fiction author John Scalzi by Jeremy L. C. Jones.
Clarkesworld is edited by Neil Clarke. The non-fiction editor is Cheryl Morgan. Cover art this issue, "Post-apocalyptic Fisherman," is by Georgi Markov.
Ebook editions of Clarkesworld are available for $1.99 from Wyrm Publishing, Amazon, and Barnes & Noble (scroll to the bottom of the page). This month only the Clarkesworld #54 ebook is only 99 cents at Amazon and B&N.com. Try it out and support one of the finest magazines in the genre!
We last covered Clarkesworld with issue #9.