Short Fiction Reviews: The Sunday New York Times Magazine, Clarkesworld, and Strange Horizons
Short Fiction Reviews: The Sunday New York Times Magazine, Clarkesworld, and Strange Horizons
A Look at Current Sci-fi and Fantasy Magazines
By David Soyka
Copyright 2007 by New Epoch Press. All rights reserved.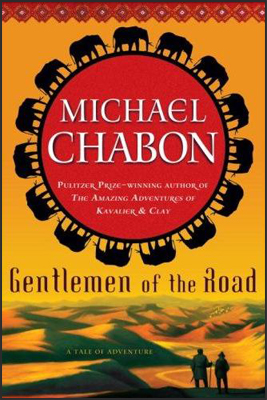 The novel serialization was a grand tradition of newspaper entertainment that has long since fallen by the wayside. One reason why Dickens has so many plot turns is that he frequently wrote in installments, and leaving readers wondering what happens helps sell next week's paper. The marketing value of this practice began to decline when the proliferation of inexpensive mass market paperbacks after World War II made novels more readily available to the general public.
But everything old can be new again. The New York Times Sunday Magazine has revived the serial, featuring novellas by such authors as Patricia Highsmith and Scott Turow. It recently strayed from the crime detective genre with Michael Chabon's "Gentleman of the Road," an "adventure tale" dedicated to Michael Moorcock. The titular wayfaring gentlemen represent, as you'd expect, opposite personalities and viewpoints who remain intensely loyal to one another. Amram is a muscular, whoring African former professional soldier, while Zelikman is a delicate, celibate Frank doctor gloomily dressed in black and inordinately fond of hat and horse. The story takes place in the "Kingdom of Arran, in the Caucasus Mountains, between the Black Sea and the Caspian Sea, A.D. 950." We are introduced to the two characters as they are caught in a con game; their escape in turn leads to their taking reluctant charge of Filaq, a royal whose homeland has been taken over by an usurper ruler. Various scrapes ensue that eventually lead to the revelation of a true identity and the restoration of the rightful heir, the conclusion to which is anticlimactic to the preceding action.
While Chabon doesn't break out of the form — you expect that things will turn out the way they do, though that may be part of the point in writing a genre story — what makes this particularly enjoyable is the elaborate descriptive prose:
As the remnant of that giant fleet-launched at midsummer from the viks of the North to fatten, with Bujan's full consent and encouragement, on the Muhammadan cities of southern Khazaria-returned to the mouth of the river they called Volga, the Northmen richer and covered in glory but their ranks thinned by plague and battle and an appalling toll of alcoholism, the army of Khazaria was completing its long homeward tramp to Atil.
The series concluded on May 6 and while you can access it online at the New York Times web site, there is, alas, a fee for readers who aren't Times Select paid subscribers. Short of scouring your local library for back issues, however, you can look forward to publication of the novella by Del Rey, with a tentative release date in October.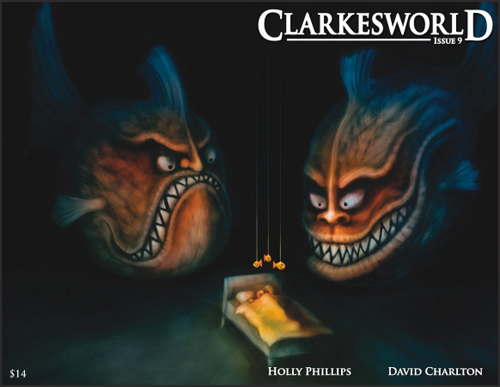 Clarkesworld Magazine is another free on-line journal (though a print anthology of magazine stories is promised at some point, and signed, limited edition chapbooks of stories are available a few months after on-line publication for $14). There is no fee to access the magazine site, though donations are gladly accepted. The title is derived from publisher/owner Neil Clarke's online book retailing business, which he recently discontinued, though you can still order from the remaining inventory. The downsizing results in part to focus on another endeavor, a new small publishing imprint called Wyrm.
Edited by Nick Mamatas and Sean Wallace, Clarkesworld offers a slightly different approach from other web publications. Each month features two stories, one solicited from a proven author, defined as having one or more books published, the other from an open call for submissions. There are no editorials, essays, reviews, cartoons or advertising.
Both stories in Issue 9 for June 2007 share a Twilight Zone feel. The solicited story is "The Oracle Spoke" by Holly Phillips. The setting is a civil war in some indeterminate realm and time period. Lt. Dexter Caldwell of the loyalist forces is searching a house recently abandoned by the "false prince" and his troops. He hears a woman calling his name, though she is unconscious when he discovers her. Her name is Cassandra and, you guessed it, she is the oracle. The false prince had been trying to learn from Cassandra if the gods favor his side. But Cassandra remembers nothing of what the Oracle says when speaking through her, and cannot help interpret what people tell he she's said. The only thing she does know is that whatever the Oracle predicts, it is usually wrong. Caldwell's commanding general implores Cassandra for reassurance his side will prevail, but, like the false prince, does not believe her protestations of ignorance. Exactly why Cassandra called out to Caldwell, why he feels attracted to her, and what purpose he serves in the larger scheme of things leads to an ironical twist ending in which readers can draw their own conclusions.
This is an okay story, but I was a little disappointed, largely because of the high bar Philips set in another story of hers I recently read, also about the absurdities and cruelties of war and with allusions to current debacle in Iraq in particular, that is far more complex and affecting. "Queen of the Butterfly Kingdom" appears in Interfictions: An Anthology of Interstitial Writing edited by Delia Sherman and Theodora Glass. It is about a writer who attempts to continue working in a foreign land, both in terms of physical and psychic space, while awaiting news of the fate of her husband taken hostage by insurgents. This is a marvelous juxtaposition of anxieties exacerbated by imagination under stress, ranging from writer's block to the uncertainties of a loved one's fate. Should be on everyone's "best of" short list.
Clarkesworld's second story, "Moon over Yodok," is David Charlton's first published fiction, inspired by, according the author's bio, "Kang Chol-Hwan's real experiences in Yodok as recounted in The Aquariums of Pyongyang: Ten Years in the North Korean Gulag. The grandmother of sister and brother Dal-Soon and Hae-Sik survived Japanese internment during World War II, only to have her family placed under the very same circumstances upon return to her homeland. How Hae-Sik survives near-starvation conditions depends on an otherworldly intervention in an "other world" that is, alas, still too much a part of reality. Some nicely disturbing imagery here.

I believe that Strange Horizons has the longest and most consistent tenure as a professional genre magazine that publishes exclusively online. Every week for the last seven years, it has featured an original short story as well as non-fiction, poetry and reviews (full disclosure: I am an occasional reviews contributor). Founded by Mary Anne Mohanraj, the current editor is Susan Marie Groppi, who heads a staff of some thirty volunteers. The magazine is free to access, but operates on the NPR model of twice annual fund drives, but without the annoying "on-air" pitches, to pay contributors and expenses. The fiction is frequently of the slipstream variety, though it prefers the more encompassing term of "speculative fiction," and several stories published here have garnered both Hugo and Nebula nominations.
The June 4 issue features "Private Detective Molly" by A. B. Goelman. While the mingling of the hard-boiled detective in a science fictional setting is nothing new, it has some nice touches. This time, the Sam Spade stand-in (and narrator) is a sentient doll for little girls to play with, various models of which are produced using a "persona generator." However, this particular little girl didn't want the P. D., Molly, but rather the Debutante version; something is wrong with the selector, and the only version she can dial up is always the private detective. Because the P. D. Molly is programmed to be inquisitive, she gets on the case of why the selector was broken, and what happened to the little girl's mother. The trail leads to a corrupt social services system in which an incentive system rewards those who can find any reason to deny medical benefits to those most in need. Did I say this story was science fictional?
The previous week's "Ex Machina" by Margaret Ronald is also another variation of a time-honored SF theme. In this case, it's the religious trappings that disguise both a technological disaster and the protective safeguards imposed to protect the unwitting descendants of an advanced civilization.
Judith is the Moses of a group of "tinkers," who possess a genetically-programmed ability to intuitively fix machinery. The lures of technology are their false gods. While leading the tinkers to a new land as commanded by the "One," Judith and her pilgrims are waylaid in a military camp. The commanding officer is not quite sure of his mission, but he needs the tinkers not only to repair his aging computers and communications devices, but to tap into a power grid to which he has only minimal access. Nothing particularly groundbreaking or thought-provoking, and the denouement in which all is revealed (well, sort of) and the bad guy gets his due is a little too pat, though in keeping with the form. The idea of the tinkers and their compulsion for technology, however, is kind of cool.
This sort of thing is done better in Benjamin Rosenblum's Hugo-nominated "The House Beyond Your Sky" (September 4, 2006), which you can easily access, as well as all previously published material, through the Strange Horizons archive.
Rosenbaum takes on the question of why there is evil in the world, and, if that isn't hard enough, why we even exist in the first place. It all has something to do with computer simulations, which is not particularly original, but the mixture of the highly abstract with the terrifyingly specific — a scared young girl abused by her father — renders a highly poignant portrayal that improves upon a lot of scriptures people actually believe in. Science fiction and fantasy is famous for tackling ontological issues, frequently poorly. This is a noteworthy exception.
Another Strange Horizons award nominee worth checking out is "Pip and the Fairies" by Theodora Goss (October 3, 2005). This Nebula selection concerns the grown daughter of a recently deceased from cancer children's writer. The death has awakened interest in the author's novels, and the daughter has explained in a new documentary the circumstances that inspired the plotting, including her own role as the model for Pip, the human child who gains entrance to a magical realm by discovering a fairy's "Wallet of Dreams." The daughter has just quit her job as a daytime soap actress to go back to live in the house where her mother had to resort to writing as a way to make money after the death of her father. While there is just the slightest suggestion that perhaps Pip's adventures were not entirely made up, this is an intricate metaphor for the disappointments of adulthood. Growing older means a forced exit from fairyland; however, perhaps there is a way some sense of it can be reclaimed.
Of course, one way to do that has always been through reading, and particularly reading tales of the fantastic. Any of these here might help make the journey worthwhile.
---
Magazines to be considered for review should be sent to David Soyka, 3820 Red Hill Rd, Charlottesville, VA 22903-7917. Electronic/PDF publications may be sent to prosenet@mac.com.