Game Review: Pathfinder Beginner Box
Game Review: Pathfinder Beginner Box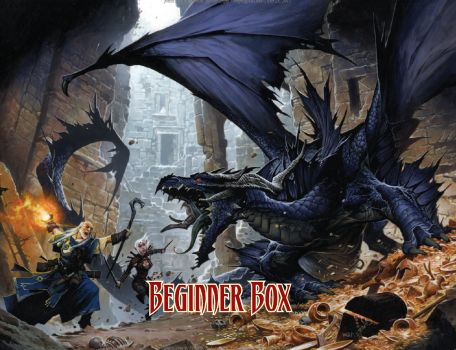 Back in March I got this hankering for something nostalgic in the RPG universe so I went to my twin bookshelves of games and thought 'where do you go from here?'
Well, where I went was to the tattered pages of Basic D&D, and as I flipped through the booklets I was transported back to a simpler time, a better time, when the game I loved wasn't a rules monster with so many supplements I didn't know which way was up.
As I re-familiarized myself with this venerable system I emailed James Jacobs over at Paizo to tell him of the small joys I was discovering along the way. Low and behold, James fired an email back that indicated Paizo felt the same way and was prepping for a boxed release of their own.
I mean really, when was the last time a gaming box hit the market? I'd say sometime around 1995 as the death-throes of TSR were beginning in Lake Geneva.
In turn, this came as heady and exciting news, but alas I had to wait a full seven months before I got to lay hands on a new piece of legend entering my collection.
So it goes that I finally received my copy of the Pathfinder Beginner Box. Holding it, I noted how thick it was, how heavy, and when I shook it much like a gift at Christmas it sounded of cardboard, bound books, and dice… ah the sound!
This was what I'd been waiting for, indeed what any true gamer should be waiting for. It was a perfect dichotomy, a time capsule filled with things from the future!
The box was shrink-wrapped, and I held for only a moment in quiet collector's trepidation before I gave in to my gaming fever and broke the seal. I slid the top open, held the box close to my nose and took a deep breath.
Yep, there it was; the absolute flash of everything good in my 12 year-old self coming back with the smell of fresh paper and stale air. Paizo had done it… put me upon the event horizon of absolute adventure.
As presumed from my aforementioned box shake, the set was chocked full of wonder. The first thing I noticed, after the full set of polyhedral dice, was how much color was involved.
Paizo spared no expense here bringing the player full renderings of characters, classes, and my personal favorite weapons, armor, and equipment. If you had a question about something inside the box, there was a full description and picture, which I find totally off the chart to begin any gaming experience.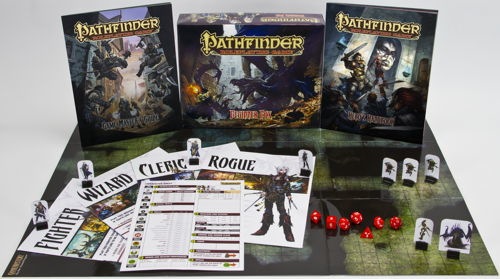 A player, or even Game Master, can settle in with the first of two small books that first depict what an RPG is, the Hero's Handbook. This fine 64 page manual takes you through a base solo adventure scenario before character building occurs.
Now interestingly enough, in old school RPGs there wasn't a huge amount of detail in character generation, but Paizo is tasked with showing a new player how to build a full Pathfinder character… not an easy task.
Still, the writers to a great job of leading the way, giving examples, and showing details as you go from base statistics all the way through Skills and Feats.
Then a purchaser can pull out the more in depth Game Master's Guide, which contains 10 mini-adventures, creatures, treasure, and a detailed chapter what it means to be a Game Master in the Pathfinder system. Truly, it's a bonanza of great info to set up adventures and take your first steps into a much larger universe.
Below the booklets rests a card-stock folding map to help place and visualize each encounter as well as three full pages of pop-out cardboard figures and bases to accompany the map. Beyond that you get pre-printed and ready to go character sheets [talk about a nice touch, I still remember folding my game books over the spine on a Xerox machine at the local library to get my sheets in 1984] as well as 4 class fold outs that detail what each style of character is and helps one decide if you'd like to play it [Choose Fighter, Fighters Rule!].
I have to say, as I laid the contents out it felt a bit like I was delving into a Bag of Holding because my rational brain kept saying 'there can't be anything else packed in this box!' With everything inside, however, I'll be 'that guy' and give you my only knock, that being the lack of inclusion of a small gaming and quick reference screen to help early Game Masters with game flow.
Whatever the case, Paizo has done well to hit a home run with this supplement in their already thriving gaming community and system. But if you don't want to take my word for it, how about this quote I received in an email from known hardcore role-player and industry iconic artist Wayne Reynolds!
I think the industry needs to encourage new players and I hope the Beginners Box will do that. The box has everything you need to start playing, including a map and cardboard figures. It even has a solo adventure to help introduce the owner to the game. There's just something I find truly delightful about it. I think it's because I'm from that "D&D Basic Game Box" generation, where our first introduction to RPGs was that amazing red box with the Elmore art on the cover. I think the Pathfinder Beginners Box harks back to those days, except the production values are far better.
Yep, this is what gaming is about, and if you haven't, or even have, tried Pathfinder before, this is still a must own. Oh, and if you have some young gamers in the house, I can think of nothing better to wrap and place under the tree. Christmas is coming, so give the gift of high adventure!
Best and great gaming!