Art Evolution 5: Cristina Dornaus McAllister
Art Evolution 5: Cristina Dornaus McAllister
In my ongoing Art Evolution series, I explained my plan to collect ten of the greatest fantasy role-playing artists of all time for a shared project. They were to illustrate a single character in their most recognizable style. So far, the list has included Jeff Laubenstein, Eric Vedder, Jeff Dee, and David Deitrick with this week adding the first female name to our list of esteemed artists.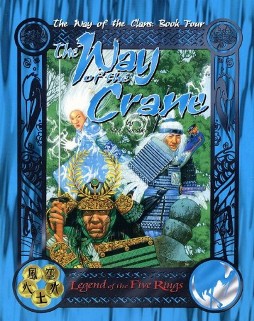 The 'Space: 1889 Lyssa' was in the bank, and by the this time I was seeing there was a kind of universal key involved in the process. I needed a perfect combination of money, sincere flattery, and being as genuinely personable as email allows to sway this pool of talent. Artists are a funny lot, as are writers for that matter, and I'd begun to get the hang of corresponding with them. I'd also started a rather fine collection of art and the more I got, the more I understood that I needed a venue for what I was trying to accomplish. Still, my project was in its infancy, and I figured as long as I was making progress with my list of favorites, why not ride it out and worry about the details later.
Looking over the latest images, I came to the conclusion that David, like Jeff, was a gem in my eye but had moved out of the industry's limelight a decade ago. Although popular and recognizable in his day, the RP art world had moved on. It was something I noted a great deal in my list, and as a person with deep feelings toward the work these men and women created, it was a tough pill to swallow.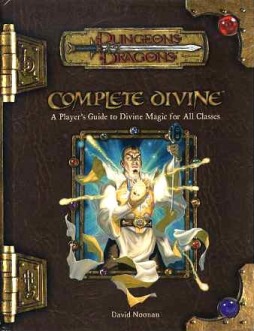 At this point, I wasn't ready to deviate from the essence of the project, and that was looking for artists the I always had a passion for, be they TSR or independents. I decided to delve further into artists I loved but might not be as well known as others in the industry. This provided an opportunity to collect more 'weight' as I went further into the list. Scanning my RP collection I settled in on AEG's Legends of the Five Rings as another art innovator for RPGs.
I'd played this game since the late nineties, and during that period I was taken with the work of an artist known only by the universal sign for 'female'. Pulling down Way of the Unicorn, I mixed and matched artists until I found a name to go along with this oddly intriguing sign, Cris Dornaus. She was a veteran of dozens of games, with work ranging from L5R, to D&D, and a personal project of hers, 7th Sea. Clearly, she belonged in my article.
Another internet search, several defunct websites, and a tall cup of chai tea later, I had Cris's email. She was now working as Cristina McAllister out of L.A. with her own art studio and shop. I'd imagined her creating a picture of a Rokugan Shugenja for me for years and I jumped at the opportunity to contact her.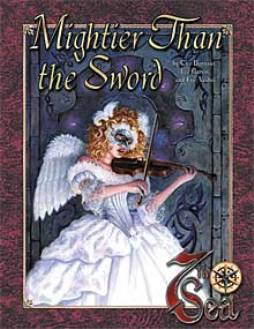 She was gracious and intent on getting the art right. Her desire for perfection became evident in her emails concerning content, character, and 'feel'. It was also a distinct pleasure to add a woman to my list of artists, the impact of female artists in the industry not readily apparent but whole-heartedly present.
---
Lyssa, by Cris Dornaus McAllister
Click images for larger versions.
Cris Dornaus was charged by the Alderac Entertainment Group to bring life to the Legend of the Five Rings RPG.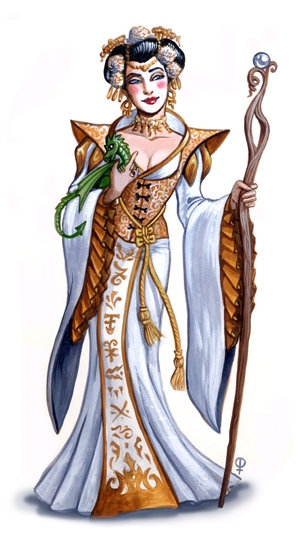 She was one of perhaps three female artists to create a viable name in the industry during the nineties. This was no small feat, and with CCGs ruling the gaming industry, she kept pace with a style all her own and was rewarded with the title of Art Director at AEG before her tenure was finished.
Cris is known for her elegant lines and flowing strokes of the pen. Her style lent itself to the honor of the Far East, her samurai stoic and her ladies refined. Her dulcet creations held court and her canvas colored a world of lotus blossoms, shining steel, and silk that dripped off the page in luxuriant texture.
She captured a timeline of katana and fan with perfect detail, the beauty of her creations measuring something very few in her field could muster. Where some artists present pictures, Cris could tell a story with a turn of an eye, and you felt the depth of family in all her pieces as the mid nineties turned late against the coming of the next millennia.
She recaptured a sense of innocence, a fantasy-instilled image, and yet one in perfect touch with physical reality. There was little distortion in her work, but there was no mistaking her for an oil connoisseur either. The acrylic of her art created the bridge between oil and other mediums with a middle of the road acceptance of truism.
To view Art Evolution 6 click here
Current Status: Cristina is still living in L.A. and doing dozens of different artistic styles from her busy studio. She and can be reached for commissions here and I suggest you take a look at some of her other wonderful projects.