The Complete Carpenter: Vampires (1998)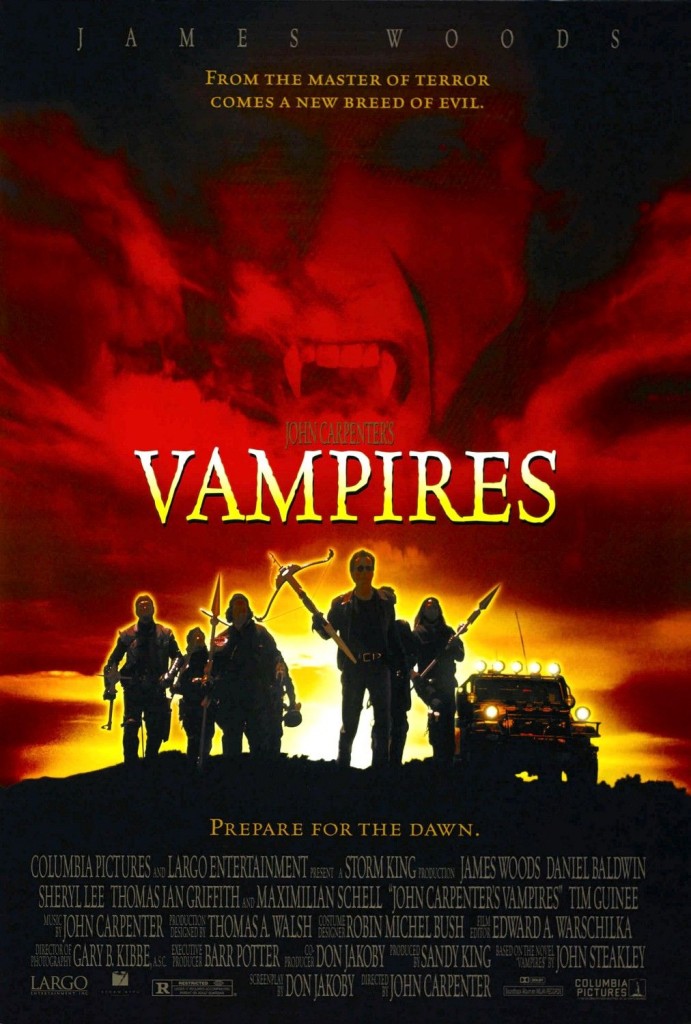 Escape from L.A. was almost the final film in John Carpenter's career. He wasn't enjoying filmmaking as much as he once did, and retirement was looking more attractive. There was also a depressing feeling that movie trends were passing him by — the master's students had started to take over genre filmmaking. But when Largo Entertainment approached him about directing an adaptation of John Steakley's 1990 novel Vampire$, the director couldn't resist the chance to take another crack at making a Western using another genre. The popularity of vampire films had surged in the late 1980s and through the '90s. One of the biggest vampire movie hits and a significant influence on the approaching superhero boom of the 2000s, Blade, came out the same year as Vampires.
Blade is arguably one of the problems Vampires ran into when it was released the day before Halloween. Although opening strong at #1, Vampires suffered an enormous second week drop and barely made back its production budget in the US. Younger audiences apparently wanted to see the slick black trenchcoat vampire-hunting heroics of Wesley Snipes in a modern city rather than a grungy ode to Italian Westerns starring James Woods. (The CinemaScore rating of audience reactions to Vampires was a dismal D+. Blade got an A-.) The film that horror magazines had touted throughout the year as John Carpenter's comeback ended up hastening his retirement.
The Story
Jack Crow (James Woods) is the leader of a vampire-slaying squad working for the Vatican to eradicate the plague of bloodsuckers across the southwestern US. After his team wipes out a vamp nest in New Mexico, the master vampire (Thomas Ian Griffith) slaughters all of Crow's team while they're boozing it up at a nearby motel. Only Crow and Montoya (Daniel Baldwin) escape. They take along Katrina (Sheryl Lee), a prostitute who was bitten by the vampire. Crow plans to use Katrina to track down the master and kill him. The Vatican assigns a new priest to work with Crow, Father Adam Guiteau (Tim Guinee), as they hunt for the powerful vampire, who is none other than Jan Valek, the first vampire ever created. Valek is seeking for an object hidden somewhere in the Southwest that will allow him to complete his original reverse exorcism and become the first vampire capable of walking during the day. Crow and Guiteau hunt desperately while Montoya becomes ensnared by Katrina.
…