The Complete Carpenter: Vampires (1998)
The Complete Carpenter: Vampires (1998)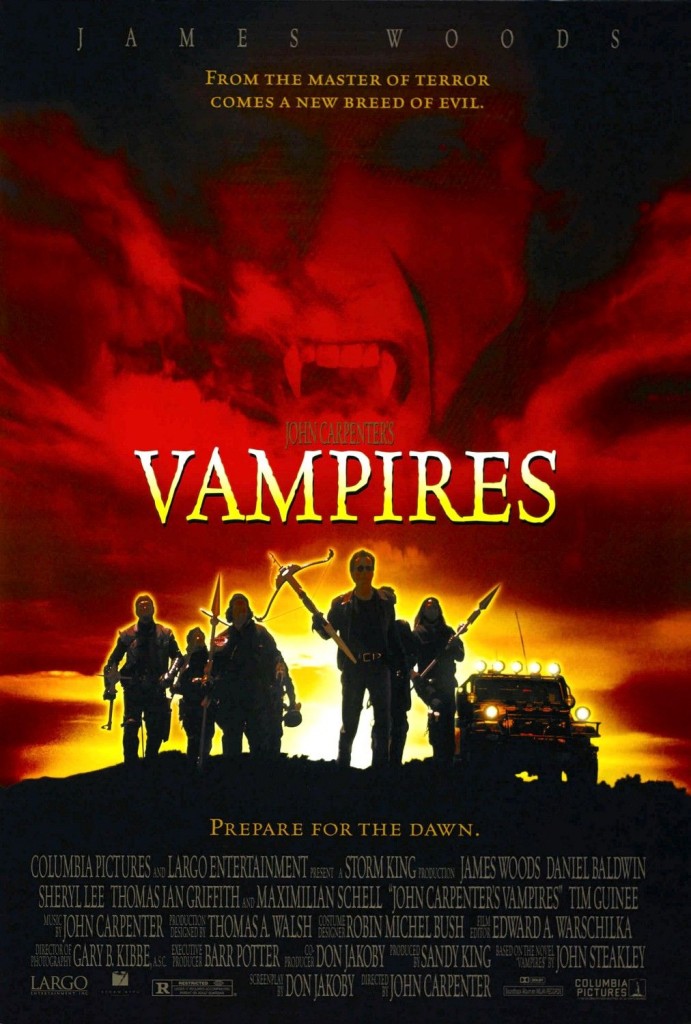 Escape from L.A. was almost the final film in John Carpenter's career. He wasn't enjoying filmmaking as much as he once did, and retirement was looking more attractive. There was also a depressing feeling that movie trends were passing him by — the master's students had started to take over genre filmmaking. But when Largo Entertainment approached him about directing an adaptation of John Steakley's 1990 novel Vampire$, the director couldn't resist the chance to take another crack at making a Western using another genre. The popularity of vampire films had surged in the late 1980s and through the '90s. One of the biggest vampire movie hits and a significant influence on the approaching superhero boom of the 2000s, Blade, came out the same year as Vampires.
Blade is arguably one of the problems Vampires ran into when it was released the day before Halloween. Although opening strong at #1, Vampires suffered an enormous second week drop and barely made back its production budget in the US. Younger audiences apparently wanted to see the slick black trenchcoat vampire-hunting heroics of Wesley Snipes in a modern city rather than a grungy ode to Italian Westerns starring James Woods. (The CinemaScore rating of audience reactions to Vampires was a dismal D+. Blade got an A-.) The film that horror magazines had touted throughout the year as John Carpenter's comeback ended up hastening his retirement.
The Story
Jack Crow (James Woods) is the leader of a vampire-slaying squad working for the Vatican to eradicate the plague of bloodsuckers across the southwestern US. After his team wipes out a vamp nest in New Mexico, the master vampire (Thomas Ian Griffith) slaughters all of Crow's team while they're boozing it up at a nearby motel. Only Crow and Montoya (Daniel Baldwin) escape. They take along Katrina (Sheryl Lee), a prostitute who was bitten by the vampire. Crow plans to use Katrina to track down the master and kill him. The Vatican assigns a new priest to work with Crow, Father Adam Guiteau (Tim Guinee), as they hunt for the powerful vampire, who is none other than Jan Valek, the first vampire ever created. Valek is seeking for an object hidden somewhere in the Southwest that will allow him to complete his original reverse exorcism and become the first vampire capable of walking during the day. Crow and Guiteau hunt desperately while Montoya becomes ensnared by Katrina.

The Positives
I recently rewatched Blade for the first time since seeing it in theaters. I was curious how it would compare to Vampires, its undead competition in 1998. I'm happy to report, regardless of the CinemaScore rating of the day, Vampires holds up as the better film. Not enormously better, but better. The films share similar flaws, but they also have powerhouse vampire-slaughtering openings — with Vampires nudging ahead because it has practical effects that haven't dated at all, while Blade suffers from the Escape From L.A. dilemma of laughable CGI. When Blade stakes a vampire, it flakes away into computer pixels to reveal a silly skeleton. When Jack Crow and team stake a vampire, it bursts into gouts of real flame. There's some terrific gore as well from the KNB Effects Group (who worked on In the Mouth of Madness), such as Valek ripping one of Crow's hunters (Mark Boone Junior) in half, the body then slouching down and splitting apart.
And yeah, the two big opening sequences in Vampires are seriously mad and promise the young, vivid John Carpenter is back and ready to take no prisoners. We watch Crow's blue-jeans death squad in action destroying a nest in a rotting house. As the vampires attack, the hunters impale them with stakes attached to cables connected to a truck winch, which then drags them outside to incinerate in the sun. There are cool touches with the anti-undead weapons the team carries, and the highlight is Crow struggling over and over to drive a stake into the heart of one obdurate vampire. It's a nasty joy to listen to Woods spit out profanity while trying to force this last guy to just — die — already!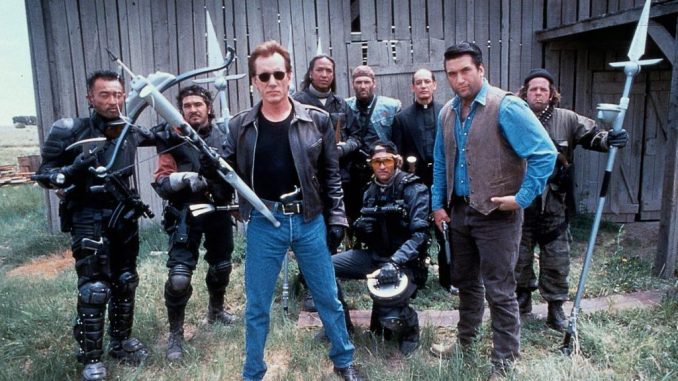 Around five minutes later, Valek stalks into the fleabag motel where the team is prematurely celebrating and proceeds to slaughter everyone in the movie's biggest gorefest. The use of slow-mo as Valek moves around the victims portends pacing problems to come, but it's still a giddy horror spectacle awash in practical effects.
Vampires is the closest John Carpenter has come to his dream of shooting a Western. The opening titles fill the screen with amazing Southwestern landscape shots of harsh terrain that rides the border between John Ford and Sergio Leone, and there are many more epic Western visuals to come. The Spanish Catholic backdrop and décor immediately conjure memories of Italian Westerns. The camera applies a rusty and stormy haze to the sky, creating a blood-soaked and portentous feeling. The movie is often marvelous to contemplate strictly through the lens of Carpenter's "almost Western."
If the budget had been there, I'm certain Carpenter would've altered the script into an actual period Western. It wouldn't be a tough change. The story is confined to desolate desert landscapes and empty ghost towns, with no large city in sight and few trappings of late twentieth-century civilization except weapons and vehicles, and most interiors appear lifted from the nineteenth century. It seems as if the only running institutions in this world are motels, gas stations, and the Catholic Church.
Jack Crow is a character who seriously tests how much abuse the audience will endure from a hero, but I can't deny James Woods goes full throttle in the part. Few actors are better suited to playing hateable motor-mouthed but mesmerizing jerks. Apparently Woods improvised dialogue on the set, and was surprised to discover how much of it Carpenter ended up keeping in the final cut.
The most helpful performance — helpful in that it relieves the audience of Crow's nastiness and gives them somebody who seems kinda human — is Tim Guinee as Father Guiteau. Guinee, who was also in Blade playing a doctor, works up a good rapport with Woods as total opposites and a variation on the "veteran cop and rookie" dynamic. Guiteau toughens over the film and by the finale earns the audience's respect (and Crow's) without turning unsympathetic. I enjoy most of the scenes between Woods and Guinee; Carpenter probably liked these moments the most as well.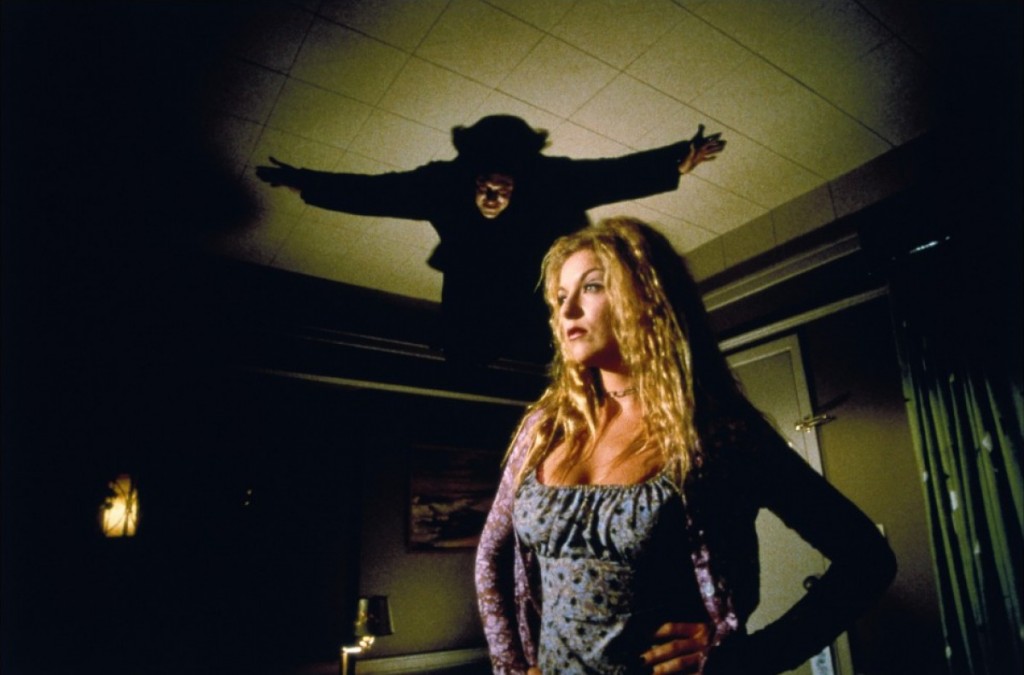 The movie de-mythologizes the romantic vampire similar to the way Kathryn Bigelow's Near Dark did more than a decade earlier, giving us feral beasts who stand out against the Euro-cool, brooding existentialist vampires of the '90s. The script adds its own interesting mythology that unfolds as Jack and Father Guiteau learn about Valek's unlife and the object of his quest. Valek's story is more intriguing than Valek himself, and the hints of a hidden history of the Catholic church have shades of Prince of Darkness.
The Negatives
No John Carpenter movie is as big a disappointment as Vampires. I recall seeing it for the first time when it came out on Halloween in 1998 and how my interest slowly shriveled after the over-the-top opening. All the potential of a John Carpenter action-horror-Western hybrid dissolved, and when the movie ended I was left with a shrug and that most damning phrase: "So that was it, huh?"
Vampires has all the ingredients for a great Carpenter comeback to horror (with Western flavoring), but it just doesn't work because no movie can overcome being boring. John Carpenter scholar John Kenneth Muir hit the wooden stake on the head when he described the film as trapped in a kind of droning. A dreamlike slowness is a positive characteristic in some of Carpenter's films, especially the horror ones, but Muir observes that Vampires "never gets out of the drone: It is lethargic and flat without any real notable highs or lows." I think the opening twenty minutes are a genuine high, but after that, it's a flatline. Nothing. It's like the film suffered sunstroke and collapsed at the side of a two-lane blacktop.
After the urgency of the opening, the movie is poised to center on a dual search: Will Valek track down and kill Jack and Montoya first, or will they successfully use Katrina's connection to ambush the vampire? But this tension never comes to anything. Vampires slouches into walkabout mode instead of winding up the suspense. Valek wanders the Southwest, killing people in tedious montages as he hunts for the black cross with other vampire disciples, Jack Crow aggravates and harasses his allies, and Montoya stays put in a hotel waiting for Katrina to have visions and clumsily letting her bite him. Crow shows Guiteau a map of vampire attacks in a circular search pattern — which is exactly how it feels the movie is plotted, ambling in slow circles trying to find its center. It seems to go slower as it moves toward the climax, with each new sequence managing to be less gripping than the previous one. Set-pieces like a fight in a jail in an abandoned town, meant as a callback to both Rio Bravo and Assault on Precinct 13, leave almost no impression. This is the longest John Carpenter film in subjective running time, and its 108-minute actual running time is also objectively too long.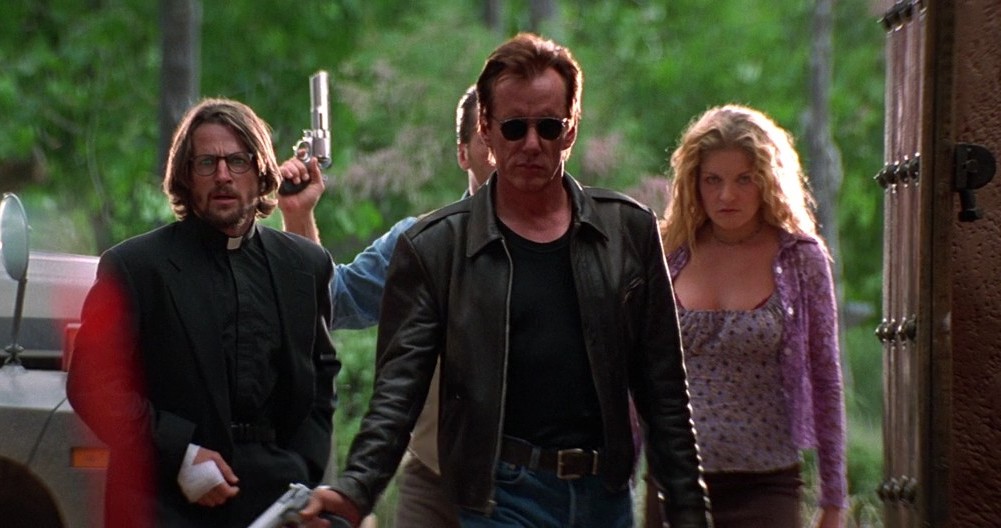 Carpenter has worked magic before with ostensibly unlikable heroes such as Snake Plissken in the Escape films and John Trent in In the Mouth of Madness. But Jack Crow crosses the tolerable line with his violence and misogyny, and casting him too well ends up part of the problem. (This would've been a great place to bring back Sam Neill to a Carpenter film. I'd love to see his interpretation of Jack Crow.) Crow is cynical without charm, and he spends less time slaying vampires than he does delivering beatings to his allies (he assaults Father Guiteau twice). The movie is already a drag, and having to hang out with Jack Crow doesn't make it easier.
On the other hand, any time away from Crow and Father Guiteau means spending it with Montoya and Katrina — and these characters plain and simple don't work. They're the most obvious spots where the film almost grinds to a halt. Baldwin is uncharismatic and acts rather doltish for a veteran vampire hunter. His bland on-screen chemistry with Woods means the Red River-esque finale is stale. Sheryl Lee does what she can with a part that mostly requires her to writhe around and react to getting punched and slapped. With all the Hawksian camaraderie between Crow and Guiteau, it's too bad Carpenter couldn't give the one major female character a more commanding Hawksian feel.
Ian Thomas Griffith has received praise for his portrayal of Jan Valek, but I don't see it. As an ostensibly super vampire, Valek is super dull. Crow's rant about how vampires aren't romantic stereotypes in "rented evening wear" collapses because Valek is a generic master vampire. He's physical, hurling people against walls and ripping open necks, but there's nothing to the character aside from the violence. The more interesting villain is Maximilian Schell as the traitorous Cardinal Alba, but he only shows up long enough for audiences to wish he would hang around more. Maximilian Schell makes a fantastically sinister, grinning villain (I'm a Black Hole defender), and the film would've benefited if he were the master vampire and Valek his servant. It'd make for a better twist than Alba simply popping up for a few minutes in the finale as a traitor and getting killed minutes later.
This is the point in Carpenter's movie scores where the absence of Alan Howarth becomes a noticeable detriment. The music is a directionless blues, like They Live with the edges sanded off, and it gradually infects the directionless movie. It's generic Western and John Carpenter music. Ugh, this is the first time I've had to file a Carpenter score in the "negative" category.
Muir theorizes the reason Vampires never clicks is because Carpenter picked style over substance and let a tough, maverick attitude overbalance his sense of pace and story. Possibly. My theory for Vampire's failure comes from knowing what's ahead: Ghosts of Mars and John Carpenter hitting complete burn-out. I think he was already halfway burnt-out here. Vampires is tired because the director was tired.
The Pessimistic Carpenter Ending
Eh, the film itself feels like a pessimistic ending, so the actual ending with Crow and Guiteau doing a Wild Bunch-style walk to finish off the last of Valek's followers is upbeat.
Next: Ghosts of Mars
---
Ryan Harvey (RyanHarveyAuthor.com) is one of the original bloggers for Black Gate and has written for the site for over a decade. He received the Writers of the Future Award for his short story "An Acolyte of Black Spires." His stories "The Sorrowless Thief" and "Stand at Dubun-Geb" are available in Black Gate online fiction. A further Ahn-Tarqa adventure, "Farewell to Tyrn", is available as an e-book. Ryan lives in Costa Mesa, California. Occasionally, people ask him to talk about Edgar Rice Burroughs or Godzilla.