Vintage Treasures: Songs of Stars and Shadows by George R.R. Martin
Vintage Treasures: Songs of Stars and Shadows by George R.R. Martin
George R.R. Martin is the most popular fantasy writer in the English language, and indeed one of the most popular fantasy writers of all time. I know a great many aspiring young twenty-something writers who aspire to be him, or at the very least aspire to his career. Most have read his magnum opus, the Game of Thrones novels, but few seem to be aware that not so very long ago GRRM was also a struggling twenty-something writer. If you're serious about studying his career, the place to start is his early short story collections, which gather the best work of a gifted young writer who even then was obviously destined for great things.
George's second collection Songs of Stars and Shadows was published in paperback by Pocket Books in 1977. It contains nine tales, including four in his Thousand Worlds milieu, his Hugo-nominated "And Seven Times Never Kill Man," his space dogfight story "Night of the Vampyres," and "This Tower of Ashes," which he calls in his Introduction "in my estimation the best short story I have ever written."
George's lengthy intro, in fact, is one of the best things about the book, especially for modern fans. It's a delightful peek behind the scenes at the life of a young science fiction writer in the early 70s, enduring writing slumps, half-heartedly accepting thick research packets on lasers from new Analog editor Ben Bova, sleeping on the floor at science fiction conventions (with his boots as a pillow), and sneaking into the Playboy Club with Howard Waldrop. Here's a colorful snippet that talks about how his first collaboration with Waldrop, "Men of Greywater Station," came to be.
[Click the images for song-sized versions.]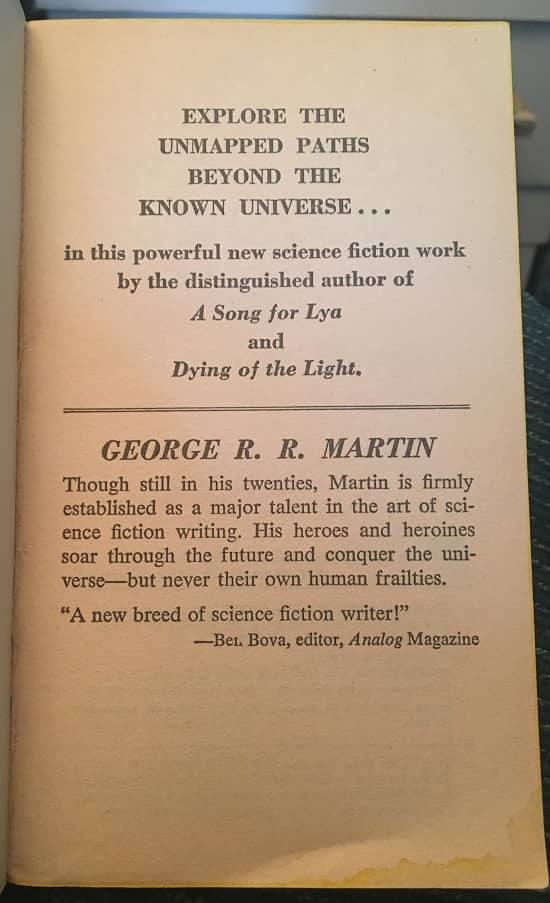 "Men of Greywater Station" was the first collaboration I ever tried. Texas writer Howard Waldrop and I had been corresponding since 1963, when we were both in high school and I mailed him a quarter to buy a Justice League of America comic book, but we never actually met in the flesh until 1972, when we finally got together at an SF convention in Kansas City, Missouri. There was a Playboy Club on top of the convention hotel. Most of the folks Howard and I were hanging around with had never been in a Playboy Club, so one night a big party went up to swill expensive drinks and ogle the Bunnies. In the middle of all that decadence Howard and I sat nursing our beers, and suddenly a furtive look came into our eyes, and we got feverish and began to talk story, and from there it wasn't terribly long until we snuck down to the hotel room where we were sleeping on the floor (I was using my boots as a pillow) and Howard got out his portable typewriter. One of us wrote while the other partied, and by the time the weekend was over we had half the story. Howard took the manuscript down to Texas with him, finished the rough draft, and shipped it up to me. I revised, expanded, polished and finally marketed the thing, by then the longest story either of us had ever done.
Here's the complete Table of Contents.
Introduction by George R. R. Martin
"This Tower of Ashes" (Analog Annual, April 1976)
"Patrick Henry, Jupiter, and the Little Red Brick Spaceship" (Amazing Stories, December 1976)
"Men of Greywater Station" by George R. R. Martin and Howard Waldrop (Amazing Stories, March 1976)
"The Lonely Songs of Laren Dorr" (Fantastic, May 1976)
"Night of the Vampyres" (Amazing Science Fiction, May 1975)
"The Runners" (The Magazine of Fantasy and Science Fiction, September 1975)
"Night Shift" (Amazing Science Fiction, January 1973)
"… For a Single Yesterday" (Epoch, November 1975) — Locus Award nominee
"And Seven Times Never Kill Man" (Analog Science Fiction/Science Fact, July 1975) — Hugo and Locus Award nominee
Not so very long ago I sold a signed hardcover of A Games of Thrones for $2,250. Songs of Stars and Shadows, like most of George's early collections, is priced much more reasonably. I found the copy above in a box of 50 science fiction paperbacks I bought online five months ago for $23, priced at less than 50 cents each.
Coronet Books edition, 1981. Cover by David Cox Studios
George's early collections include A Song for Lya and Other Stories (1976), Sandkings (1981), Songs the Dead Men Sing (1983), Nightflyers (1985), Tuf Voyaging (1987), and Portraits of His Children (1987). We've previously covered several of George's early collections and novels, including:
Why Amazon Lists Books For Over $20 Million
A Tale of Three Covers: Nightflyers
George R.R. Martin's "Nightflyers"
Vintage Treasures: Fevre Dream
On Rivers of Blood: Fevre Dream, reviewed by Joe Bonadonna
Songs of Stars and Shadows was published by Pocket Books in July 1977. It is 240 pages, priced at $1.75. The cover artist is unknown. It was reprinted only once, by Coronet Books in the UK in 1991. It has been out of print for 27 years.
See all our recent Vintage Treasures here.