A Tale of Three Covers: Nightflyers by George R.R. Martin
A Tale of Three Covers: Nightflyers by George R.R. Martin
George R.R. Martin may be the most popular genre writer on the planet. In terms of global book sales his only living rivals are J.K. Rowling and Stephen King.
So it's not surprising that much of his back catalog is returning to print, including his 1985 short story collection Nightflyers. Nightflyers contains six stories, including the Hugo-award winning novella "A Song for Lya," but by far the most famous tale within is the title story, a science fiction/horror classic which won the Analog and Locus Awards in 1981, and was nominated for a Hugo for Best Novella.
Nightflyers was originally published by Bluejay in 1985, and reprinted in mass market paperback in February 1987 by Tor with a cover by James Warhola (above left). It was reprinted two years later with a new cover to tie-in with the 1987 movie version (above middle; cover artist unknown). The new edition, with a vibrantly colorful cover from an uncredited artist (above right), is the first over over three decades. It will be published by Tor at the end of the month, in advance of the new series debuting on Syfy later this year.
"Nightflyers" was one of the first major adventures set in Martin's "Thousand Worlds" universe, home to much of his early short fiction. Here's my synopsis from my 2012 Vintage Treasures article.
[Click the images for space-sized versions.]
I re-read the story yesterday, and it was just as powerful as I remember it. It opens with an unnamed narrator describing an ancient and mysterious race of aliens, the volcryn, who have been traveling at sublight speeds right through the very heart of interstellar civilization for thousands of years, all unknown to other races… A single man, Karoly d'Branin, pieces together myths and legends from a handful of alien civilizations and puts together a poorly-funded research organization to find and intercept the volcryn for the first time.

Lack of funds forces him to select an unusual ship-for-hire: the Nightflyer, crewed by a single man, Royd Eris. Royd remains unseen, hidden behind sealed bulkheads for the entire trip, communicating with the rest of the crew only through the telecom, and a hologram which looks strangely out-of-date. But is Royd even human? As the weeks pass and odd things begin to occur on board, the crew begins to speculate that Royd is an artificial intelligence, or a previously unencountered alien… or something even stranger…

I won't reveal the ending, but it's a unique and satisfying close involving a life-or-death repair to the ship, undead creatures, the truth about Royd and the inhuman presence on board… and the powerful volcryn, drawing nearer and nearer.
"Nightflyers" was originally published in the April 1980 issue of Analog magazine. The great Paul Lehr produced a masterpiece to adorn the cover.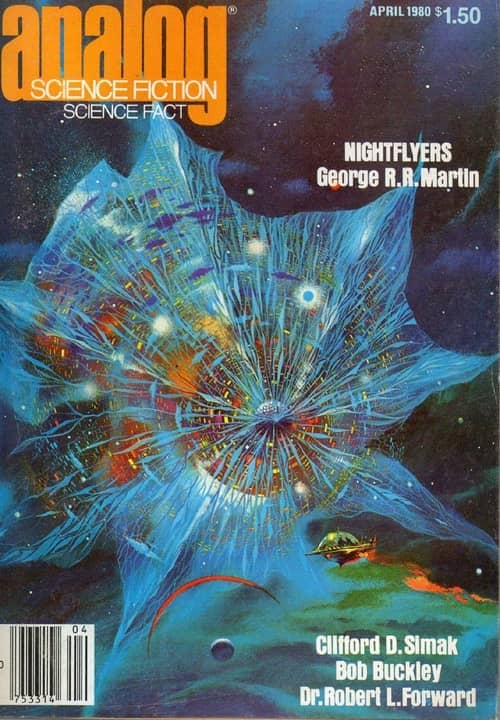 Martin produced nearly two dozen tales in the "Thousand Worlds" universe, including his first novel, Dying of the Light (1977). Natalie Zutter has a very handy synopsis on the history of the story in her March Tor.com article "Everything You Need to Know About George R.R. Martin's Nightflyers."
Before he set sail for Westeros… Martin was exploring the far reaches of space writing sci-fi/horror hybrids in another self-created universe known as the "Thousand Worlds."

In this GRRM-verse exists Nightflyers, a "haunted spaceship" novella that is being resurrected as a television series on Syfy… Since its publication nearly forty years ago, Nightflyers has existed in many forms: novella, expanded novella, movie, and now a TV show that will turn a very gory one-shot story into an ongoing series….

On the fringes of the universe, a scientific expedition made up of nine misfit academics has been tasked with studying the volcryn, a shadowy alien race. Yet there are potentially greater mysteries on their own ship: The Nightflyer, the only vessel available for the mission, is a technological marvel: fully autonomous and manned by a single human. Yet Captan Royd Eris cuts himself off from the crew, communicating through only voice or hologram, more resembling a ghost than a leader.

He may not be the only unknown presence on the Nightflyer, as telepath Thale Lasamer detects a malevolent force lurking — and Eris' denials that there is an unknown entity on the ship go out the airlock when this other force begins a bloodthirsty murder spree. The only hope against the terror is Melantha Jhirl, a genetically enhanced outcast whose intelligence and stamina outranks her human crew members. But is it enough to escape the clutches of the Nightflyer's murderer?
Here's the back covers to the 1985 and 1987 paperbacks.
It turns out there are at least two versions of the story out there. The original, which I read in its 1980 magazine appearance, had several problems (like the fact that most of the cast didn't even have names). The expanded version remedies most of them though, as I noted in my review, in many ways I still prefer the early, leaner version.
Here's Natalie Zutter again on the history of the various versions.
The original version, clocking in at 23,000 words, was published in Analog Science Fiction and Fact in 1980. The next year, Martin expanded the novella to 30,000 words so that it could be included in Dell's Binary Star series, which pairs two works in one book; Nightflyers joined Vernor Vinge's cyberpunk novella True Names. The later Nightflyers, which was also published in Bluejay Books' 1985 collection, is Martin's preferred version.
A big part of the reason for the recent interest, of course, is Syfy's upcoming series which expands Martin's novella into an ongoing series.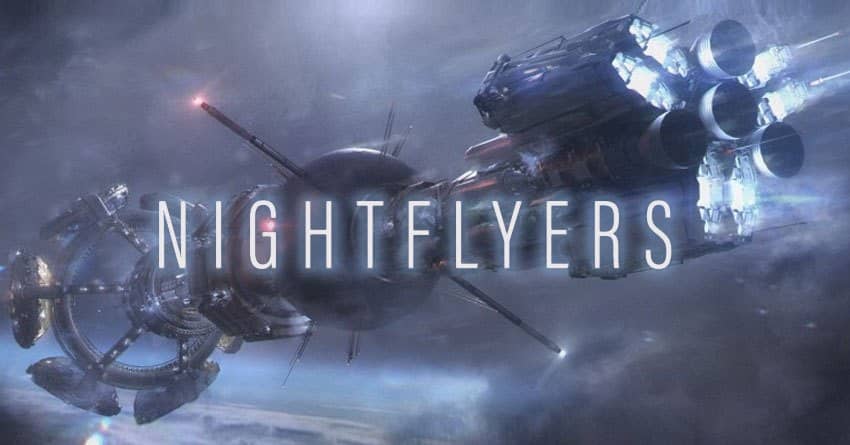 There's a lot of differences between the source material and the series, however. For one thing, Syfy has jettisoned the far-future "Thousand Worlds" in favor of a near-future setting a scant 75 years hence.
Set in the year 2093, Nightflyers is a psychological thriller that follows a team of scientists aboard the Nightflyer, the most advanced ship ever built, as they embark on a journey to find other life forms. Their mission takes them to the edge of the solar system, and to the edge of insanity, as they realize true horror isn't waiting for them in outer space — it's already on their ship.
You can catch up on all the news and watch the latest trailer for the series here.
The series isn't the only thing that's changed since I wrote my 2012 review, however. For one thing, George R.R. Martin has become one of the most collectible authors in the industry, and the price of his books has skyrocketed. When I wrote that piece I wrapped up by saying:
If you're a paperback collector, very few of [Martin's collections] will pose you a challenge… [most] can be had for decent prices on both Amazon and eBay.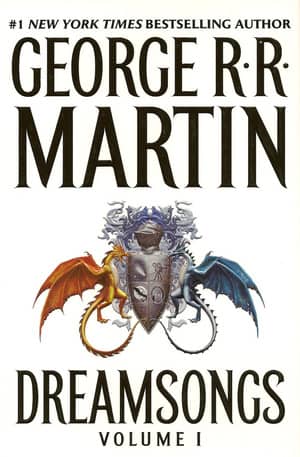 There are about a dozen copies of the Tor paperback editions of Nightflyers currently on eBay, with an average asking price of $60 – $100, depending on condition. When I checked my Amazon records, I discovered I bought my copy in good condition in 2012 for $0.02 plus shipping. That's right, two cents. Those days are over, that's for sure.
This is an excellent collection for all serious SF fans. Three of the stories are included in GRRM's massive short fiction retrospective Dreamsongs, but this is a much more economical purchase. Here's the complete TOC, including two long novellas ("Nightflyers" and "A Song for Lya") and three tales of the Thousand Worlds ("Nightflyers," "And Seven Times Never Kill Man," and "A Song for Lya").
"Nightflyers" (Analog Science Fiction/Science Fact, April 1980)
"Override" (Analog Science Fiction/Science Fact, September 1973)
"Weekend in a War Zone" (Future Pastimes, 1977)
"And Seven Times Never Kill Man" (Analog Science Fiction/Science Fact, July 1975)
"Nor the Many-Colored Fires of a Star Ring" (Faster Than Light, 1976)
"A Song for Lya" (Analog Science Fiction/Science Fact, June 1974)
The new edition, Nightflyers & Other Stories, will be published by Tor on May 29, 2018. It is 384 pages, priced at $9.99 in paperback and $5.99 for the digital version. The cover artist is uncredited.
See all of our previous Tales of Two Covers here.