Vintage Treasures: Fevre Dream by George R.R. Martin
Vintage Treasures: Fevre Dream by George R.R. Martin
George R.R. Martin's A Song of Ice and Fire is the biggest series in fantasy right now — indeed, the biggest literary series of any kind — but I've never read it. I prefer not diving into a series until it's complete (or at least very close to complete), and based on the news that it probably won't wrap up until after 2020, I'm likely years away from working up enough motivation to pick up the first volume in the series, A Game of Thrones.
But there are other Martin books I'm very interested in. For instance, I just bought a copy of his steamboat vampire novel Fevre Dream, originally released in 1982. It's one of the most acclaimed horror novels of the last 30 years and, even better, it's a standalone novel. I don't have to wait for the sequel, which is kind of refreshing.
Fevre Dream has an interesting publishing history. It was Martin's third novel, after Dying of the Light (1977) and Windhaven (1981, written with Lisa Tuttle), and his first horror novel. The early 80s was the era of the blockbuster horror novel, led by the huge success of Stephen King's The Stand (1978) and Firestarter (1980), and Peter Straub's Ghost Story (1979). It seemed that every young genre writer capable of delivering a high-concept horror novel was being urged to do so by their agent, and Martin was no exception.
The hardcover edition of Fevre Dream was published by Poseidon Press in 1982 (above left, cover by Barron Storey), and it was nominated for both the World Fantasy Award and the Locus Award for Best Fantasy Novel. Its success led Martin, who until that point was known chiefly as a science fiction writer, to attempt a transition to horror with his fourth novel, The Armageddon Rag (1983), an ambitious and experimental novel about the supernatural events surrounding the reunion tour of the band The Nazgûl.
Martin later described The Armageddon Rag as "a total commercial disaster" that almost destroyed his career. It was certainly the end of his career as a horror writer, and very nearly the end of his career as a novelist. He didn't write another novel until A Game of Thrones, thirteen long years later.
Fevre Dream, however, has fared significantly better. It has been reprinted multiple times since it first appeared over 30 years ago. It was selected as #13 in the Gollancz Fantasy Masterworks series in 2002 (above middle, cover by Paul Wright), and it has been in print in paperback, off and on, for much of the last three decades. Since 2012 it has been in print in a Bantam mass market edition with a new cover by Stephen Youll (above right).
Here's the book blurb for the Bantam edition:
Abner Marsh, a struggling riverboat captain, suspects that something's amiss when he is approached by a wealthy aristocrat with a lucrative offer. The hauntingly pale, steely-eyed Joshua York doesn't care that the icy winter of 1857 has wiped out all but one of Marsh's dilapidated fleet; nor does he care that he won't earn back his investment in a decade. York's reasons for traversing the powerful Mississippi are to be none of Marsh's concern — no matter how bizarre, arbitrary, or capricious York's actions may prove. Not until the maiden voyage of Fevre Dream does Marsh realize that he has joined a mission both more sinister, and perhaps more noble, than his most fantastic nightmare — and humankind's most impossible dream.
The Bantam paperback is the version I bought last week.
For collectors, there are a few other editions of interest. I have a copy of the 1983 Pocket Books paperback (above left), which I'm quite fond of… like a lot of paperback bestsellers in the 80s, it had a fold-open cover that revealed the unspoiled cover art underneath. The submerged vampiric face is much more visible in this version than it is in the hardcover: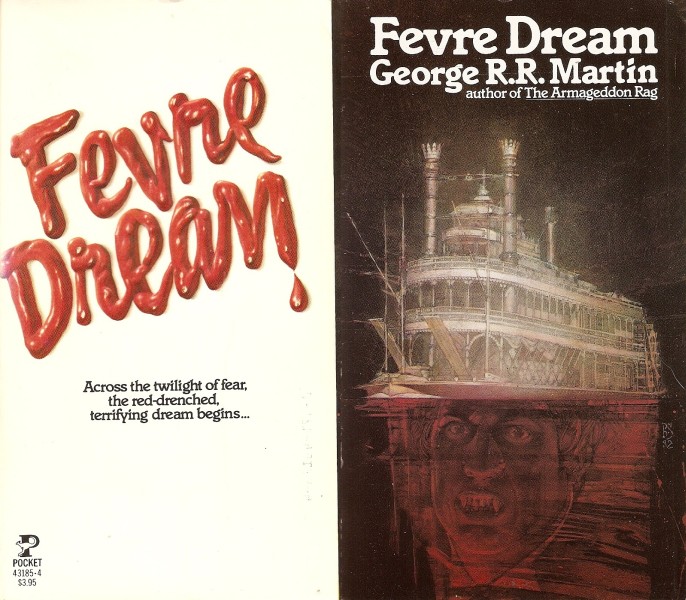 There was also a trade paperback edition from Bantam Spectra, with cover art by Alain Daussin Johner (above right). That version is also in print.
Fevre Dream was published in October 1982 by Poseidon Press, and reprinted in May 2012 by Bantam Books. It is 461 pages, priced at $7.99 in paperback and $6.99 for the digital edition. The cover is by Stephen Youll.
See all of our recent Vintage Treasures here.