The Complete Carpenter: The Ward (2010)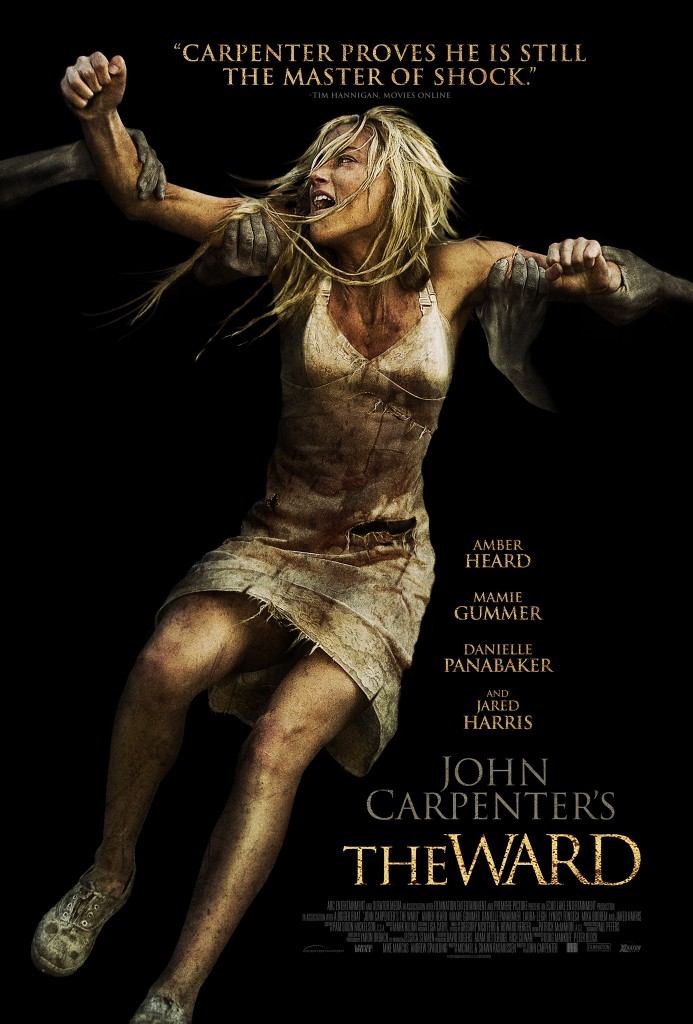 I started this John Carpenter career overview less than two years ago with Dark Star. Now I've come to what may end up as John Carpenter's final film as director, appropriately a low-budget indie horror film. Carpenter had gone into semi-retirement after Ghosts of Mars flopped at the box office, only directing two episodes of Showtime's anthology series Masters of Horror over the next nine years. The Ward wasn't sold as a glorious comeback for the director, but a surreptitious little film that arrived without fanfare in a handful of theaters, a same-day VOD release, and home video a month later.
This isn't where the Carpenter story ends, thankfully. I doubt he'll direct another film (never say never), but he's in a good creative place now. He's released two superb original albums (Lost Themes, Lost Themes II), tours the country playing shows with his son Cody and godson Daniel Davies, and composed the score for the recent smash-hit installment in the Halloween franchise, which he also executive produced.
This makes me feel a bit better about discussing The Ward, because it's not the last stop on Carpenter's career. It won't be the last article in the series either, since next week I'll wrap-up two years of the Complete Carpenter with a summary of my five favorite of his movies. I'm not going to list my five worst because I'd prefer to send off this long project — more than 40,000 words — on a feeling of celebration.
But, if you really must know what I movie I'd put at the bottom of the list … it's The Ward. Easy.
The Story
In 1966, young runaway Kristen (Amber Heard) is sent to a psychiatric hospital in Oregon after she burns down an empty farmhouse. Kristen is placed under the care of Dr. Stringer (Jared Harris), who is looking after five other troubled young women in the hospital's special psychiatric ward: aggressive Emily (Mamie Gummer), flirtatious Sarah (Danielle Panabaker), artistic Iris (Lyndsy Fonseca), and infantile Zoey (Laura-Leigh). Dr. Stringer believes he can cure Kristen, but Kristen starts to suspect something sinister in the ward is responsible for the disappearance of patients before her. When more vanishings occur, Kristen believes the wrathful ghost of a previous patient, Alice Hudson, is murdering the ward's occupants. Kristen attempts an escape with the surviving girls before the killer ghosts turns the electroshock therapy machine on her.