Vintage Treasures: The Midwich Cuckoos by John Wyndham
Vintage Treasures: The Midwich Cuckoos by John Wyndham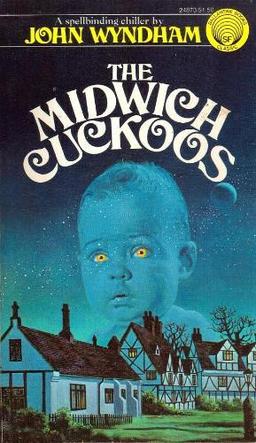 John Wyndham's first SF story, "Worlds to Barter," was published in the May 1931 issue of Wonder Stories, one of the very first pulp magazines I ever bought (which still brings back fond memories every time I see the cover). It appeared under his pulp pseudonym, John Beynon Harris, and alongside "Through the Purple Cloud" by Jack Williamson, and stories by Fletcher Pratt, Ed Earl Repp, and an editorial by Hugo Gernsback. Wyndham was just 27 years old.
His real fame, of course, came with his novels. The first to appear under his own name was the international bestseller The Day of the Triffids (1951), followed by The Kraken Wakes (1953), The Chrysalids (1955), The Outward Urge (1959), Trouble with Lichen (1960), and Chocky (1968).
The Midwich Cuckoos was first published in hardcover in the UK by Michael Joseph in 1957, and made into the classic SF film Village of the Damned in 1960 (and remade by John Carpenter in 1995).
A nightmare tale of a quiet English village where nothing ever happened until late one September night, when every woman in town became inexplicably pregnant…

Nine months later, sixty beautiful children were born… sixty unbelievable threats to the human race!
Today The Midwich Cuckoos is something of a neglected classic. It has been out of print in the US since the Del Rey paperback edition shown at right was released in May 1980. It is 189 pages, priced at $1.50. The cover is by Dean Ellis. An ebook was published in July 2010 by RosettaBooks, and that's probably your best bet if you're trying to track down a copy.