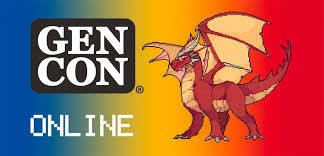 I have been attending Gen Con regularly since 2009, and reporting on the events and new games here on Black Gate. It's one of the highlights of my year, honestly. But this year, of course, Gen Con has suffered the same fate as so many other major in-person events … a shift to online participation. Gen Con Online will run from Thursday, July 30, through Sunday, August 2, 2020.
Registration for Gen Con Online is free for attendees. There will also be three different Twitch channels that are livestreaming demos, live games, and other broadcasts related to Gen Con, with links available here. There is also supposed to be a Discord server set up, though that is still coming. Not surprisingly, it looks like there will be ample abilities to purchase games through the Gen Con Game Store, and of course to purchase Gen Con merchandise. All of that goes live online when the convention begins on Thursday. Once you've signed up for your badge, you can register for individual events on the Event Page, though at this point many of the most popular events are sold out. (It is still worth checking in, though, as some people might not show up for their registered events.)
Favorite annual major events from Gen Con are still taking place, though in modified forms. For example, the annual Costume Contest allowed entries throughout the first half of July. Finalist videos will be placed on the Online Costume Contest website on July 29, allowing for votes from fans (1 vote per person). It isn't going to be quite the same as the Saturday parade of costumes through the convention center, to be sure, but I'm definitely glad that they've found a way for these impressive cosplayers to show their stuff and get recognized for it.