Gen Con 2010 – Day 2
Gen Con 2010 – Day 2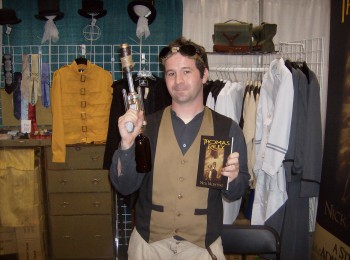 Steampunk is vividly on display at Gen Con this year, which makes sense, based on the popularity of novels such as Boneshaker by Cherie Priest (a Hugo finalist) and Leviathan by Scott Westerfeld. The industrial revolution of technomagick from the Privateer Press campaign setting of the Iron Kingdoms also shows us what steampunk can accomplish.
More game systems seem to be embracing it, like in some of the new supplements for the Victoriana RPG (a game I'll be reviewing in the next issue of Black Gate) and the growth of weird science-based pulp games like Hollow Earth Expedition. Heck, even Disney is getting into the steampunk spirit. (Not surprising given all the times which, as Scott Westerfeld pointed out, they've dipped into steampunk in the past). In a recent posting on his blog, Bowing to the Future, science fiction author and editor Lou Anders discussed the growth of the steampunk sub-genre. It seems like there's hardly a "best of" list out there which doesn't contain at least one steampunk title.
I, too, have definitely noticed the popularity of steampunk. After reading Leviathan, it seemed as if I was seeing steampunk everywhere. At the beginning of July, I attended the Annual Gathering of American Mensa and ran into author Emilie P. Bush, who was promoting her recent book Chenda and the Airship Brofman. (I have a copy, but haven't read it yet, so this is not an endorsement. I do, however, fully endorse Leviathan by Scott Westerfeld, which I will probably be reviewing for the next issue of Black Gate if no one has snagged it yet. My wife endorses Boneshaker by Cherie Priest, but I haven't read it yet.)
At Gen Con this year, I ran into Nick Valentino, shown above holding both a steampunk style gun and his steampunk novel Thomas Riley. Nick was positioned in the booth for Frenzy Universe, a store that offered a wide assortment of steampunk supplies: goggles, gears, watch parts, walking sticks, clothing, and even period-appropriate moustaches. And it wasn't the only such establishment there, either … it's just the only one for which I obtained a business card. While steampunk once seemed like a niche segment of an already-niche market, it now seems like you can't have a fantasy apparel store without taking steampunk into account.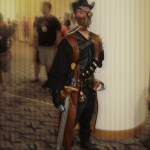 To the left is yet another nice steampunk costume that I came across. (Sorry for the low picture quality, but my camera appears to have taken today as its opportunity to begin failing.)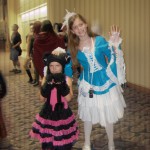 It might be easy to think that all of these costumes are for grown-ups, but the picture on the right-hand side will hopefully make it clear that Gen Con is fun for all ages. The costumes do not have to be skimpy or contain violent accessories. Sometimes, they can just be fun … like tomorrow's "Pirates on Parade" in the Family Pavillion, at 11:00 A.M. My son is eager to attend that!
And, on that note: Wielding a mighty vorpal blade and the strongest of enchanted shields, the elder brother seeks retribution for yesterday's attack on his baby brother … after he adjusts his hat.