Zig Zag Claybourne's Exclusive Interview with A Sinister Quartet Authors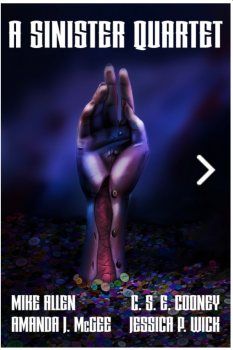 Ah, Horror in the time of Covid! It seems almost superfluous, like a feather boa on an ostrich.
However, we the authors of A Sinister Quartet (Mythic Delirium 2020), have pranced fancily forward on that ostrich! Ostriches piled on ostriches! Feather boas galore! Which feather boas, I might add, sport an unnerving number of teeth and eyeballs.
(Editor and author Mike Allen likes to say of our book: "It's the fun horror, the kind you consume for imaginative shocks and chills, not the kind that weighs on you like the stones that killed Giles Corey in The Crucible as you helplessly doomscroll through social media.")
In the spirit of fun then, we approached the rollickingly magnificent Zig Zag Claybourne, who probably has the most fun-on-page of any writer I know–and I live with Carlos Hernandez! (Okay, I confess; it's a toss-up).
Zig Zag, who'd already read A Sinister Quartet and given it an enthusiastic and incisive review, when asked if he might interview us for Black Gate, generously agreed! His questions were every bit as nuanced, as delicious, as sharp-edged, as playful, as hopeful as his own prose. And so, without any more ado…
ZIG ZAG CLAYBOURNE: When I finished the Advance Readers' copy of A Sinister Quartet, my thoughts ran this way:
There's a theme in this book, likely unintended, grown organically out of the times, of not giving up, regardless of fatigue, pain, unfairness or a sense that you are small and meaner forces are grotesquely big.