New Treasures: Immortal Muse by Stephen Leigh
New Treasures: Immortal Muse by Stephen Leigh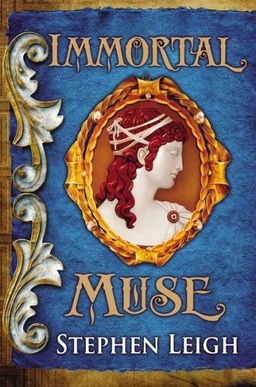 I bought my first Stephen Leigh book, Slow Fall to Dawn, the opening volume in the epic tale of the space-faring Hoorka assassins, way back in 1981. Since then, he's published some 20 novels and over 40 short stories, including six volumes in Ray Bradbury Presents, and The Woods (2012). The most recent was the omnibus Assassin's Dawn, which collects all three books in the Hoorka Trilogy: Slow Fall to Dawn (1981), Dance of the Hag(1983), and A Quiet of Stone (1984).
He also writes fantasy under the name S.L. Farrell, including three volumes of the Nessantico Cycle and The Cloudmages Trilogy.
His newest novel features the famous alchemist Nicholas Flamel, who's also featured prominently in Michael Scott's bestselling The Secrets of the Immortal Nicholas Flamel and Harry Potter and the Sorcerer's Stone, just to name some recent examples. I wonder if we're witnessing the birth of the new genre of Nicholas Flame literature. Could happen.
Immortal Muse is an unforgettable tale that sweeps readers from 1300s Paris to modern-day New York — with interludes in the 1635 Rome of Bernini, the 1737 Venice of Vivaldi, the French Revolution in Paris with Lavoisier and Robespierre, 1814 London with William Blake and John Polidori, fin de siècle Vienna with Gustav Klimt, and World War II France with Charlotte Salomon.
It began with the marriage of Perenelle and Nicholas Flamel. It began, too, with alchemy, sorcery — and the legendary elixir of life. And though many had striven to perfect this formula, it was Perenelle alone who finally achieved it.

But for every prize there is a price, and the cost of immortality would prove high indeed. Perenelle became the Immortal Muse whose very survival depended on the creativity she nurtured in others, while Nicholas sustained his life force through the pain and torment of his victims.

And what began with a sacred oath of love became an endless pursuit through time driven by enmity and vengeance…
Immortal Muse will be published by DAW Books on March 4th. It is 535 pages, priced at $24.95  in hardcover and $11.99 for the digital version.
See all of our recent New Treasures here.