Terror at Sea, Nightmares on the Beach: The Year's Best Horror Stories XIV, edited by Karl Edward Wagner
Terror at Sea, Nightmares on the Beach: The Year's Best Horror Stories XIV, edited by Karl Edward Wagner

The Year's Best Horror Stories XIV (DAW Books, October 1986). Cover by Michael Whelan
The Year's Best Horror Stories XIV was the fourteenth in the DAW Year's Best Horror series and the seventh volume edited by the great Karl Edward Wagner (d. 1994). The book was copyrighted and printed in 1986. This volume marked Michael Whelan's eleventh cover for the series, which presents a pretty horrifying monster-in-the-closet, something out of any 11-year old's worst nightmares! The cover layout is the most marked design change yet in the series. The format and font are very different from previous volumes, and the colon and word "Series" have been dropped completely. Why? Briefer I suppose.
Volume XIV contains nineteen different authors. All male but one. Eleven were American, six were British, and there is again the returning Canadian author, Vincent McHardy and returning German-born but American author, David J. Schow. Thirteen of these stories came from professional magazines. Three came from anthologies, one from a fanzine, one from a convention program, and one from a chapbook.
[Click the images for the Year's Best versions.]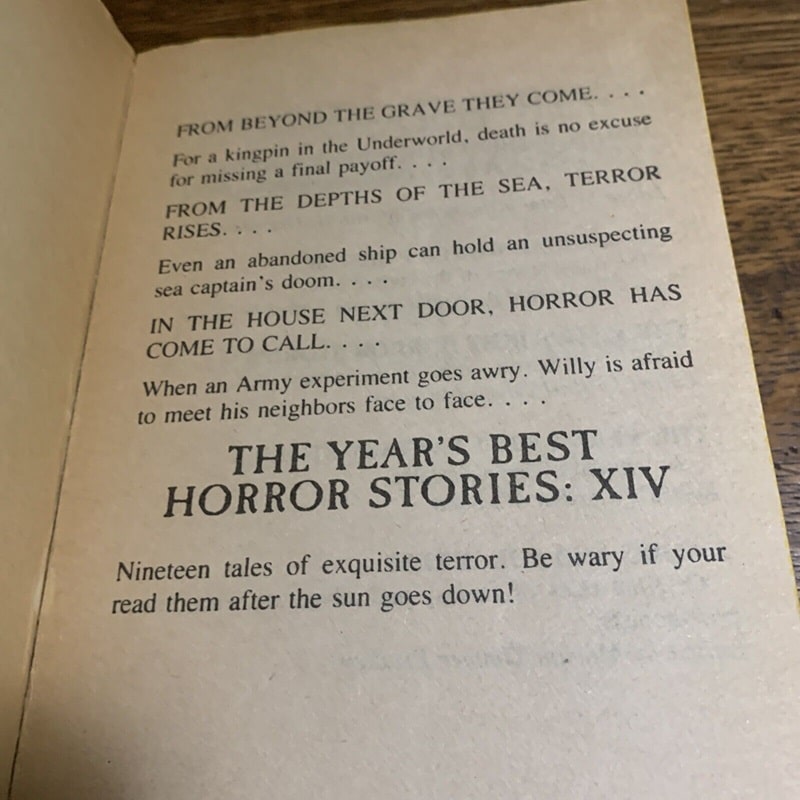 As I've noted in reviews of past volumes, and in my sundry reviews of other horror anthologies, one's definition of "horror" is obviously informed by one's own experiences and tastes. Not everyone is going to find the same things horrific, and not everyone is going to equally enjoy every horror story, even when the writing is excellent.
And, as I commented in my last review on Series XIII, the late Karl Edward Wagner's definition of "horror" is clearly different from mine, and quite broad, including things like black comedy and dark fantasy. The same holds for volume XIV as well. Wagner was an excellent author, as well as an outstanding editor. There's no serious doubt for either of those claims. And, over all, I've enjoyed Wagner's editorship of DAW Year's Best horror series, since he took over with the 1980 Series VIII volume.
That being said, Wagner's taste in horror seems to part farther and farther from mine with every succeeding volume. From my perspective, Wagner included in volume XIV whatever macabre or gruesome story tickled his fancy — everything from stories of murdering children (old and young), existential nihilism, and other horror-inducing moments. Shouldn't horror have some sort of enjoyable frisson?
Stephen King famously remarked,
I recognize terror as the finest emotion and so I will try to terrorize the reader. But if I find that I cannot terrify, I will try to horrify, and if I find that I cannot horrify, I'll go for the gross-out. I'm not proud. (Danse Macabre, p. 37)
I think I want to be terrified or horrified more than grossed-out by horror. Wagner's editorial choices didn't always go for the gross-out, but they rarely seemed to hit the terror or horror buttons either.
Examined more charitably, one could make the case that Wagner just wanted to expose a broad array of good authors and good stories to a wide audience. Let a thousand flowers bloom! And can one blame an editor for that?
But I can't help but think that Wagner was more interested in showcasing his own tastes in avant-garde horror. A genius editor's boredom coming to the fore, especially in contrast with the herd's bland peasant tastes?
Or perhaps this is just what horror was like in the mid-1980s, and volume XIV indeed represents the "best horror" of the time. Since I wasn't reading horror back then, I can't say.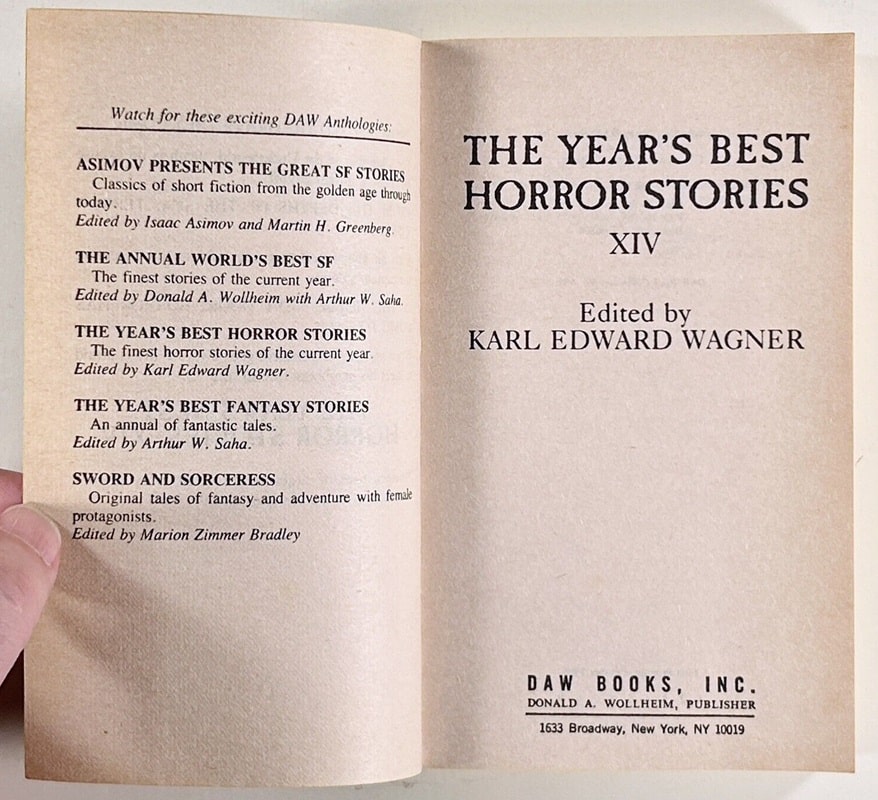 But I can testify that my own idiosyncratic desires for horror were not met in this volume, even more so than in Series XIII. "Griping" aside, The Year's Best Horror Stories XIV does indeed include some excellent stories, even if they fall under Wagner's eccentric and not-to-my-taste definition of "horror." As the horror director Dario Argento once said, "Horror is like a serpent; always shedding its skin, always changing."
One story that I highly enjoyed in this volume was "Dead Men's Fingers" by Phillip Heath. It has a terror-at-sea set up: a nineteenth-century whaling crew finds another abandoned whaler ship in the open sea. Mysteriously, its hold is filled to the brim with an abundance of very expensive whale oil. Why would a captain and crew abandon such a fortune? The finders should have been cued in that the abandoned boat's name was Reaper! Unfortunately, the crew finds out, all too late, why Reaper should have been left to its lone harvest in the sea. A creepy story, especially for those who have an itch for William Hope Hodgson-type sea horror.
The only other story I'll mention is Steve Seyd's "Too Far Behind Gradina." This was, by far, the longest tale ever included in a DAW Year's Best horror volume, over fifty pages, something more along the lines of a novella. It was an excellent story, building a long, slow and mounting dread.
It focuses on Mariella, a very unhappy housewife on vacation with her oppressive husband Colin and their children. After Mariella fakes being sick one morning, the family leaves her at the hotel to go on a day's excursion. Mariella takes advantage of her stolen freedom by going to the beach alone. But, through a series of strange events, her day ends in a nightmarish encounter.
It's sort of a psychological study exploring why Mariella is so unhappy. Through flashbacks we see Mariella's self-perceived life of disappointment and her cowardly failure to make changes in her life. Her horrific encounter in this story suggests, at the very least, change has now occurred — even if only via traumatic circumstances.
Mariella tries to hide the evidence of her trauma before her family returns that evening. And the psychological horror of Mariella's failure to change lands on the reader with the last two sentences:
"When they at last appeared… [Mariella said], 'Colin, kids, I'm glad you're back… did you have a nice day?'" (p. 291)
The Year's Best Horror Stories XIV was an excellent collection of stories. I do recommend it. But I hope Wagner's future volumes click more with my tastes in horror.

Table of Contents for The Year's Best Horror Stories XIV. Click for complete versions.
Here's the complete Table of Contents:
Introduction: Nurturing Nightmares, by Karl Edward Wagner
"Penny Daye" by Charles L. Grant (Fantasycon X Programme Booklet, 1985)
"Dwindling" by David B. Silva (Spectrum Stories, 1985)
"Dead Men's Fingers" by Phillip C. Heath (Borderland No. 2, 1984)
"Dead Week" by Leonard Carpenter (Dark Lessons, 1985)
"Sneering" by Ramsey Campbell (Fantasy Tales, Summer 1985)
"Bunny Didn't Tell Us" by David J. Schow (Night Cry, Winter 1985)
"Pinewood" by Tanith Lee (Whispers 21/22, 1984)
"The Night People" by Michael Reaves (Rod Serling's Twilight Zone Magazine, October 1985)
"Ceremony" by William F. Nolan (Midnight, 1985)
"The Woman in Black" by Dennis Ethison (Whispers 21/22, 1984)
"…Beside the Seaside, Beside the Sea…" by Simon Clark (Back Brain Recluse 4, 1985)
"Mother's Day" by Stephen F. Wilcox (Rod Serling's Twilight Zone Magazine, July/August 1985)
"Lava Tears" by Vincent McHardy (Darkness on the Edge of Town, 1985)
"Rapid Transit" by Wayne Allen Sallee (Grue Magazine No. 1, 1985)
"The Weight of Zero" by John Alfred Taylor (Rod Serling's Twilight Zone Magazine, Jan/Feb. 1985)
"John's Return to Liverpool" by Christopher Burns (Interzone Winter, 1984/1985)
"In Late December, Before the Storm" by Paul M. Sammon (Rod Serling's Twilight Zone Magazine, Jan/Feb. 1985)
"Red Christmas" by David S. Garnett (Mayfair December, 1985 [pseudonym of David Almandine])
"Too Far Behind Gradina" by Steve Sneyd (originally published as a chapbook, 1985)
Previous installments in this series include:
Introduction To DAW Books' The Year's Best Horror Stories (1972–1994)
The Year's Best Horror Stories: Series I (1972)
The Year's Best Horror Stories: Series II (1974)
The Year's Best Horror Stories: Series III (1975)
The Year's Best Horror Stories: Series IV (1976)
The Year's Best Horror Stories: Series V (1977)
The Year's Best Horror Stories: Series VI (1978)
The Year's Best Horror Stories: Series VII (1979)
The Year's Best Horror Stories: Series VIII (1980)
The Year's Best Horror Stories: Series IX (1981)
The Year's Best Horror Stories: Series X (1982)
The Year's Best Horror Stories: Series XI (1983)
The Year's Best Horror Stories: Series XII (1984)
The Year's Best Horror Stories: Series XIII (1985)