Killer Dolls and Murderous Dimensions: DAW's The Year's Best Horror Stories I (1972), edited by Richard Davis
Killer Dolls and Murderous Dimensions: DAW's The Year's Best Horror Stories I (1972), edited by Richard Davis
The Year's Best Horror Stories (DAW, 1972). Cover by Karel Thole
The first Year's Best Horror Stories, DAW No. 13, published in 1972, was edited by British author and editor Richard Davis, who would go on to produce many more horror and sci-fi anthologies throughout the 1970s and 1980s. He also edited the next two Year's Best Horror Stories for DAW, but he primarily published through British outlets.
The Year's Best Horror Stories, No. 1, was first published by Sphere in the UK in May 1971, and reprinted by DAW in the US fourteen months later, dropping the No. 1 from the title in the process. The cover of the DAW edition was by Dutch painter Karel Thole (1914–2000), a regular on sci-fi covers during the time. I think the cover is more psychedelic than horrific. In 1975 DAW reprinted the book with a new cover by Hans Arnold, one much more fitting to the horror genre.
This first volume has a strong lineup, and I can see why Donald A. Wollheim sought to get Davis' Sphere release as the debut for his new Year's Best Horror Stories series. It was also, somewhat surprisingly for the time, quite diverse.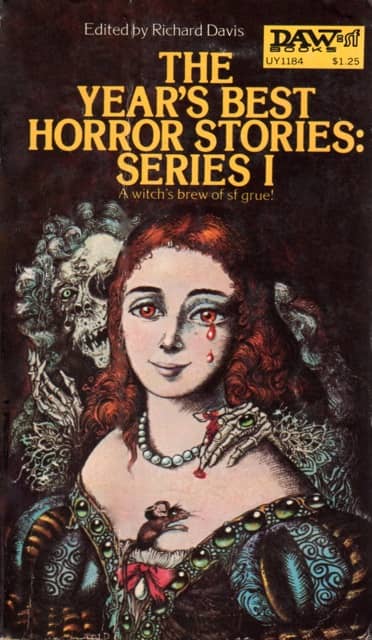 The Year's Best Horror Stories: Series I (DAW reprint edition, 1975).
Cover by Hans Arnold
Of the fourteen authors present, eight are British. There's one Belgian, Eddy C. Bertin, and the remaining five are American. Three women are included: Brits Elizabeth Fancett and Celia Fremlin, and the American author Kit Reed. Only three stories originally appeared in books, one is from a fanzine (David Riley's "After Nightfall"), and the rest were first published in professional magazines, three from "men's" magazines such as Playboy and the British Mayfair.
It makes sense that this anthology bends a little towards the British isles, given that Davis was British and it was originally released in Britain. But Davis seemed to do a pretty good job, especially for pre-internet 1971, scouring different kinds and varieties of publications. For example, the E. C. Tubb came from an Australian sci-fi magazine, Bertin's original story wasn't even in English, and David Riley's piece was in a very hard-to-find fanzine.
But regardless of where the stories came from, the proof is in the pudding. Let's dig in.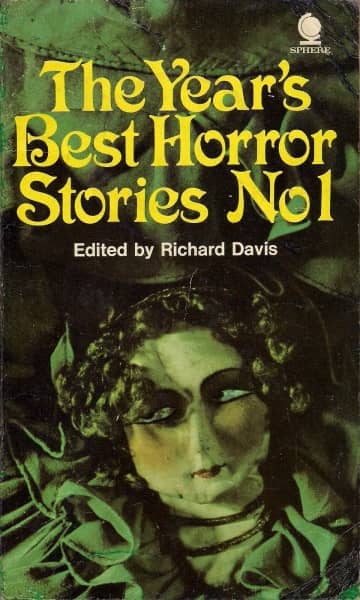 The Year's Best Horror Stories No 1 (original Sphere edition, 1971)
There are few authors in The Year's Best Horror Stories who were already well established in 1971. Robert Bloch, of Psycho fame, has the opener, "Double Whammy." It's an EC-Comics style tale with a fairly predictable ending. It's about a carney, whom you can't hate enough, who ends up getting his comeuppance in a Tales from the Crypt ending. Still effective though.
Richard Matheson had been writing for years by 1971, including many of the most-beloved Twilight Zone episodes. His contribution "Prey" is probably the best story here. As soon as I started, I knew that I had seen it in the memorable made-for-TV movie Trilogy of Terror back in 1975. You can find that episode online, retitled "Amelia," starring Karen Black. It's still very powerful. In short, it centers on an African fetish doll that comes to life. The episode follows the source material pretty closely. Even though I knew how it would play out, Matheson still kept me on the edge of my seat. Very effective!
E. C. Tubb was also an established sci-fi author at the time and has a good story here, though not one with the greatest title, "Lucifer." Back before my local used bookstore was burned down last year (during the 2020 riots in Minneapolis), I remember seeing stacks and stacks of E. C. Tubb volumes for sale. Usually, to my mind, that's a sign that an author is not very good, like seeing all those untouched stacks of Dean Koontz and L. Ron Hubbard books. But "Lucifer" was a very effective horror tale. It was similar to Bloch's in that an easy-to-hate main character ends up receiving some poetic justice. In brief, it's about a man who finds a ring that allows him to go back in time, but only by about a minute. He uses it to fulfill all kinds of sick fantasies, and then turns back the clock, as if he had never done them. The story ends with him on a plane that goes crashing down. Thus, the main character's only means of survival is to return to the minute before the plane crashes — over, and over, and over, and over. A very good story. I should probably give some of Tubb's other books a chance.
Brian Lumley and Ramsey Campbell also have stories within. Both would go on to very successful horror careers in the coming years. But they were still pretty new on the scene in 1971. Campbell has never been one of my favorite authors. His horror tends to be overly subtle and, as an American, I sometimes find it hard to follow his British-isms. But his contribution here, "The Scar" is a fairly chilling doppelganger tale. Lumley's "The Sister City" is one of his Lovecraftian homages, which he later became so famous for. I think those types of stories are OK, but they are rarely scary, in my opinion, and "The Sister City" is no exception.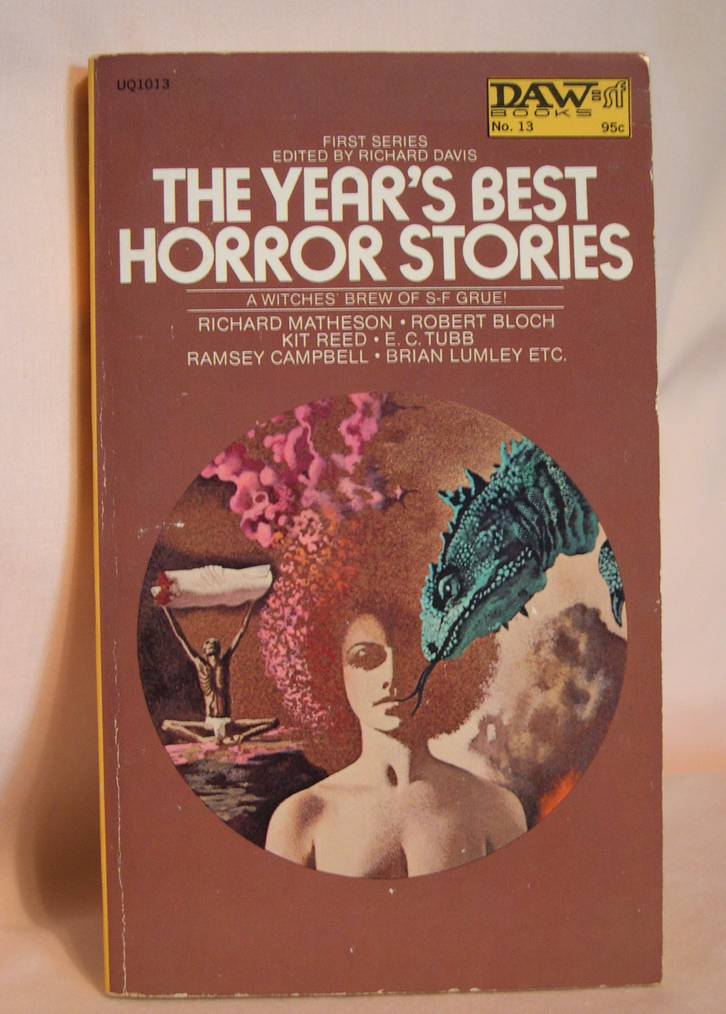 "Warp," by Ralph Norton, is more sci-fi than straightforward horror. It sort of fits the mad scientist trope. Paul Ledderman has holed himself up in his home/laboratory for years. His friend Steve is invited to see him. It turns out that Ledderman has developed a device that opens a portal to another dimension. But once things go through that dimension, they are inverted, such as right-handed gloves becoming left-handed. To go through the portal again only inverts the object more: the left-handed glove is now inside out. Ledderman himself has travelled through this dimension and now he is inverted, e.g. his heart is now on the left side of his chest. He seeks to get his friend Steve to enter into his dimension as well. But Steve resists, struggle ensues, and Ledderman accidentally falls through the portal again. The inverting result? Norton relates that Ledderman "bore no resemblance to anything I had ever seen or ever wish to see again: a ganglion of rubbery tubes, an exo-skeleton, a slippery mass of viscera, and inside-out man, a thing to be burned at the stake" (p. 129). Sick! I'm not normally into "gross-out" stories, but this one got me.
This anthology also had a few good ghost stories. "The Hate" by Terri Pinckard puts a bit of a psychological spin on old the ghost tale. Robert McNear's "Death's Door" is a traditional but very eerie tale about a haunted body of water where some high school kids had fallen through the ice years ago. The main character experiences various "encounters" and the ending is quite satisfying.
Several tales in The Year's Best Horror Stories deal with children or motherhood. "A Quiet Game" by Celia Fremlin is about a single mother slowly going crazy trying to keep her small children quiet in her flat surrounded by complaining neighbors. "Problem Child" by Peter Oldale concerns a small child who has developed telekinetic powers. But only the mother has experienced them and everyone, including her husband and doctor, think she is actually crazy. Elizabeth Fancett's "When Morning Comes" focuses on abortion, and surprisingly with a very pro-life take on the subject (this is before Roe vs. Wade). Though I'm sympathetic to his position, I found the tale to be preachy and not very scary. Fancett's story was the only dud in this volume.
In sum, I got the sense that many of these writers were trying to write horror in a more modern (i.e. 1960s or 70s) context. There are no haunted castles, graveyards, or old antiquarians searching for forbidden knowledge. But the supernatural, or the malevolently natural, are explored with more contemporary themes. Most of these tales seem to clearly follow in the stream of earlier horror ideas, usually appealing to the supernatural, but sometimes using more science fiction notions. In short, 1972 seemed to be a good year for horror.
DAW No. 13, The Year's Best Horror Stories, was an excellent first volume in this series. I look forward to the next one.
Here's the complete Table of Contents.
"Double Whammy" by Robert Bloch (Fantastic, February 1970)
"The Sister City" by Brian Lumley (Tales of the Cthulhu Mythos, 1970)
"When Morning Comes" by Elizabeth Fancett (The Fifth Ghost Book, 1969)
"Prey" by Richard Matheson (Playboy, April 1969)
"Winter" by Kit Reed (Winter's Tales 15, 1969)
"Lucifer" by E. C. Tubb (Vision of Tomorrow 3, November 1969)
"I Wonder What He Wanted" by Eddy C. Bertin (Las Mejores Historias De Fantasmas, 1970)
"Problem Child" by Peter Oldale (Vision of Tomorrow 9, June 1970)
"The Scar" by Ramsey Campbell (Startling Mystery Stories, Summer 1969)
"Warp" by Ralph Norton (Mayfair, 1968)
"The Hate" by Terri Pinckard (Witchcraft and Sorcery, January-February 1971)
"A Quiet Game" by Celia Fremlin (Argosy, April 1970)
"After Nightfall" by David Riley (Weird Window #1, 1970)
"Death's Door" by Robert McNear (Playboy, March 1969)
Previous installments in this series include:
Introduction To DAW Books' The Year's Best Horror Stories (1972–1994)