Introduction to DAW Books' The Year's Best Horror Stories (1972–1994), edited by Richard Davis, Gerald W. Page, and Karl Edward Wagner
Introduction to DAW Books' The Year's Best Horror Stories (1972–1994), edited by Richard Davis, Gerald W. Page, and Karl Edward Wagner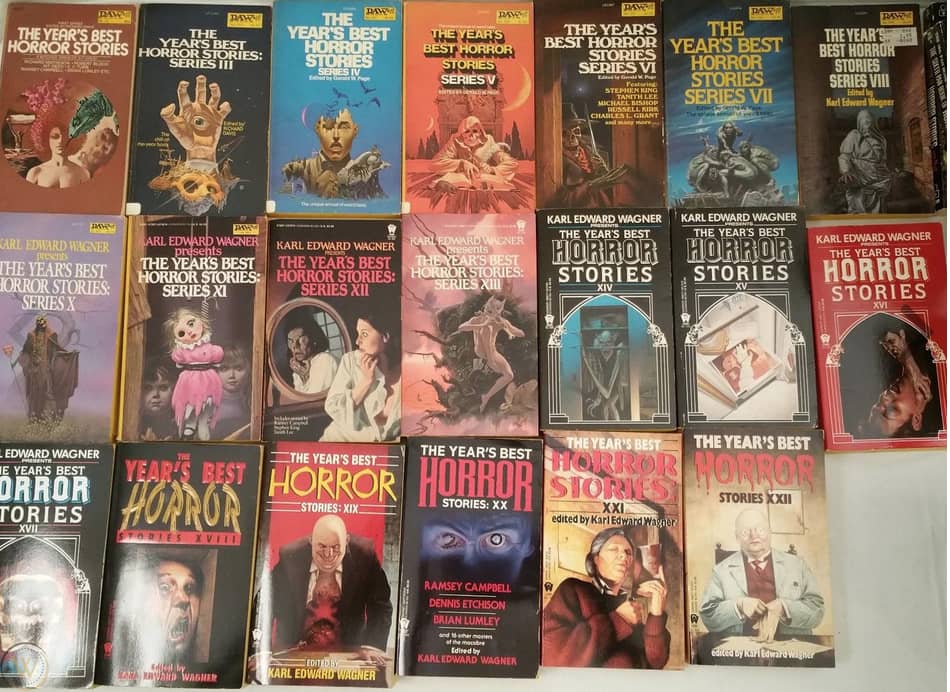 20 of the 22 volumes of The Year's Best Horror Stories (DAW Books)
Today I'm beginning a new series of posts investigating DAW Books' Year's Best Horror Stories series, which ran from 1971 to 1994. As a fan of literary horror, I'm excited to sequentially read through these volumes and share my thoughts with you. I'm hoping that we'll be able to discover some great stories and authors, perhaps some we've never read before, and I'm also hoping that we will be able to see how trends in horror have changed over the years. Each post will investigate one volume at a time.
Except this first one, in which I want to explore the impetus and beginnings of the series as a whole.
The very first volume, named aptly enough The Year's Best Horror Stories, was edited by British author and anthologist Richard Davis (1945–), and published by the then newly-founded Donald A. Wollheim Books (or DAW for short) in 1972.
Donald A. Wollheim (1914–1990), was a giant in the science-fiction community. One of the original Futurians, Wollheim had been writing and editing science fiction magazines and books for decades. As Robert Silverberg said in his 1990 obituary,
[Wollheim was] one of the most significant figures in 20th century American science fiction publishing… A plausible case could be made that he was the most significant figure — responsible in large measure for the development of the science fiction paperback, the science fiction anthology, and the whole post-Tolkien boom in fantasy fiction. (Locus, Dec. 1990)
Early in his illustrious career Wollheim had a significant impact on the field at Ace Books in the 1960s, publishing such greats as Ursula K. LeGuin, Philip K. Dick, Samuel R. Delany and Marion Zimmer Bradley, among many others.
But in 1971 Wollheim set out with his own publishing venture: DAW. Most readers of Black Gate are probably very familiar with the classic, yellow-spined paperbacks with the well-known DAW logo on the front:
And even if you didn't know the name, if you've ever haunted a used bookstore, you more than likely remember seeing these gaudy yellow spines.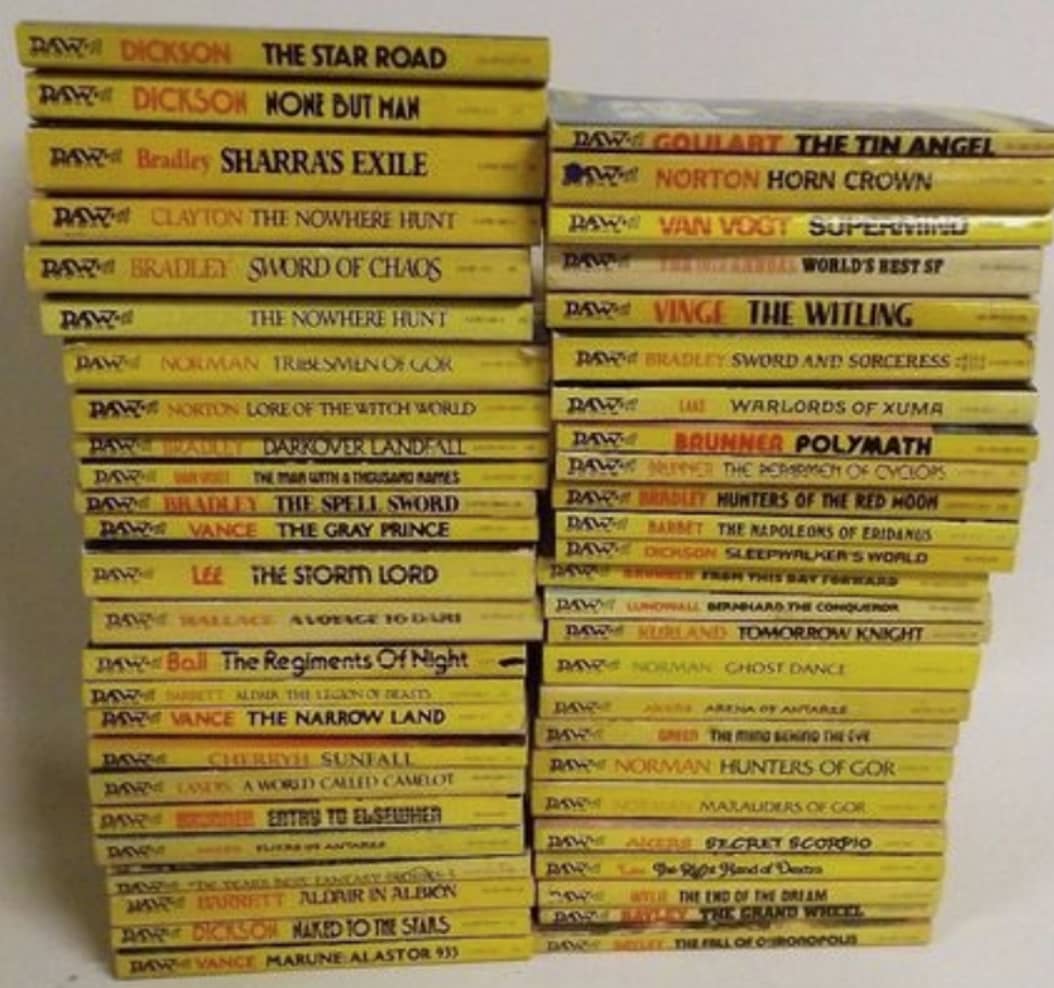 A stack of yellow-spined DAW paperbacks
Another classic staple of DAW books was the front cover logo, which almost always included the book number, signifying the order of publication. Andre Norton's The Spell of the Witch World, published in April of 1972, has the distinction of being DAW No. 1.
An example I pulled off my own shelf is below: Michael Moorcock's The Bane of the Black Sword, published in 1977. As you can see it was DAW No. 254.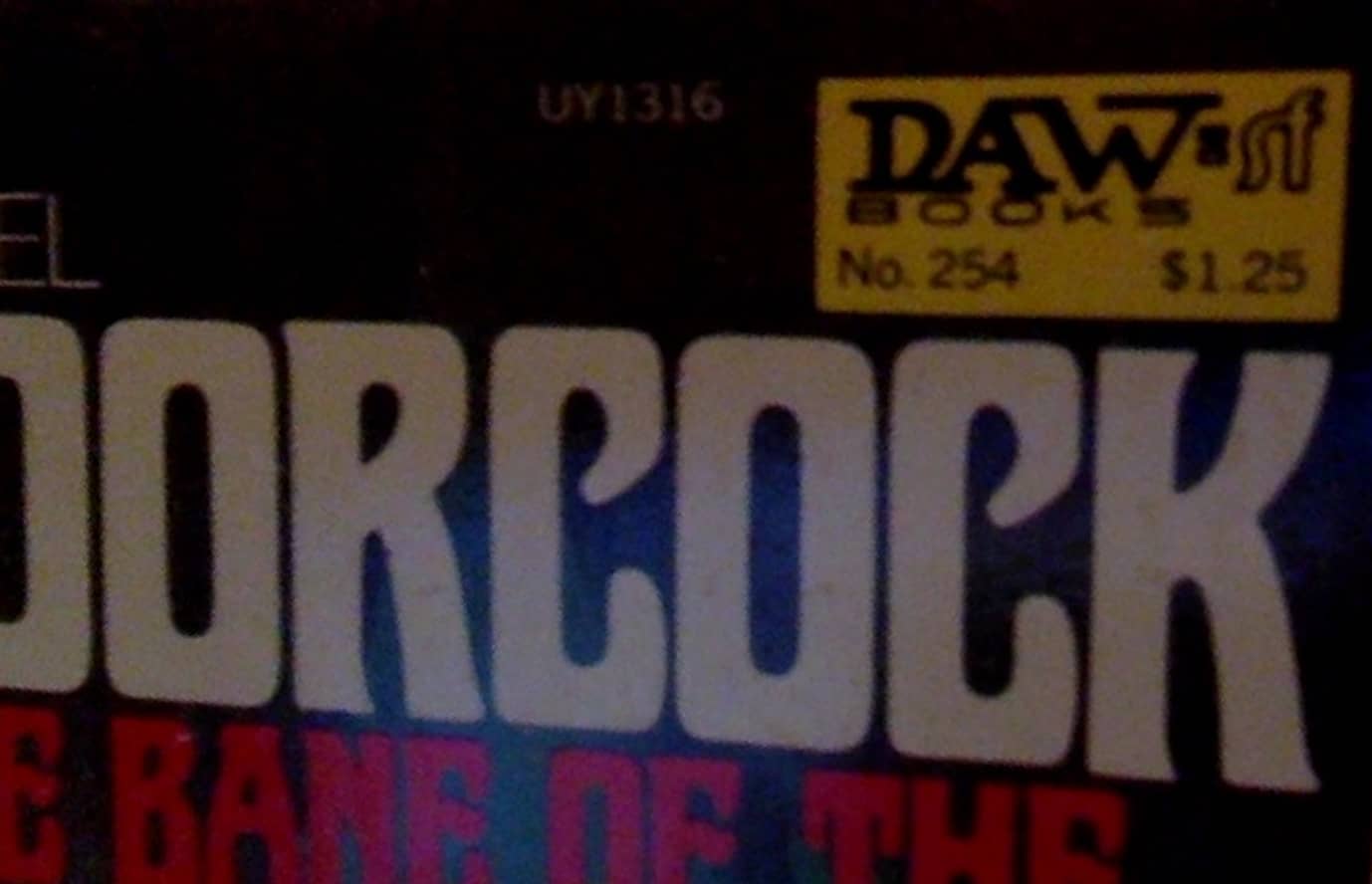 Top right corner of The Bane of the Black Wolf, showing the DAW logo and book number
Note that the cover of the first The Year's Best Horror Stories denotes it as DAW No. 13.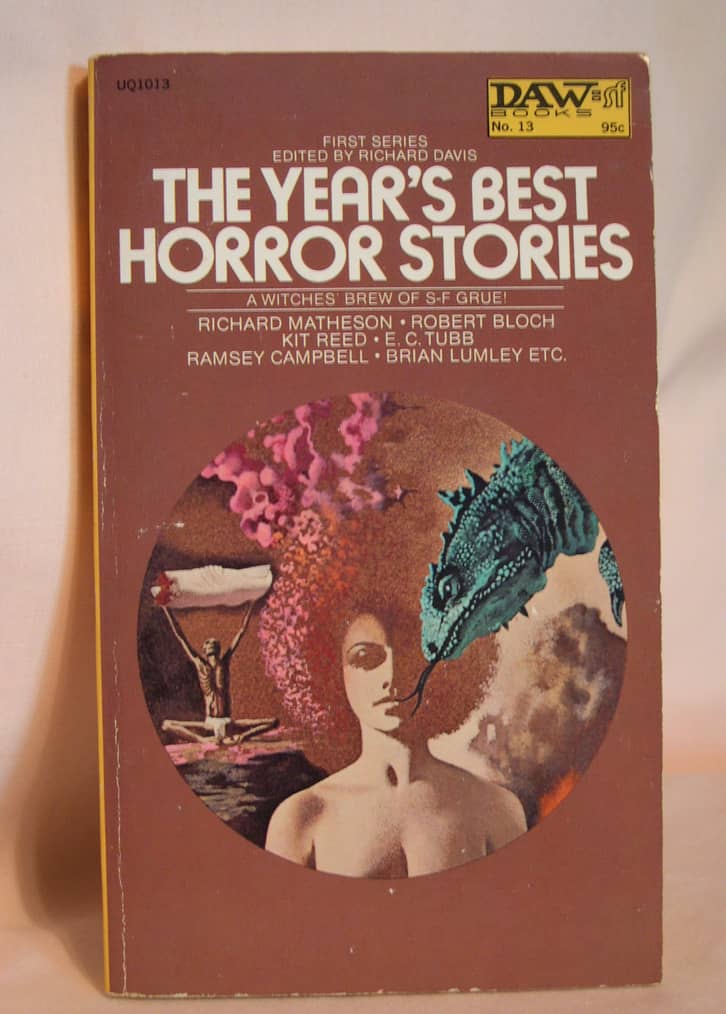 Not all that creepy for a horror book cover
Did DAW's first horror collection just happen to fall on that traditionally unlucky number? I highly doubt it. Wollheim was a very smart publisher. Remember that this was the same guy who figured out a loophole to get Tolkien's Lord of the Rings trilogy published in paperback back when he was at Ace, contrary to Tolkien's wishes. I'm sure that the numbering of 13 for DAW's first horror volume was on purpose, or a very "lucky" happenstance.
One interesting puzzle associated with DAW No. 13 The Year's Best Horror Stories: If the first DAW books were published in 1972, starting with Andre Norton's The Spell of the Witch World, then why is The Year's Best Horror Stories original publication date listed as 1971 on the copyright page? Even the Internet Science Fiction database (isfdb.com) reports that this book was published in July of 1972. So, was it published in '71 or '72?
Answer: both. DAW No. 13 was actually not the first appearance of The Year's Best Horror Stories. Richard Davis edited a book with nearly the same title and with the exact same table of contents in May of 1971 with British publisher Sphere (see below). It was reprinted in 1972 by DAW, kicking off a US series that would last for 22 volumes.
But why was Donald A. Wollheim getting into publishing horror tales? His now-classic logo said: "DAW Books = SF", i.e. DAW Books equals science fiction, not horror.
No doubt Wollheim, in starting his new publishing adventure, was seeking to get his science fiction label into the emerging horror market as well. Grady Hendrix, in his history of 70s and 80s horror fiction, notes:
Between April 1967 and December 1973, everything changed. In a little more than five years, horror fiction became fit for adults, thanks to three books. Ira Levin's Rosemary's Baby, Thomas Tryon's The Other, and William Peter Blatty's The Exorcist were the first horror novels to grace Publisher's Weekly's annual best-seller list since Daphne de Maurier's Rebecca in 1938.

Paperbacks from Hell (Quirk Books, 2017), p. 19.
Clearly, Wollheim was on to this trend. Though DAW books were, and still are, primarily science fiction and fantasy, I'd say that given the 22-year run of the Year's Best Horror Stories series, Wollheim was successful. I think the front and back covers of the first The Year's Best Horror Stories shows how he was seeking to connect with science fiction readers.
The front cover of this first volume (see above) was done by the Dutch painter Karel Thole (1914–2000). It is, I think, clearly more science-fictional than horrific. Besides the small, undead-looking figure on the left with the gigantic severed finger raised in seeming praise, the rest of the painting is more abstract and psychedelic — typical of science fiction covers of the time.
And the back cover (see below) reads:
Spine-tinglers of the Seventies combine the traditions of the past with the new terrors of the science fiction age of the present.
Clearly Wollheim was trying to get science fiction readers to see a connection to horror. The back cover continues,
This first annual selection of the year's best in fantasy-horror embodies the heritage of the classic masters with the modern techniques of Lovecraft, Bradbury, and masters of the future projection.
This is a pretty good pitch for a science fiction publisher to give for horror!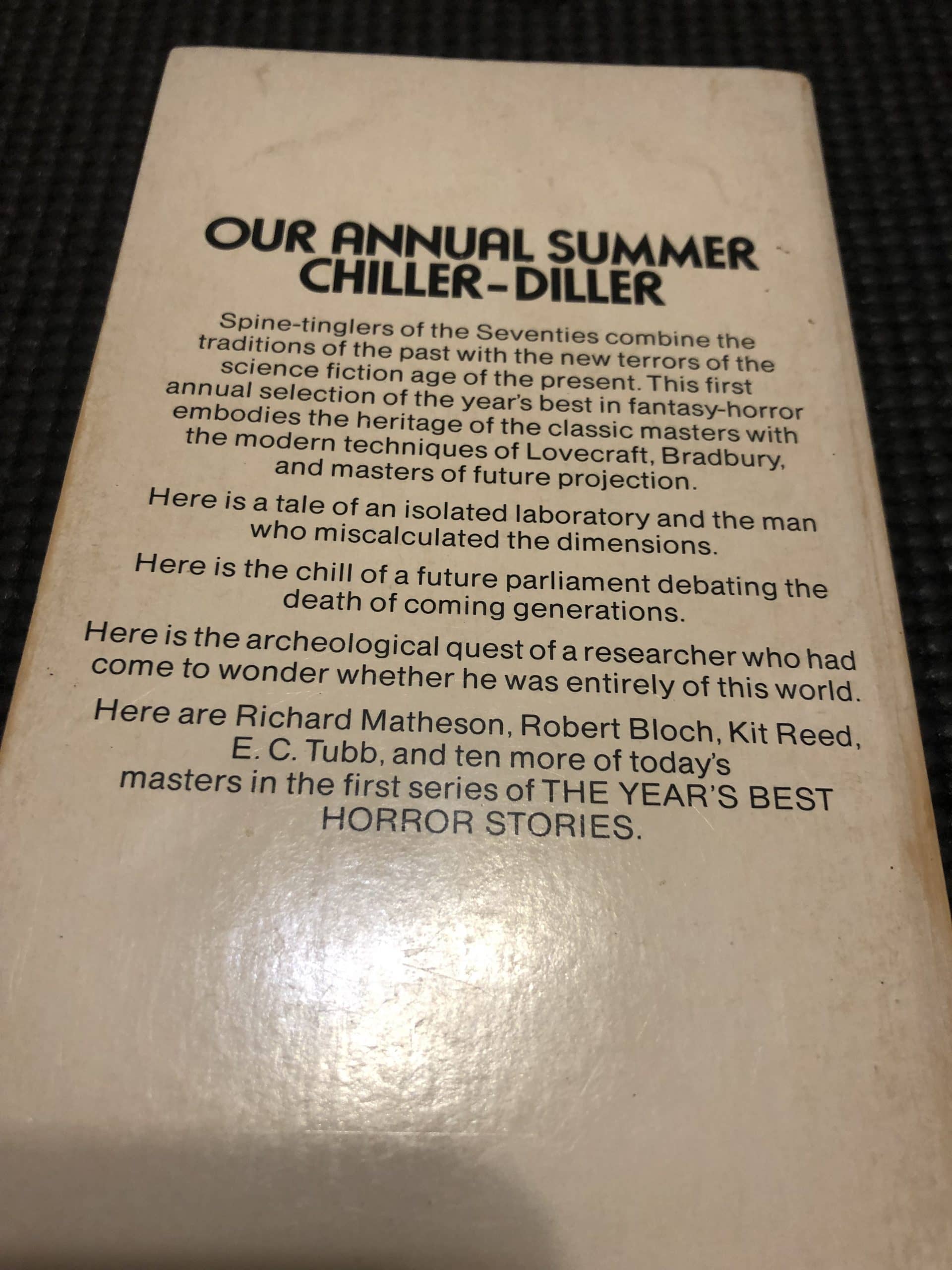 Back cover for The Year's Best Horror Stories (1972)
In addition to Year's Best Horror Stories Wolheim also began DAW Books' The Annual World's Best SF series that same year, which would run to 1990, and later would begin The Year's Best Fantasy Stories in 1976, which lasted until 1988. As with most anthologies, the individual editors sought the best short fiction in the genre from the previous year, combining beloved regulars in the field while aiming to discover and nurture new talent. As we'll see, I believe DAW's Year's Best Horror Stories series sought to do the same.
The Year's Best Horror Stories was helmed by several different editors over the years. Richard Davis compiled the first three volumes, from 1972 to 1975. Gerald W. Page had the reins from 1976 to 1979, but Karl Edward Wagner was the longest running editor, from 1980 to 1994.
I hope you're excited to join me in dipping into these old (as the back cover says) chiller-dillers!