Lethal Vegetation and Nasty Christmas Presents: DAW's The Year's Best Horror Stories: Series IV, edited by Gerald W. Page (1976)
Lethal Vegetation and Nasty Christmas Presents: DAW's The Year's Best Horror Stories: Series IV, edited by Gerald W. Page (1976)
The Year's Best Horror Stories: Series IV (DAW, July 1976). Cover by Michael Whelan
The Year's Best Horror Stories: Series IV was the fourth volume in DAW's Year's Best Horror, copyright and printed in 1976. This one introduced a different editor, American author Gerald W. Page (1939–). Page had edited the successful weird tales magazine Witches & Sorcery from 1971 to 1974, and some stories from his 'zine had made the earlier volumes of Year's Best Horror. My guess is this put him on Don Wollheim's radar when he sought out a new editor. I couldn't find any information on why British editor Richard Davis had been replaced; but as I said in my review of The Year's Best Horror Stories: Series III, I was disappointed by his last volume, especially since his first two were so good.
Michael Whelan (1950–) returns as the cover artist. Whelan is a great artist and though this cover is in something of a sci-fi, surrealistic mode, I think it sufficiently announces the book as a horror anthology.
Under Page's editorship, The Year's Best Horror Stories: Series IV definitely has a different flavor and lineup. The front cover proclaims at the bottom that it is "The unique annual of weird tales." And many of the authors included are indeed associated with the older Weird Tales pulp era, including Frank Belknap Long, Joseph Payne Brennan, E. Hoffman Price, H. Warner Munn, and Fritz Leiber.
Of the fifteen stories within, seven were sourced from magazines, two from fanzines, three from books, and three are originals, which again I think is strange to include in an anthology that claims to be the best stories of the year! All the authors are male, all are American but for two Brits.
Gerald Page begins a new feature in this volume: a few short sentences of intro to each tale, sometimes furnishing a little background on the author or the story, and also serving as a small teaser. I liked this feature quite a bit.
As I'll explain in a bit, I have one complaint, but I still enjoyed the book overall. Let me highlight a few stories.
One of the creepiest was Ramsey Campbell's "Christmas Present," which was originally a radio drama. I could definitely sense how this tale would be powerful in an oral retelling, especially on a Christmas Eve night. I've commented before that I tend to struggle with Campbell because of the British-isms; but "Christmas Present" is a weird and intense atmosphere piece. It strikes a great balance between the holiday season and something scary being afoot. Note the following scene when the main character feels driven to open an mysterious Christmas present:
I lunged for the mantelpiece, thrusting bodies aside. Everyone seemed determined to ignore what was happening… I waded through entangled conversations and clusters of faces like blank bubbles. I threw out my hand caught up the cardboard box, and the student pinioned my arm. "Don't touch it, you fool!" he cried. "Not now!" (pgs. 40–1)
What was in the package? You'll have to read it to find out.
I also enjoyed Joseph Payne Brennan's "The House on Stillcroft Street." The house in question is owned by a recluse Millward Frander who used to travel the world over, collecting rare plants. The house is now overgrown with vegetation. When curious fellows seek out the reclusive plant collector, it seems Frander's hobby had "grown on him" a little too much. The end product is a plant-like monster thing, whose discovery horrifies the main characters:
"But he tried to move out of that chair!"

"Yes . . . Millward may have been clinically dead when we saw him. The ivy root filaments may simply have acted on his nerve endings, galvanized them, so to speak." (p. 86)
It has a bit of that 1950s sci-fi movie vibe, but still a scary yarn.

Charles Grant horror paperbacks from the 1970s and 80s
Charles Grant would soon go on to have a very successful horror career in the later 1970s and beyond. This volume has an early story titled "White Wolf Calling," in a sub-field I sometimes see described as "quiet horror." A tightly-packed and well-written tale, which I still don't quite understand. But the weirdness and openness of the ending stayed with me. It intrigued me enough to try more Grant.
There were several other very good tales in this volume, including Hal Clement's "A Question of Guilt" and Fritz Leiber's "The Glove." Page also included an interesting non-fiction essay by E. Hoffman Price at the end that attempts to settle a controversy over L. Sprague DeCamp's biography of H. P. Lovecraft and Frank Belknap Long's biography of the same. I've not read either, but the debate here sounds eerily similar to Robert H. Howard fans' criticisms of DeCamp's Howard bio. Hmm…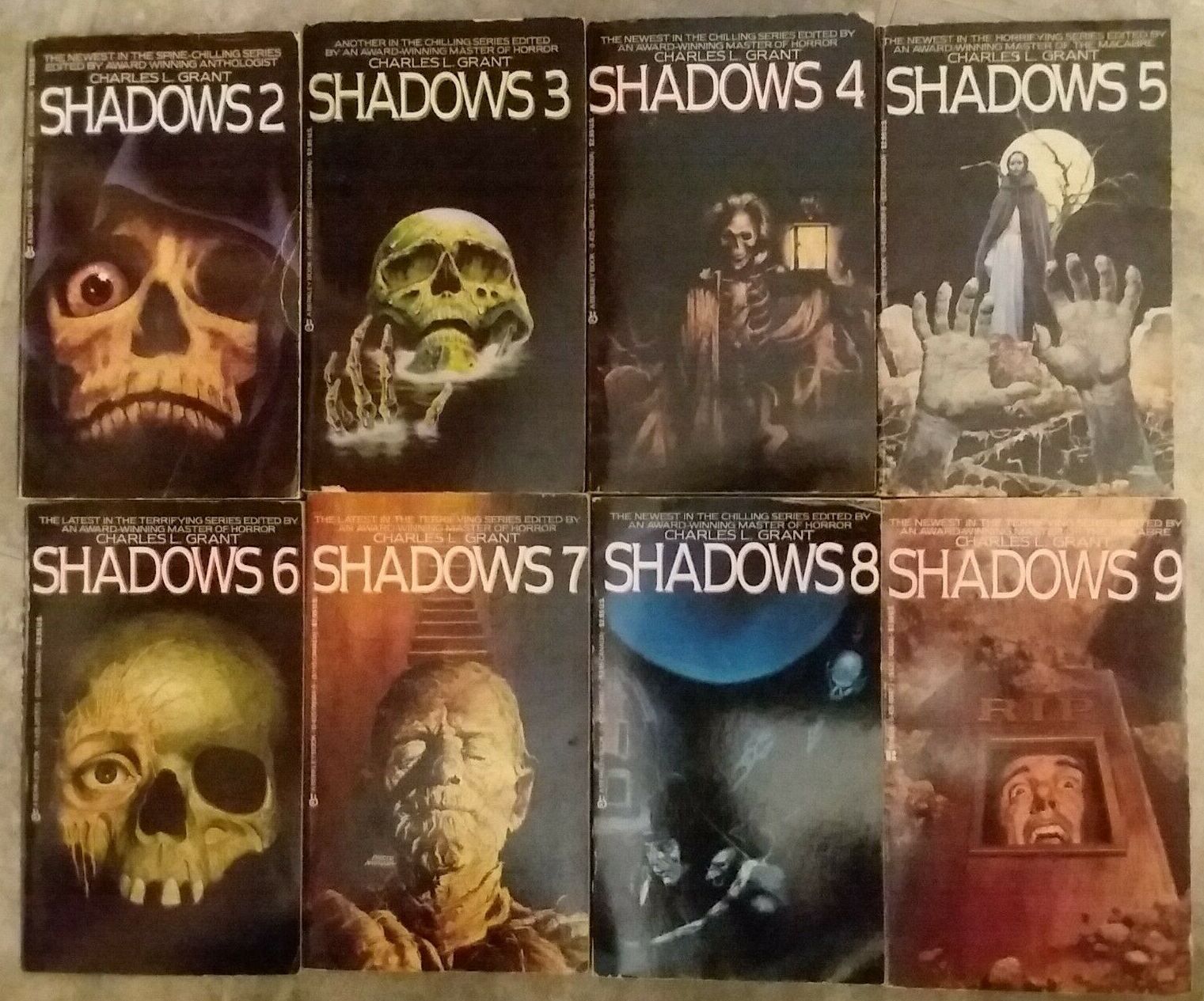 Charles Grant's highly regarded Shadows anthologies (1979-1987)
Though Page's debut volume in the DAW series, The Year's Best Horror Stories: Series IV, was a good one, I have one major criticism. Like the last book in this series, I didn't find many of the stories all that horrific. A few were somewhat shocking, many used supernatural tropes and traditional horror ideas; but overall, not many were scary or even very creepy.
Clearly, many of the authors were trying to update traditional horror ideas into more modern contexts in new and interesting ways — a theme that can be seen in the first three volumes as well. But, for the most part, very few of these stories were what I would call scary, or even stories that gave very many horror thrills, which was surprising given the number of Weird Tale alumni included.
However, without exception, I found every story in this volume well-written. All of these stories were worthy of inclusion in a Year's Best anthology, of some kind or another. I greatly enjoyed them, and I look forward to the next Page volume.
But it seems to me that horror fiction, or at least Page's understanding of it, did not have a clear focus in 1976. I get the sense that the genre was in a hurry to get over its Weird–Tales-Universal-Pictures-monster-past, outgrow that child-like phase, which might be fondly remembered, but is simultaneously disdained in the rush to reach a more "mature" and modern understanding of horror. But, in my opinion, something vital may have been lost in the maturation.
Here's the complete Table of Contents for The Year's Best Horror Stories: Series IV:
Introduction by Gerald W. Page
"Forever Stand the Stones" by Joseph F. Pumilia (Jack the Knife, 1975)
"And Don't Forget the Red Rose" by Avram Davidson (Playboy, 1975)
"Christmas Present" by J. Ramsey Campbell (Nameless Places, 1975)
"A Question of Guilt" by Hal Clement (original to this volume, 1976)
"The House on Stillcroft Street" by Joseph Payne Brennan (Alfred Hitchcock's Mystery Magazine, 1975)
"The Recrudescence of Geoffrey Marvell" by G. N. Gabbard (original, 1976)
"Something Had to Be Done" by David Drake (Magazine of Fantasy and Science Fiction, 1974)
"Cottage Tenant" by Frank Belknap Long (Fantastic, 1975)
"The Man with the Aura" by R. A. Lafferty (Witchcraft & Sorcery, 1974)
"White Wolf Calling" by C. L. Grant (Magazine of Fantasy and Science Fiction, 1975)
"Lifeguard" by Arthur Byron Cover (Nameless Places, 1975)
"The Black Captain" by H. Warner Munn (Moonbroth, 1975)
"The Glove" by Fritz Leiber (Whispers, 1975)
"No Way Home" by Brian Lumley (Magazine of Fantasy and Science Fiction, 1975)
"The Lovecraft Controversy—Why?" by E. Hoffman Price (original)
The Year's Best Horror Stories: Series IV was published by DAW Books in November 1976. It is 208 pages, priced at $1.25. The cover is by Michael Whelan.
Previous installments in this series include:
Introduction To DAW Books' The Year's Best Horror Stories (1972–1994)
The Year's Best Horror Stories: Series I (1972)
The Year's Best Horror Stories: Series II (1974)
The Year's Best Horror Stories: Series III (1975)