Burger Creatures and Halloween Stories: DAW's The Year's Best Horror Stories: Series III (1975), edited by Richard Davis
Burger Creatures and Halloween Stories: DAW's The Year's Best Horror Stories: Series III (1975), edited by Richard Davis
The Year's Best Horror Stories: Series III (DAW, 1975). Cover by Michael Whelan
The Year's Best Horror Stories: Series III was the third volume in DAW's Year's Best Horror Stories, copyright 1975, printed in that same year. Like the first two, British author and anthologist Richard Davis was the editor, though he would not continue with DAW after this volume. The cover was by Michael Whelan (1950–), his first for the series. Whelan was becoming more and more ubiquitous on sci-fi and fantasy paperbacks at the time. I think Whelan's cover is horror-based but it does seem to lean toward the surreal, psychedelic vibe that was common in the 70s. Unlike Volume Two, this one contains no inner art.
Of the thirteen stories in The Year's Best Horror Stories: Series III, three were originally published in books, three in magazines, and two in fanzines; five appeared here for the first time, which I'll come back to in a moment. At least five of the authors were British, five were American, one was Canadian (Allan Weiss) and Eddy C. Bertin is the lone Belgian, for the third volume in a row. Like the last installment, this anthology contains only male authors. All three of Davis' DAW volumes have had a bit of a British slant, but this is unsurprising given that Davis was British as well. We'll see if that changes when we switch to an American editor, Gerald W. Page, for the fourth book.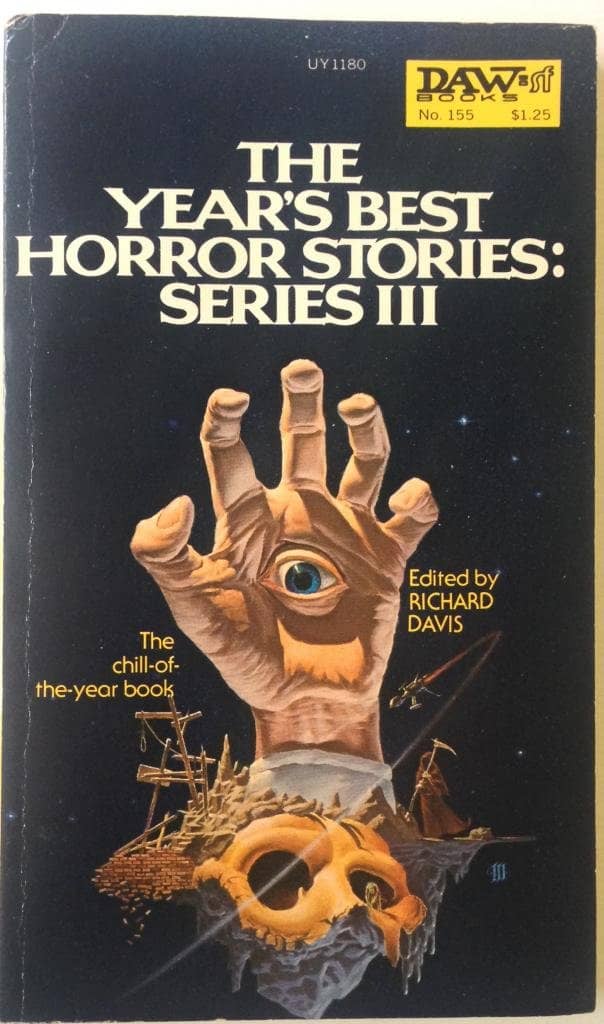 One cannot help but ask, why would an editor of a Year's Best commission five new stories? When you approach a Year's Best anthology, of any genre, you generally assume the editor has scoured a wide range of sources for the best tales. But if you're commissioning authors, it seems you're doing something other than that, or you have some other goal in mind. At the very least, it seems premature to include completely new stories in a Year's Best anthology. What gives?
Davis attempts an explanation in his introduction, claiming that including commissioned authors "can only increase the chances for new writers in this genre to appear in print" (p. 9). Well, I'm all for that. But, again, the book no longer seems to be a Year's Best at that point.
Whereas Volume One in DAW's Year's Best Horror Stories was just a reprint of Davis' first Sphere anthology, and Volume Two was an amalgamation of Davis's second and third Sphere volumes of The Year's Best Horror Stories, DAW's The Year's Best Horror Stories: Series III seems to be a completely original set of stories. However, just to muddy the waters a bit, this volume was reprinted in England in 1976 as The First Orbit Book of Horror Stories.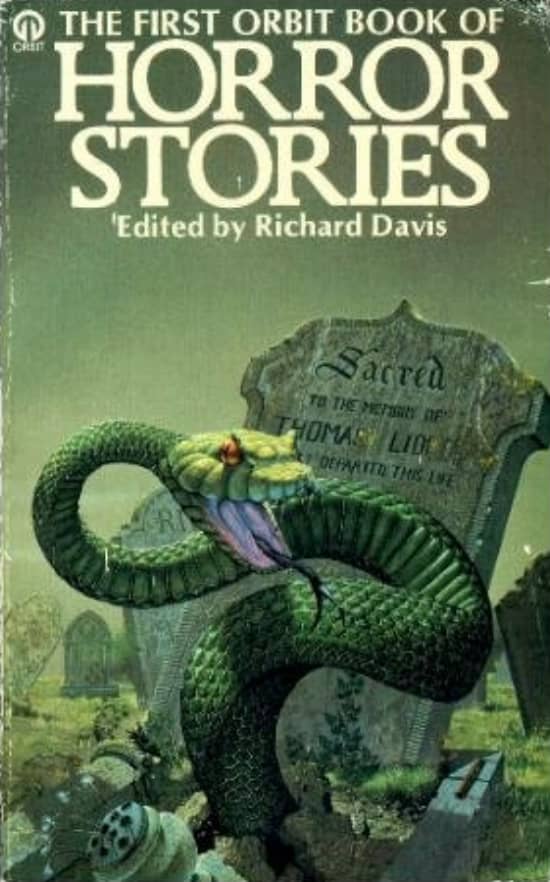 The First Orbit Book of Horror Stories (Orbit, 1976). Cover art by Patrick Woodroffe
Before highlighting a few stories in The Year's Best Horror Stories: Series III, I have to say that this was a disappointing volume overall. My biggest complaint is the lack of horror, though there were still many good stories. I don't know why Davis edited no more DAW volumes after this one, but given this final product, I suspect that Don Wolheim wanted the series in the hands of someone with a sharper vision for the field's best horror.
As I said, The Year's Best Horror Stories: Series III does indeed include some excellent stories, but few seemed like true horror. Davis owns up to this in the preface, noting that he has changed the emphasis of the anthology by including more stories with an "SF slant." He goes on to claim,
It's always seemed to me that trying to separate SF from 'horror' is a false distinction; like asking someone whether they prefer Christmas to Thursday. SF is after all a blanket category covering the complete spectrum of moods and styles from broad farce to epic tragedy, taking in 'horror' along the way. Even in 'horror' the range is vast, as hopefully you'll see from our choice of subjects. But choice is one of mood, not of plot distinctions. So SF is included (p. 9).
I rarely enter into debates about genre demarcations, and I don't propose to do so here. But in comparison with the first two DAW volumes, most of these stories just don't have the same "feel," for lack of a better word. I get Davis' point above, but when words like "horror" and "science fiction" become so broad and all-encompassing, they cease to be helpful in communicating conceptual content. But again, there were some very good stories here.
Two of the excellent writers in The Year's Best Horror Stories: Series III include Harlan Ellison and Brian Stapleford. And though they are both known to write horror, I didn't see their stories here as relevant to a horror anthology, especially a Year's Best. Even the T. E. D. Klein – a horror author par excellence – was not really a horror tale. However, let me step down from my soap box for a minute.
Davis was clearly attracted to Ramsey Campbell, Brian Lumley and Eddie C. Bertin. All three volumes have included them, and the last one contained two tales from both Campbell and Lumley. Of the three, I found Bertin the most impressive, an author I had never heard of before coming to this series. Not only is he a very good writer, all of the stories that Davis has included in his anthologies were translations from Bertin's Dutch collection De Achtjaarlikse God.
Sometimes an author's pizazz doesn't come through in translation. (I've heard that most translations of Shakespeare don't do well.) But Bertin's writing is evocative and scary. I wasn't incredibly moved by his "Like Two White Spiders" in Volume Two, but his "The Taste of Your Love" was the final entry in The Year's Best Horror Stories: Series III and it was powerful. If focuses upon a psycho serial killer who is seeking out a new amusement. Normally I don't care for stories about serial killers. But this one made your skin crawl delightfully, with a satisfying EC Comics ending.
I thought the best story in this volume was "Halloween Story" by Gregory Fitz Gerald. Again, another writer I've never heard of before. The narrative was actually somewhat confusing, yet quite unsettling. I'm a conventional plot kind of guy, and fancy story telling methods rarely win me over. But when they're pulled off effectively, I do enjoy them. Gerald's story focuses upon a woman (perhaps a witch?) who is fending off some of the worst trick-or-treaters in the history of Halloween. These "kids" (unclear, perhaps they're adults?) continue to harass her as things escalate through the night. The tale becomes violent and graphic. But rather than feeling like an exploitative piece, it comes off as surreal and unsettling. It's difficult to describe this story, but it was well-written, definitely horrific, and lingers long after you're finished.
"Burger Creature" by Steve Chapman is a weird and somewhat ridiculous tale about a creature coming to life from the ingredients in a fast-food restaurant. A couple of teenage workers befriend it and try to keep its existence secret in the stockroom of the burger joint. Though the tale never really goes into horror territory, the tension and weirdness is palpable, even with humor mixed in. Since it never became — what I think of — as a horror story, it fell sort of flat towards the end, feeling more like a strange science fiction piece. But it does trade in the frisson of horror somewhat, and at the very least the strangeness of the story stuck in my head.
All in all, I felt The Year's Best Horror Stories: Series III was a letdown, particularly after the strength of the first two volumes. Nevertheless, it was a great anthology overall. Let's see if Series IV turns out better in 1976 with Gerald Page at the helm.
Here's the complete Table of Contents for The Year's Best Horror Stories: Series III:
Introduction by Richard Davis
"The Whimper of Whipped Dogs" by Harlan Ellison (Deathbird Stories, 1973)
"The Man in the Underpass" by J. Ramsey Campbell (original to this volume, 1975)
"S. F." by T. E. D. Klein (original, 1975)
"Uncle Vlad" by Clive Sinclair (Transatlantic Review, 1973)
"Judas Story" by Brian M. Stableford (original, 1975)
"The House of Cthulhu" by Brian Lumley (Whispers #1, July 1973)
"Satanesque" by Allan Weiss (Literary Magazine of Fantasy and Terror #6, 1974)
"Burger Creature"by Steve Chapman (Orbit 12, 1972)
"Wake Up Dead" by Tim Stout (original, 1975)
"Forget-Me-Not" by Bernard Taylor (original, 1975)
"Halloween Story"Gregory Fitz Gerald (Balthus, 1973)
"Big, Wide, Wonderful World" by Charles E. Fritch (Fantasy and Science Fiction, March 1958)
"The Taste of Your Love" by Eddie C. Bertin (De Achtjaarlikse God, 1971)
The Year's Best Horror Stories: Series III was published by DAW Books July 1975. It is 173 pages, priced at $1.25. The cover is by Michael Whelan.
Previous installments in this series include:
Introduction To DAW Books' The Year's Best Horror Stories (1972–1994)
The Year's Best Horror Stories: Series I (1972)
The Year's Best Horror Stories: Series II (1974)