Witches, Curses, and Wagner's Kane: DAW's The Year's Best Horror Stories: Series V (1977), Edited by Gerald W. Page
Witches, Curses, and Wagner's Kane: DAW's The Year's Best Horror Stories: Series V (1977), Edited by Gerald W. Page
The Year's Best Horror Stories: Series V (DAW, 1977). Cover by Michael Whelan
The Year's Best Horror Stories: Series V was the fifth volume in DAW's Year's Best Horror Stories, copyright and printed in 1977. It was the second edited by Gerald W. Page (1939–), who was also a successful horror author and editor at the time.
Michael Whelan (1950–) appears for the third time as the cover artist. Whelan is a classic genre artist and I really liked his previous two covers, but this is the best yet. Though it has something of a sci-fi landscape in the background, it is by far his most horror-themed piece in the series up to this point.
Gerald Page's selections for The Year's Best Horror Stories: Series V includes several authors from the last volume, such as Joseph Payne Brennan, H. Warner Munn, and Fritz Leiber. Of the fourteen stories, eight come from magazines, two from books, and four are original to this volume. (As I stated in the last two posts, I am very puzzled by how editor include new stories in a "Year's Best" anthology.) All the authors are American men, the only exception being the female British author Tanith Lee.
Page's first volume, last year's Series IV, was filled with excellent stories, but to my mind it contained very little horror. I thought Series V was a shift more toward the horrific, though.
Joseph Payne Brennan is quickly becoming one of my favorite horror authors. I enjoyed his contribution to the last volume, and "Long Hollow Swamp" in this anthology was satisfying as well. Brennan seems to like monsters or malevolent entities. I like them too! The monsters in "Long Hollow" are quite grisly and strange. A very worthwhile scare.
I also greatly enjoyed C. L. (i.e. Charles) Grant's "When All the Children Call My Name." (I'll call it my third favorite story here.) It focuses on a series of child killings that take place in a mysterious city park. The main character is seeking to stop the killer or killers at large. Though it's a short piece, Grant does an excellent job building up his characters and setting — with an economy of words but a richness of evocative detail. Here he rides the fine line between the possibly explainable and the possibly supernatural, which when done well I definitely like, and Grant does it well. One of the most inexplicable elements is how the children are found:
His head was resting against the slide's lip, and as I walked slowly around to kneel before him, I saw that his eyes were opened. And staring. And his mouth was agape in a silent, terrified scream. I was no medical expert, but I knew without checking that the young boy was dead; and I knew, just knew, that this was the way they had discovered [the previously murdered child] (p. 205).
As with Grant's "White Wolf Calling" in The Year's Best Horror Stories: Series IV, this one ends somewhat strangely and ambiguously. But it was clearly macabre and stays with you for a while. Though commissioned by the editor, I think it would clearly have been in a Year's Best on its own merits. So I can forgive Gerald Page's commissioning new stories, if it results in a tale of this merit! And as with Brennan, Grant is also quickly becoming a horror favorite of mine.
A few of Manly Wade Wellman's Silver John paperbacks: The Old Gods Waken,
The Lost and the Lurking, and After Dark. All published by Berkley Books in 1984. Covers by Carl Lundgren
My second favorite piece was Manley Wade Wellman's "Where the Woodbine Twineth." I'm most familiar with Wellman's Silver John stories, sort of a weird and horror mix focusing on an Appalachian poet/bard named Silver John. They're usually an interesting mix of supernatural dread and homespun, good-'ol-boy, mountain wisdom. Think Dukes of Hazzard meets Lovecraft. However, I don't think I had read much else by Wellman. "Where the Woodbine Twineth" has a similar sort of mountain setting. Note the following exchange between the main character, a young mountain man named Jess Warrick, and a possible mountain witch:
"I hear tell your sort goes in bands," said Jess, recollecting about witch covens.

"You sound scornful." She stood so close she almost touched against him. "Is that wise, Jess?"

"I don't claim much wisdom. I don't mean to say bad against you, just what I've heard tell for a fact."

"You're a fool," she smiled.

"We won't quarrel about that," said Jess. "Every day I try to be less of one, find out something new."

"Shall I teach you?" She was close. He smelled perfume of night flowers.

"No, ma'am, thank you anyway."

"You're not only a fool, Jess. You're afraid of me."

"I'd reckon I'd be twice foolish not to be kindly afraid of you," he agreed with her. (p. 231)
As I think you can see, Wellman has a knack for spinning this kind of dialogue without sounding corny. The whole tale is based upon Jess Warrick trying to elope in the middle of the night with his girl Midge Mair. The affair has a classic Romeo-and-Juliet setup; the Warrick and Midge families have long been enemies, reminiscent of the infamous Hatfield/McCoy mountain feud. But the feud here evidently goes back to an old curse with supernatural implications.
"Where the Woodbine Twineth" takes place all at night in the midst of various supernatural happenings. It was an enjoyable and creepy tale, and surprisingly one with a happy ending, though with some hint of dread. Are the witch and her familiars still around? "Once in a while someone sees funny tracks. Funny, but not laughing at funny" (p. 237).
However, in almost any anthology, one story will usually really shine out. Such was the case with Karl Edward Wagner's "Sing a Last Song of Valdese." This was Wagner's first appearance in DAW's Year's Best Horror Stories series and in a few years he would become the editor, and the one with for the longest run. This is one of his famous Kane tales, which skirts the border between heroic fantasy and horror (some might even call that a good definition of sword and sorcery). If you've never read a Wagner Kane tale, this is a great one to begin with. It's 1/3 dread, 1/3 suspense, 1/3 heavy metal! In all seriousness, Wagner does an excellent job skirting the line between horror and adventure. "Sing a Last Song of Valdese" was an excellent story, the best one here!
The Year's Best Horror Stories: Series V returns to the strong showings of Series I and Series II, edited by Richard Davis. Though only his second effort in the, thus far, five-volume series, Page has already began to show a taste for the genre that didn't lean too strongly into sci-fi. By dipping back into some of the "old-timers," such as Joseph Payne Brennan, H. Warner Munn, Fritz Lieber, Robert Bloch and Manley Wade Wellman, as well as bringing forth some good new talent — Karl Edward Wagner, David Drake, Tanith Lee and Charles Grant — I think Page demonstrated that he had his fingers on the pulse of the horrific in the mid-70s. I'm looking forward to reading Series VI!
Here's the complete Table of Contents for The Year's Best Horror Stories: Series V:
Introduction by Gerald W. Page
"The Service" by Jerry Sohl (Magazine of Fantasy and Science Fiction, February 1976)
"Long Hollow Swamp" by Joseph Payne Brennan (Alfred Hitchcock's Mystery Magazine, January 1976)
"Sing a Last Song of Valdese" by Karl Edward Wagner (Chacal #1, Winter 1976)
"Harold's Blues" by Glen Singer (Cthulhu: Tales of the Cthulhu Mythos, 1976)
"The Well" by H. Warner Munn (for this volume, 1976)
"A Most Unusual Murder" by Robert Bloch (Ellery Queen's Mystery Magazine, March 1976)
"Huzdra" by Tanith Lee (for this volume, 1976)
"Shatterday" by Harlan Ellison (Gallery, September 1975)
"Children of the Forest" by David Drake (Magazine of Fantasy and Science Fiction, November 1976)
"The Day It Rained Lizards" by Arthur Byron Cover (for this volume, 1976)
"Followers of the Dark Star" by Robert Edmond Alter (Mystery Monthly, August 1976)
"When All the Children Call My Name" by C. L. Grant (for this volume, 1976)
"Belsen Express" by Fritz Leiber (The Second Book of Fritz Leiber, 1975)
"Where the Woodbine Twineth" by Manly Wade Wellman (Magazine of Fantasy and Science Fiction, October 1976)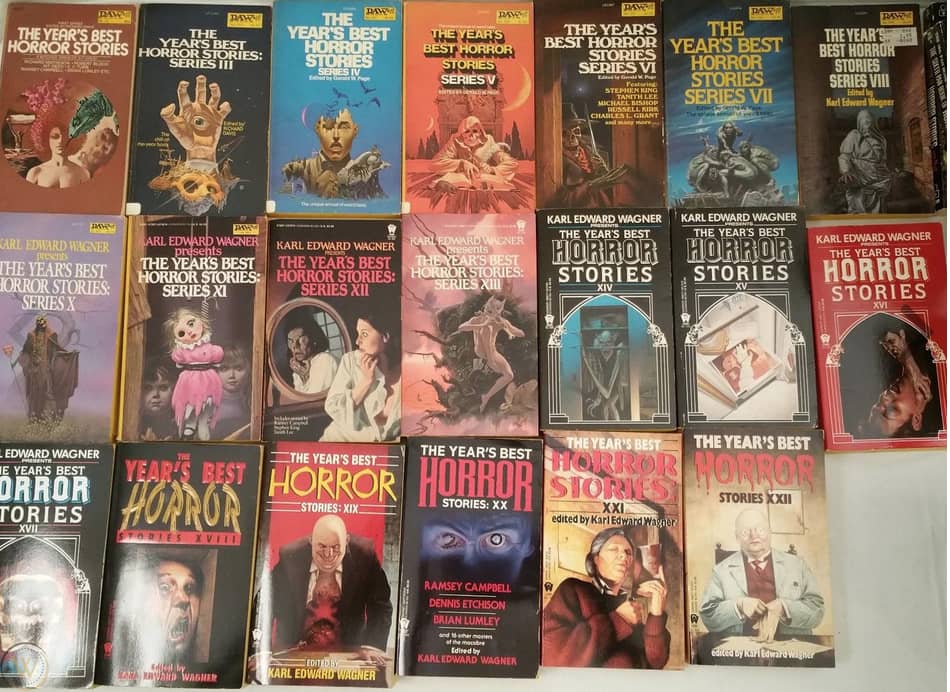 20 of the 22 volumes of The Year's Best Horror Stories (DAW Books)
The Year's Best Horror Stories: Series V was published by DAW Books in July 1977. It is 237 pages, priced at $1.50. The cover is by Michael Whelan.
Previous installments in this series include:
Introduction To DAW Books' The Year's Best Horror Stories (1972–1994)
The Year's Best Horror Stories: Series I (1972)
The Year's Best Horror Stories: Series II (1974)
The Year's Best Horror Stories: Series III (1975)
The Year's Best Horror Stories: Series IV (1976)