Nerve Gas, Neighborhood Witches, and Forbidden Forests:The Year's Best Horror Stories Series XI, edited by Karl Edward Wagner
Nerve Gas, Neighborhood Witches, and Forbidden Forests:The Year's Best Horror Stories Series XI, edited by Karl Edward Wagner

The Year's Best Horror Stories Series XI (DAW, November 1983). Cover by Michael Whelan
The Year's Best Horror Stories: Series XI was the fourth volume in this series edited by horror author and editor Karl Edward Wagner (1945–1994). It was copyrighted and printed in 1983 and was the eleventh volume in DAW's Year's Best Horror Stories. (We're half way through the 22-year series!)
Michael Whelan's (1950–) artwork appears for a ninth time in a row. Whelan's horror art is always creepy, and quite varied. This, however, was one of my least favorite Whelan covers. It seems more like a throwback to a 1970s-era paperback. But it's probably right up your alley though if you're a Paperbacks from Hell type of fan. It was re-used as the cover of the Underwood Miller hardcover omnibus Horrorstory: Volume Four, which collected Series X, XI, and XII of The Year's Best Horror Stories.
Of the seventeen different authors that make up The Year's Best Horror Stories: Series XI, all were male but two. Ten were American authors, six were British, and there was one Canadian, Donald Tyson. Seven stories came from fanzines, six from professional magazines, and four from books. Though Wagner continues to show that he is a widely read man, more than a few of these stories came from the pages of the T. E. D. Klein-edited Rod Serling's The Twilight Zone Magazine and Stuart David Schiff's famous Whispers fanzine.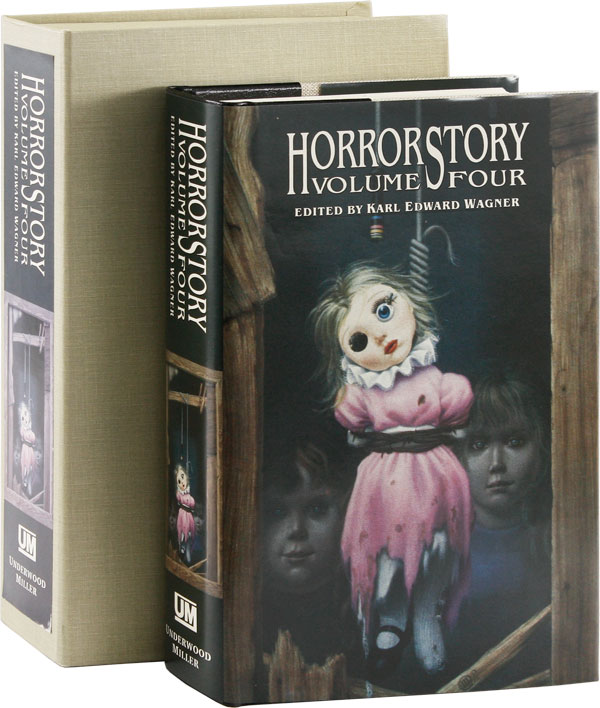 Horrorstory: Volume Four, collecting volumes X, XI, and XII
(Underwood-Miller, October 1990). Cover by Michael Whelan
As with previous volumes in the DAW horror series, The Year's Best Horror Stories: Series XI was very good. There are some memorable and chilling tales here. But this was not one of my favorite volumes. There are no duds here, but many of the stories were not very scary. However, I still loved this anthology and will share some bits from the best tales.
One of those was "The Smell of Cherries" by Jeffrey Goddin. The protagonist Taylor experiences his first night on the job as a watchman for some corporate warehouses. It turns out that the warehouses were built on a site where the government used to make nerve gas, but some mysterious accident closed down the facility. Goddin begins to experience some pretty weird and frightening things on his shift, always accompanied by a slight smell of cherries. Though the tale obviously suggests that Taylor is having hallucinatory events due to gas residue at the site, the ending seems supernatural and makes you question the whole premise. I really like this story and hope Goddin pops up again in future volumes.
Lawrence Connolly's "Mrs. Halfbooger's Basement" was a fairly creepy tale about some young kids trying to spy out a neighborhood lady's house. She's suspected of being a witch. Why? Child-logic dictates that any strange woman living by herself and never seemingly visited by others must be a witch. The main protagonist-child ends up getting trapped inside the house. Fairly scary happenings follow. I liked how it seemed to be going a certain direction, and then went sideways at the end. A chilling story.
"Spare the Child" by Thomas Monteleone was probably the most inventive story in the anthology. One Russell Southers is pestered by his wife Mitzi to begin giving a monthly check to a "starving child"-charity. Southers reluctantly agrees, primarily to shut his wife up. Mitzi seems pleased at first, receiving letters from an international girl thanking the Southers for their support. But Mitzi eventually gets bored with the situation and begins to pester Russell to discontinue funding so they can buy some new curtains instead. Again, Russell relents to his wife's wishes, and this is where things begin to get weird.
The Southers still end up receiving letters from the girl even after the funding stops. The first letter contains the cryptic message, "Please do not stop U.S.A. dollars. For you and for me" (p. 180). That sounded kind of threatening. But the next one is more explicit saying, "you must be punished" (p. 180). Russell then begins to have dreams of the girl, and various other seemingly supernatural things happen. It ends badly for the Southers, and makes anyone think twice about giving to charity!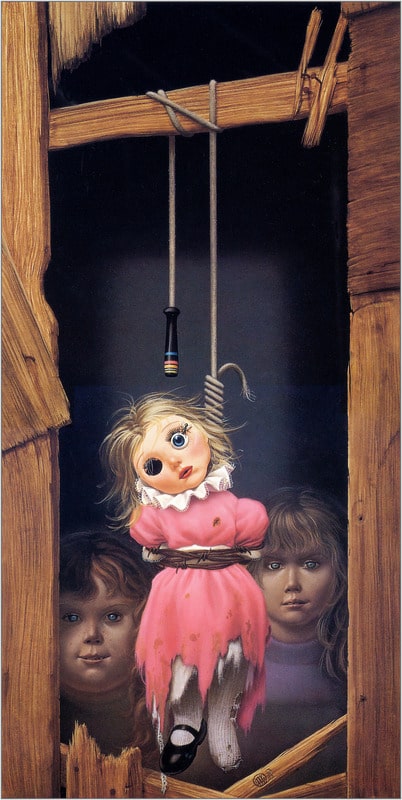 "The Doll," Whelan's original cover art (click to enlarge)
A few worthy mentions in The Year's Best Horror Stories: Series XI include "Slippage" by Michael Kube-McDowell, which was basically a science fiction story. I didn't find it scary, though the main idea sure is. "Slippage" would make a great movie, or perhaps a good horror-short on something like Black Mirror. "Rouse Him Not" by Manley Wade Wellman was a fairly predictable demon/wizard/satanism tale, but Wellman tells it in his typically very intriguing way.
I also really like M. John Harrison's "The New Rays." Harrison is an amazing writer. I was enthusiastic about his story "Egnaro" in my last review of The Year's Best Horror Stories: Series X. "The New Rays" was also excellent, more like science fiction with something of a moral message on life-prolonging medicines and technology. It was very moving and depressing, though not quite "horrific." M. John Harrison is quickly rising in my list of favorite authors.
I found "I Hae Dream'd a Dreary Dream" by John Alfred Taylor to be one of the more scary and enjoyable stories in this volume. It is basically about a forbidden area in a forest. All of the locals warn people not to go there. Some that haven't listened have never returned. Our protagonist Harold Percy is one of those who doesn't listen. He climbs down a rock wall in the forbidden area to witness the following:
It was hard to think, the edges of things wavered before the eyes. That boulder that seemed to crouch, that bleached and twisted log? But how could there be driftwood so far above the surf?

Then the log straightened, began to stand up, the boulder uncrouched.

[. . .] Not a log, but bleached bones and tendons, what had once been a man. And the croucher was clothed in sodden rags and still had a face, though shriveled back, exposing the long teeth in an eternal grin. And behind others were stirring, more than four (p. 52).
What ensues is one of the most nail-biting, rock-climbing, chase scenes in all of literature as Percy seeks to escape. Were these zombies? Why were they there? Are these the people that never came back? Nothing is ever explained but this was a pretty spooky tale.
One of the most interesting stories in this volume, and probably my favorite, was also the shortest. "Cruising" by Donald Tyson is not a horror story in the typical sense. But I have to admit that it did to me what I consider to be a good mark of a horror story: it stayed with me long after I read it. The less-than-three-page story is basically about a young punk named Johnny Sheen who goes around cruising in his muscle car. He's clearly a loser-type who thinks he's hot stuff.
While cruising, Sheen runs across two girls in another muscle-car who flirt with him and get him to chase them. Dangerous high-jinks follow, including reaching into each other's cars at high speeds. Then this:
Once again [Sheen] reached through the window of the other car. Something hard closed on his seeking arm. He looked across and saw a shining steel ring around his wrist, a short chain trailing it to a similar ring around the roof column. The brunette held a key up by her face and shook it in front of him like a little bell…

It was a second before he understood. Then he felt a fear so naked that his stomach churned and his throat constricted and his skin went cold in the summer heat (p. 204).
I had to re-read this section a couple of times to really get my mind around what had just happened. Things do not end well for Johnny Sheen! Not a very scary story, but pretty darn horrific.

Some of the story sources: Ghosts & Scholars 4; Rod Serling's The Twilight Zone Magazine (August 1982);
Terrors, edited by Charles L. Grant (Playboy, 1982). Covers by David Lloyd, Ralph Mercer, and unknown
Though this was not my favorite entry in the series thus far, it was still another very good collection under Wagner's editorship. Here's the complete Table of Contents for The Year's Best Horror Stories: Series XI:
"Introduction: One from the Vault" by Karl Edward Wagner
"The Grab" by Richard Laymon (Gallery Jan., 1982)
"The Show Goes On" by Ramsey Campbell (Dark Companions, 1982)
"The House at Evening" by Frances Garfield (Whispers 15–16, 1982)
"I Hae Dream'd a Dreary Dream" by John Alfred Taylor (The Argonaut 8, 1981)
"Deathtracks" by Dennis Etchison (Death, 1982)
"Come, Follow!" by Sheila Hodgson (Ghosts & Scholars 4, 1982)
"The Smell of Cherries" by Jeffrey Goddin (Rod Serling's Twilight Zone Magazine, Nov. 1982)
"A Posthumous Bequest" by David Campton (Whispers 17–18, 1982)
"Slippage" by Michael Kube-McDowell (Rod Serling's The Twilight Zone Magazine Aug., 1982)
"The Executor" by David G. Rowlands (Ghosts & Scholars 4, 1982)
"Mrs. Halfbooger's Basement" by Lawrence C. Connolly (Rod Serling's The Twilight Zone Magazine June, 1982)
"Rouse Him Not" by Manley Wade Wellman (Kadath 5, 1982)
"Spare the Child" by Thomas Monteleone (The Magazine of Fantasy and Science Fiction Jan., 1982)
"The New Rays" by M. John Harrison (Interzone Spring, 1982)
"Cruising" by Donald Tyson (Rod Serling's The Twilight Zone Magazine Sept., 1982)
"The Depths" by Ramsey Campbell (Dark Companions, 1982)
"Pumpkin Head" by Al Sarrantonio (Terrors, 1982)
Previous installments in this series include:
Introduction To DAW Books' The Year's Best Horror Stories (1972–1994)
The Year's Best Horror Stories: Series I (1972)
The Year's Best Horror Stories: Series II (1974)
The Year's Best Horror Stories: Series III (1975)
The Year's Best Horror Stories: Series IV (1976)
The Year's Best Horror Stories: Series V (1977)
The Year's Best Horror Stories: Series VI (1978)
The Year's Best Horror Stories: Series VII (1979)
The Year's Best Horror Stories: Series VIII (1980)
The Year's Best Horror Stories: Series IX (1981)
The Year's Best Horror Stories: Series X (1982)