Street Thieves and Queen's Guards: Dance of Thieves by Mary E. Pearson
Street Thieves and Queen's Guards: Dance of Thieves by Mary E. Pearson

Dance of Thieves and Vow of Thieves (Square Fish, 2019 and 2022). Covers by Rich Deas and Mike Burroughs
I don't pay as much attention to Young Adult fantasy as I should. It's not experiencing the explosion of bestsellers and media attention it was just a few years ago, but it's still one of the bright spots in genre publishing, and where a lot of talented writers are doing some excellent work.
Fortunately Barnes & Noble makes it easy for me to stumble on some of the most exciting titles, and that's exactly what happened on Sunday when I stopped in front of their YA display tables. There in the center was Dance of Thieves, the first of a two-volume series featuring an outlaw family, a legendary street thief, a dark secret, the young women of the Queen's guard, a son thrust suddenly into power, and a life-and-death cat and mouse game between them all. It shares a setting with the author's bestselling Remnant Chronicles, which helped pique my interest, and that (and the enticing description) was enough to convince me to take it home.
[Click the images to dance with bigger versions.]

Back covers of Dance of Thieves (paperback edition) and Vow of Thieves (hardcover)
Pearson is gifted at blending fantasy and romance, and Dance of Thieves and its sequel Vow of Thieves are no exception.
Here's an excerpt from the enthusiastic coverage at Publishers Weekly.
Pearson takes up the story of Kazi, a fierce Rahtan warrior and talented thief, and Jase, the head of a ruling family in the kingdom's outer regions. The two, thrown together in dire circumstances, find themselves in a star-crossed romance… Told in alternating chapters by Kazi and Jase, the lovers' tale is set amid a larger political story about competing kingdoms, warring territories, and changing loyalties, the threads of which can become difficult to follow. Nevertheless, Pearson is a gifted storyteller and spinner of eminently satisfying romances and fantasy. Fans will thrill at these newest protagonists, especially the women warriors, who are equal partners in the play for power.
My daughter read The Remnant Chronicles and was a huge fan — in fact, she sent me off to the bookstore to track down the later volumes after reading the first one, The Kiss of Deception.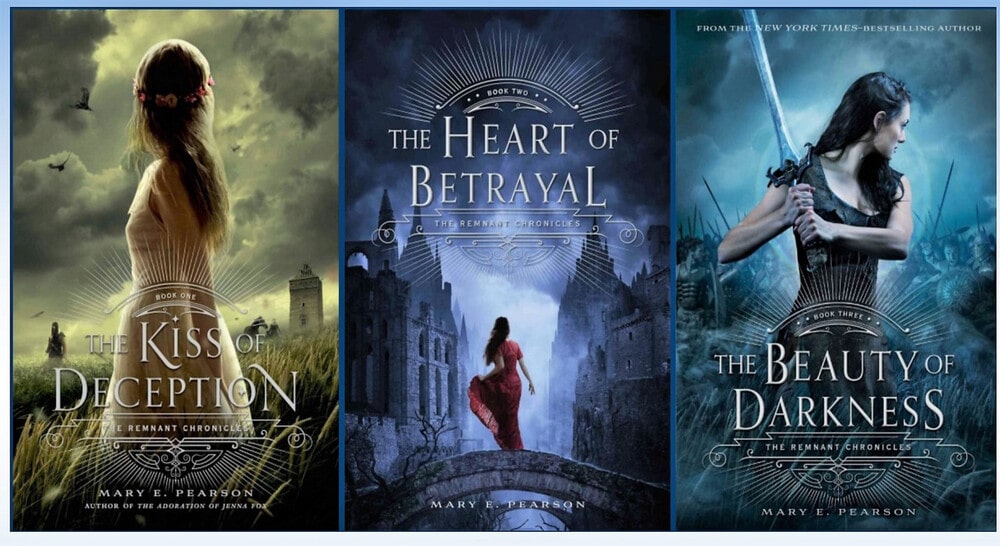 The Remnant Chronicles: The Kiss of Deception, The Heart of Betrayal, The Beauty of Darkness (Henry Holt, 2014-2016)
Dance of Thieves and Vow of Thieves were published in hardcover by Henry Holt and Co. in 2018 and 2019; the paperback reprints from Square Fish were published in 2019 and 2022, respectively. Here's the paperback details.
Dance of Thieves (508 pages, $12.99 paperback/$9.99 digital, August 6, 2019) — cover by Rich Deas and Mike Burroughs
Vow of Thieves (496 pages, $12.99 paperback/$9.99 digital, June 21, 2022)
See all our recent coverage of the best new fantasy series here.