Ellsworth's Cinema of Swords: Sink Me! Scarlet Pimpernels!
Ellsworth's Cinema of Swords: Sink Me! Scarlet Pimpernels!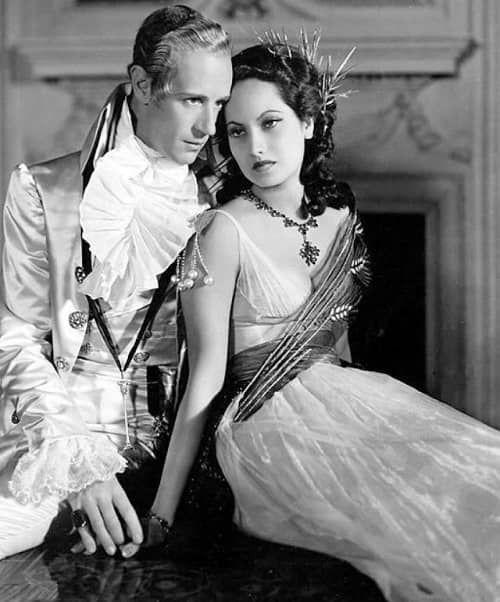 The Scarlet Pimpernel (UK, 1934)
The Baroness Orczy (1865-1947) – but really, we must give her her full name: Emma Magdolna Rozália Mária Jozefa Borbála Orczy de Orczi – no wonder they called her "Emmuska" for short – was a Hungarian noble by birth whose family left Hungary after her father's farm was burned by rioting peasantry. Which may have had something to do with her later decision to write about the persecution of aristocrats during the French Revolution.
One day in 1903 the image of Sir Percy Blakeney appeared, fully formed, in Emma Orczy's mind's eye, and she knew she was seeing the protagonist of her next novel. She wrote The Scarlet Pimpernel in five weeks and sent it out with high hopes, but a dozen publishers turned it down. With her husband's collaboration she crafted a version of the story for the stage and found a company willing to produce it. After a slow start the play took off and became a huge success, after which selling the novel was suddenly easy.
Sequel followed sequel for the next thirty-plus years, and over more than a dozen novels and collections the dashing Scarlet Pimpernel probably saved more aristocrats from Mam'zelle Guillotine than were actually executed in the historically brief period of The Terror. But the Baroness wasn't a historian, she was a storyteller – and few storytellers have created a character as indelible as Sir Percy Blakeney, the Scarlet Pimpernel. Or one more perfect for translation to the silver screen.
The Scarlet Pimpernel (1934)
Rating: ***** (Essential)
Origin: UK
Director: Harold Young
Source: PRS DVD
After Alexander Korda's success with The Private Life of Henry VIII, he was ready to produce another costume drama, on an even larger scale and with more action in it. He decided to adapt Baroness Orczy's 1905 novel, The Scarlet Pimpernel. Though it had already been filmed several times in the silent era, it was the perfect choice — the Pimpernel, the original noble outlaw with a secret identity, was the direct precursor to Zorro, and he was also a most English hero for a thoroughly British production. (Interestingly, both Orczy and Korda were Hungarian.)
You know the story, at least in outline: an outlaw mastermind leads a band of English gentry on perilous missions to save condemned French aristocrats from the guillotine during the period of the French Revolution known as The Terror. Though in this adaptation the duels are all fought with words and wits and not a single sword is drawn, it's nonetheless an iconic swashbuckler, with a hero who holds to his own code of honor in the face of tyranny and death and in defiance of all the ordinary rules. The story bristles with suspense, betrayals, reversals, and deadly menace: the threat of violence is ever-present but never quite erupts, though death hovers over every deceit. It's masterly. And if that weren't enough, it's also a ravishing romance!
The witty script is endlessly quotable, and the cast is perfection. The great Raymond Massey plays Citizen Chauvelin, the Pimpernel's nemesis, with cold, reptilian malice and penetrating intelligence. Merle Oberon is pitch perfect as Lady Blakeney, the former French actress whose heart is torn between conflicting loves and loyalties, but who in the end is as brave as the outlaw hero himself. And though Leslie Howard is superb as the steely-eyed and indomitable Scarlet Pimpernel, he's simply immortal in the role of that simpering, blithering, farcical fop with a cunning gleam in his eye, The Right Honorable Sir Percy Blakeney (Bart.). Sink me! It's a triumph.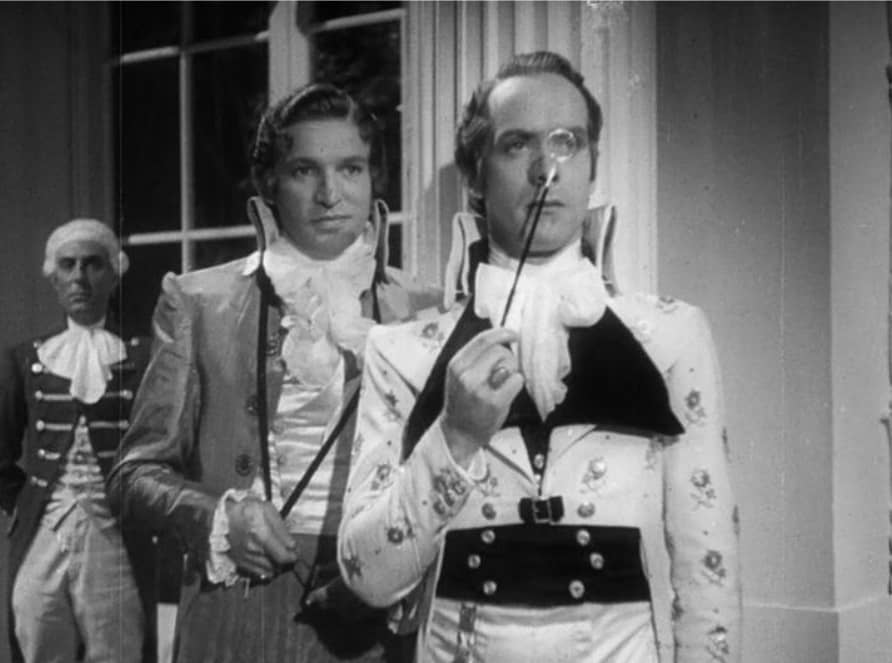 The Return of the Scarlet Pimpernel
Rating: ***
Origin: UK, 1937
Director: Hanns Schwartz
Source: PRS DVD
Though the celebrated 1934 version of The Scarlet Pimpernel is justly famous, few are aware that the film had a sequel less than three years later. There's a reason for that: though produced by the same studio, almost no one who made the first movie was involved with the second, and the journeyman cast and crew of The Return of the Scarlet Pimpernel were unable to recapture the magic of the original.
The story is based loosely on The Triumph of the Scarlet Pimpernel (1922), one of Baroness Orczy's dozen sequels to the first novel. Sir Percy has promised Lady Blakeney not to return to France and spends his time in England playing cricket, but in Paris under the tyranny of Robespierre, heads continue to fall to Mam'zelle Guillotine. Though the Scarlet Pimpernel has been exposed and confined to England, Robespierre is convinced that he's still remotely managing a network of traitors in Revolutionary France, and orders Citizen Chauvelin to find a way to induce Sir Percy to come to Paris where he can be taken and executed.
Raymond Massey was busy in 1937 appearing in other costume dramas as Black Michael, King Philip II, and Cardinal Richelieu, so Chauvelin is played this time around by the baby-faced Francis Lister, who was quite good as Prince Gaston in Cardinal Richelieu. But though Lister's Chauvelin is smart enough for the role, he entirely lacks Massey's menacing edge.
Before she was Lady Blakeney, Marguerite St. Just was an actress from the theatrical demimonde of Paris, so Chauvelin hatches a plot involving another actress, Theresa Cobarrus (Margaretta Scott), and sends her to England to lure Marguerite into an abduction — and so, in Brighton under false pretexts, Theresa tests her wits against those of the Blakeneys. Sir Percy is played by Barry K. Barnes, Marguerite by Sophie Stewart, and unfortunately, Leslie Howard and Merle Oberon they ain't. The script doesn't give them much to work with, either — especially poor Lady Blakeney, who seems to have lost about 40 I.Q. points since the first film. Sir Percy comes off rather better, but Barry Barnes just doesn't have Leslie Howard's ability to convey several simultaneous levels of nuance, and his dialogue isn't as sharp.
To save his wife, Sir Percy is drawn back into the fray of Revolutionary Paris, and the requisite impersonations, pursuits, intrigues, and daring escapes duly ensue. It's not bad — but as Sir Percy remarked in the first film, "Really, there's nothing quite so bad as something that's not bad." Watch for the young James Mason making his mark in a minor role as a revolutionary parliamentarian—radiating intensity, he stands out as the only real actor of stature in the picture. Ironically, this just diminishes the earnest but inadequate performances of the lead actors, forever eclipsed by Howard, Oberon, Massey — and Mason.
The Scarlet Pimpernel (1982)
Rating: *****
Origin: UK
Director: Clive Donner
Source: Acorn DVD
This is an outstanding remake of the 1934 Scarlet Pimpernel — and we call it a remake because, although it's an original adaptation by screenwriter William Bast that's half-again as long as the earlier version, Bast was careful to include all the most memorable scenes of Alexander Korda's film, and because star Anthony Andrews' portrayal of the Pimpernel and his alter ego, Sir Percy Blakeney, is firmly based on Leslie Howard's characterization. As well it should be.
Once again, the Scarlet Pimpernel mixes the high adventure of saving French aristocrats from the revolutionary guillotine during the height of The Terror in Paris, with romantic melodrama as his beloved but unknowing French wife, Marguerite St. Just (Jane Seymour), is blackmailed into betraying the Pimpernel to Citizen Chauvelin of the Committee of Public Safety (Ian McKellen). This version goes much more deeply into the characters' romantic backstory, showing Percy's courtship of Marguerite, who had formerly been engaged to Chauvelin, thereby establishing Blakeney and Chauvelin as romantic as well as political rivals.
Tautly directed by Clive Donner, this TV movie maintains its pace despite its length, breaking the suspense only for heavy-breathing scenes of tragic love and angst d'amour. Andrews and Seymour are excellent, but McKellen steals the show; adding barely suppressed sexual jealousy to the role of Chauvelin enables McKellen to outshine even the great Raymond Massey in the role.
Bast adapted the story from Baroness Orczy's The Scarlet Pimpernel (1905) and Eldorado (1913), drawing from the latter the plot of the rescue of Prince Louis, the Dauphin of France, which is where a lot of the film's additional runtime comes from. This added material is the weakest part of the movie, as it doesn't really add more to the story except more, distracting the viewer from what they really want, the hot romantic tension between the three leads. But Bast does add a fine climactic saber duel between Chauvelin and Sir Percy, an element that was missing from the 1934 version.
Production values are top notch, especially for a TV movie, and the costumes are superb (they'd better be, in Percy's case). It was shot on location at lux historical sites in the UK, including Blenheim Palace, and looks succulent. Prepare to swoon.
Where can I watch these movies? I'm glad you asked! Many movies and TV shows are available on disk in DVD or Blu-ray formats, but nowadays we live in a new world of streaming services, more every month it seems. However, it can be hard to find what content will stream in your location, since the market is evolving and global services are a patchwork quilt of rights and availability. I recommend JustWatch.com, a search engine that scans streaming services to find the title of your choice. Give it a try. And if you have a better alternative, let us know.
Previous installments in the Cinema of Swords include:
The Barbarian Boom, Part 1
Old School Pirates
Weird Samurai
Euro Dumas Trio
The Barbarian Boom, Part 2
The New Zu Review
The Barbarian Boom, Part 3
An Elegant Weapon for a More Civilized Age
Fantasy Salmagundi
Warmongers
Fables and Fairy Tales
Goofballs in Harem Pants, Part 2
Timey-Wimey Swordy-Boardy
Boy-Toys of Troy
Piracy – Two Wrecks and a Prize Ship
Postwar in the Greenwood
The Barbarian Boom, Part 4
Blood-Red and Blind: The Crimson Bat
Updating the Classics
---
LAWRENCE ELLSWORTH is deep in his current mega-project, editing and translating new, contemporary English editions of all the works in Alexandre Dumas's Musketeers Cycle, with the fifth volume, Between Two Kings, available now from Pegasus Books in the US and UK. His website is Swashbucklingadventure.net.
Ellsworth's secret identity is game designer LAWRENCE SCHICK, who's been designing role-playing games since the 1970s. He now lives in Dublin, Ireland, where he's writing Dungeons & Dragons scenarios for Larian Studios' Baldur's Gate 3.