Vintage Treasures: The Forever War by Joe Haldeman
Vintage Treasures: The Forever War by Joe Haldeman
The Forever War (Ballantine Books, 1976). Cover by Murray Tinkelman
Joe Haldeman's The Forever War is one of the most honored science fiction novels of all time. First published by St. Martin's Press in 1975, it swept every major SF Award, including the Hugo, Nebula, and Locus awards. A decade later, in 1987, it placed 18th on Locus' list of All-Time Best SF Novels, ahead of The Martian Chronicles, Starship Troopers, and Rendezvous with Rama.
Unlike many SF classics, its reputation has grown steadily over the decades. It's been widely praised by critics, from Thomas M. Disch ("It is to the Vietnam War what Catch-22 was to World War II, the definitive, bleakly comic satire") to contemporary authors such as Pulitzer Prize winner Junot Diaz.
Here's Diaz, with a review that became a blurb on later editions:
Perhaps the most important war novel written since Vietnam… Haldeman, a veteran, is a flat-out visionary… and protagonist William Mandella's attempt to survive and remain human in the face of an absurd almost endless war is harrowing hilarious heartbreaking and true… like all the best works of literature The Forever War takes you apart and then, before you can turn that last page, puts you back together: better, wiser, more human. Simply extraordinary.
My favorite contemporary review is by Peter F. Hamilton:
I first read this twenty years ago and have never forgotten the wonder and fury it kindled at the time. Anyone who talks about the glory of war has obviously never read it. A beautifully detailed and intensely personal account of a conflict which lasts for over a thousand years, as told by one grunt who lives through it all. Only a writer as skillful and knowledgeable as Haldeman could use war's dark glamour to lure the reader in and then deploy the same fascination to show just what kind of effect this orchestrated barbarism can have on the human soul.
The Forever War was the inaugural title in Orion's groundbreaking SF Masterwork series in 1999, a list that has grown to well over 100 volumes. It has been in print nearly continuously for the last four and a half decades. Here's just a handful of the most noteworthy editions.
Three decades of The Forever War. First row: Orbit (1976), the first unexpurgated edition (Avon, 1991),
and the Gollancz SF Masterworks edition, with Author Notes (1999). Covers by Patrick Woodroffe,
Dorian Vallejo, and Chris Moore. Second row: Eos (2003), St. Martin's Griffin (2009), and
Open Road (2014). Covers by Jim Burns, Tomislav Tikulin, and Michel Vrana.
There are significant differences in these editions that many modern Haldeman fans remain unaware of. Most notably, the early (pre-1991) editions of The Forever War, including the popular 1976 Ballantine paperback edition with Murray Tinkelman's cover, were significantly abridged. Here's the details from Wikipedia.
Editions published prior to 1991 were abridged for space by the original editor (omitting the middle section, a novella titled "You Can Never Go Back"). These early paperback editions have "a white cover showing a man in a spacesuit with a sword, with symbolic clocks all around," according to the author…

The 1991 edition restored many expurgated sections, primarily dealing with the changes that befall human civilization over the course of William Mandella's life. This version's cover "has a futuristic soldier who looks like Robin Williams in a funny hat," as Haldeman notes, "But alas, not all of the changes got in, and the book has some internal contradictions because of things left over from the [earlier version]."
The release with "a futuristic soldier who looks like Robin Williams in a funny hat" is pretty clearly the 1991 Avon edition.
By the end of the 90s, The Forever War had finally been published in a fully restored version. Here's Wikipedia again.
In 1997, Avon published the version that Haldeman called "definitive", with "everything restored" and "a less funny cover illustration." This version was republished twice, first in October 2001 as a hardback with a cover showing spaceships in battle over a planet, and again in September 2003, with the cover art depicting a device worn over the eye of a soldier.

In 1999, it was republished by Millennium, an imprint of the Orion Publishing Group, as part of the SF Masterworks series. It featured as the first novel re-printed in the series… This is the same version as the 1997 Avon publication and has the same Author's Note.
The Forever War has been adapted in multiple media — though rather curiously, I think, it has never been filmed, despite multiple attempts. Ridley Scott optioned the rights in 2008 for a big-budget 3D release, and Warner Bros. explored a project in 2015 with Channing Tatum in the lead role, but neither project went anywhere.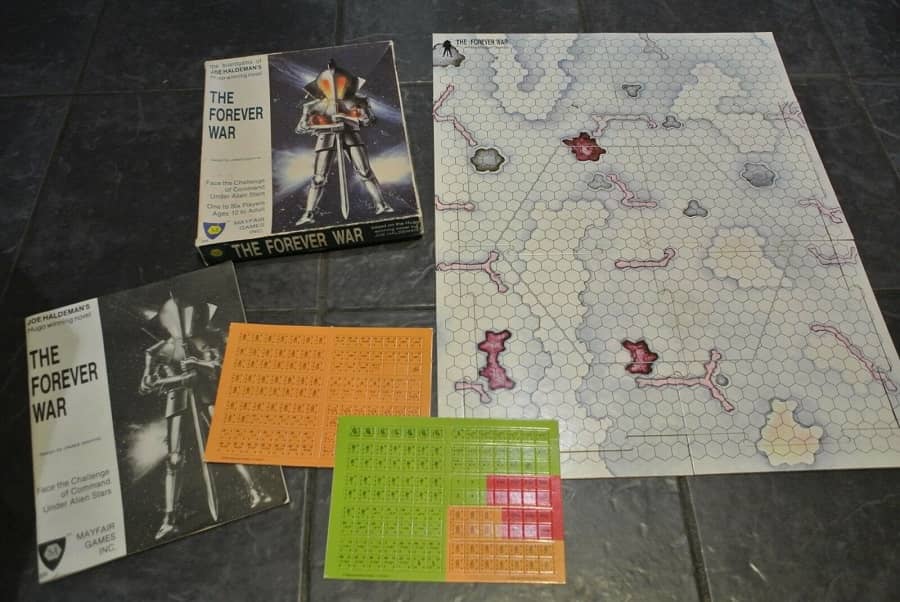 The Forever War board games from Mayfair Games (1999)
Other media adaptations have had more success. In 1988 Belgian comic writer Marvano worked with Haldeman to release a three-volume graphic novel adaptation, and in 1983 Mayfair Games published a game based on the novel.
The Forever War (St. Martin's Griffin, 2009). Cover by Tomislav Tikulin
Joe Haldeman was a combat engineer in the Vietnam War; he was wounded in combat and received a Purple Heart. The Forever War is fairly obviously a commentary on his experiences. Here's Wikipedia again.
The novel is widely perceived to be a portrayal of the author's military service during the Vietnam War, and has been called an account of his war experiences written through a space opera filter. Other hints of the autobiographical nature of the work are the protagonist's surname, Mandella, which is a near-anagram of the author's surname; Mandella being a physics student, like Haldeman, as well as the name of the lead female character, Marygay Potter, which is nearly identical to Haldeman's wife's maiden name. If one accepts this reading of the book, the alienation experienced by the soldiers on returning to Earth – here caused by the time dilation effect – becomes a clear metaphor for the reception given to US troops returning to America from Vietnam, including the way in which the war ultimately proves useless and its result meaningless. He also subverts typical space opera clichés (such as the heroic soldier influencing battles through individual acts) and "demonstrates how absurd many of the old clichés look to someone who had seen real combat duty".
The Forever War is the first novel in a hugely popular trilogy, which includes the thematic sequel Forever Peace (1997) and direct sequel Forever Free (1999).
Forever Peace (Ace, 1998). Cover by Bruce Jensen
Like its predecessor, Forever Peace swept the awards, winning the Hugo, Nebula, and Campbell. Forever Free followed two years later.
Haldeman returned to the universe of The Forever War a fourth time for Robert Silverberg's 1999 anthology Far Horizons, with the novelette "A Separate War," a first-person tale from Margay's point of view of the events of the first book. It's also included in Haldeman's collection A Separate War and Other Stories (2006).
Forever Free (Ace, 2000). Cover by Bruce Jensen
Our previous coverage of Joe Haldeman includes:
"Hey Look, It's Joe Haldeman!": A First-time Convention-goer Looks at World Fantasy 2010, Ryan Harvey (2010)
Study War No More, edited by Joe Haldeman (2018)
Birthday Reviews: Joe Haldeman's "Blood Brothers" by Steven H Silver (2018)
Infinite Dreams by Joe Haldeman (2019)
The Tomorrow's Warfare Anthologies, edited by Joe Haldeman, Charles G. Waugh, and Martin Harry Greenberg (2019)
A Masterclass In Dystopian Science Fiction: The Worlds Trilogy by Joe Haldeman (2020)
Nebula Award Stories 17 edited by Joe Haldeman (2021)
The Forever War was published in hardcover in 1975, and released in paperback by Ballantine Books in 1976. The paperback edition (at the top of this article) is 218 pages, priced at $1.50. The cover is by Murray Tinkelman.
See all our recent Vintage Treasures here.