Birthday Reviews: Joe Haldeman's "Blood Brothers"
Birthday Reviews: Joe Haldeman's "Blood Brothers"
Cover by Walter Velez
Joe Haldeman was born on June 9, 1943.
Haldeman received his first Hugo and Nebula Award for his debut novel, The Forever War. He won both awards again for his novella "The Hemingway Hoax" and his novel Forever Peace. Haldeman received the Nebula Award on two other occasions for his short story "Graves," which also won a World Fantasy Award, and his novel Camouflage. He also has two additional Hugo Awards for the short stories "Tricentennial" and "None So Blind." Forever Peace also was honored with the John W. Campbell Memorial Award and Camouflage tied for a James Tiptree Jr. Memorial Award and won the Southeastern SF Achievement Award. He was won three Rhysling Awards, the Ignotus Award, and the Ditmar Award as well.
DeepSouthCon presented Haldeman with a Phoenix Award in 1983. He was one of the pro Guests of Honor at ConFiction, the 1990 Worldcon in The Hague. Along with his wife, Gay, he was awarded a Skylark Award by NESFA in 1996. In 2004, he was recognized with a Lifetime Achievement Award by the Southeastern SF Achievement Award. Haldeman received a Robert A. Heinlein Award from the Heinlein Society in 2009 and in 2010 he was recognized as a Damon Knight Grand Master by SFWA. In 2012, he was inducted into the Science Fiction Hall of Fame.
"Blood Brothers" was Joe Haldeman's only contribution to Robert Lynn Asprin's shared world anthology series Thieves' World, appearing in the debut volume in 1979. Written for the project, its reprint life has been limited, appearing in Sanctuary, an omnibus of the first three volumes of the Thieves' World anthologies in 1982, and again in the omnibus Thieves' World: First Blood in 2003, which reprinted the first two volumes of the series. Haldeman also included the story in his own collection, Dealing in Futures, originally published in 1985.
One Thumb was a major character in the early Thieves' World shared world anthologies, created by Joe Haldeman for his story "Blood Brothers." Shown by other authors in the series as powerful and mysterious, Haldeman's own depiction of the owner of the Vulgar Unicorn was of a nearly amoral man, given to theft, murder, and rape. In the course of Haldeman's short story, One Thumb, also known as Lastel, commits an assassination, a murder, deals in drugs, and considers his need to rape women.
The focus of Haldeman's story, however, is a series of double-dealings. One Thumb has a block of krrf, the ubiquitous drug of Thieves' World. Amoli, the mistress of the Golden Lily, a brothel One Thumb has connections with, has had a similar block of krrf stolen. While accusations between them fly, they discover they both had a common source for the drug, the magic user Marype, although neither of them believe he is powerful enough to perform the magic necessary for their betrayal. Instead they begin to suspect Marype father, Mizraith, with whom One Thumb has a long-time business deal.
The byzantine complexity of the relationships in "Blood Brothers" is a perfect introduction to the society Robert Lynn Asprin conceived of for his anthology. Money can't buy trust and no relationship is as steady as it might seem. The nobleman whose party opens the story is the subject of rumor and speculation, all of which is wrong, and the long-term ties between One Thumb and Amoli or Mizraith don't guarantee that there is any reasons for them to continue their relationships as they have. Everyone is out for themselves and only sees other people in Sanctuary as a means to their own ends. Despite that, the city and the people who inhabit it are filled with their own charisma.
Reviewed in its original publication in the anthology Thieves' World, edited by  Robert Lynn Asprin, Ace 1979.
---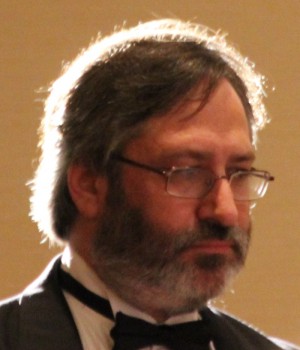 Steven H Silver is a sixteen-time Hugo Award nominee and was the publisher of the Hugo-nominated fanzine Argentus as well as the editor and publisher of ISFiC Press for 8 years. He has also edited books for DAW and NESFA Press. He began publishing short fiction in 2008 and his most recently published story is "Doing Business at Hodputt's Emporium" in Galaxy's Edge. Steven has chaired the first Midwest Construction, Windycon three times, and the SFWA Nebula Conference 6 times, as well as serving as the Event Coordinator for SFWA. He was programming chair for Chicon 2000 and Vice Chair of Chicon 7. He has been the news editor for SF Site since 2002.