Vintage Treasures: Nebula Award Stories 17 edited by Joe Haldeman
Vintage Treasures: Nebula Award Stories 17 edited by Joe Haldeman
Nebula Award Stories 17 (Ace Books, 1985). Cover by Jeffrey Ridge
I've covered a few noteworthy anthologies here in the last few weeks, including Isaac Asimov's surprising Tin Stars, and Donald A. Wollheim's excellent 1989 Annual World's Best SF. It's sharpened my appetite for good anthologies, and when I found Nebula Award Stories 17 in a small collection of vintage paperbacks I bought in eBay last month, I knew I'd found my next weekend read.
The Nebula Awards anthologies have been published continuously for over five decades, ever since Damon Knight launched the series in 1966 to raise money to fund the Nebula Awards for the Science Fiction Writers of America. Volume 17 was the first (and only) one to be edited by Joe Haldeman, who by then had won a Nebula for his groundbreaking novel The Forever War (1975), and would win it again for the novella "The Hemingway Hoax" (1990), the short story "Graves" (1993), and the novels Forever Peace (1998) and Camouflage (2004).
Nebula Award Story 17 appeared in hardcover in 1983, but wasn't published in paperback by Ace until 1985. It contains stories still remembered warmly today, including William Gibson's "Johnny Mnemonic," made into a Keanu Reeves film in 1995, Poul Anderson's Hugo and Nebula-award willing novella "The Saturn Game," Michael Bishop's Hugo and Nebula nominee "The Quickening," an excerpt from Gene Wolfe's classic novel The Claw of the Conciliator, and a lot more. There are two stories from Terry Carr's Universe 11, two each from Omni and F&SF, and the rest from magazines and anthologies like Asimov's SF, Analog, and More Wandering Stars. Here's the complete TOC, and a look at some of the magazines the stories originally appeared in.
[Click the images for nebula-sized versions.]
Analog February 1981, OMNI September 1981, and F&SF July 1981. Covers by Vincent Di Fate, Ludek Pesek, and Kent Bash
Here's the complete Table of Contents.
Introduction by Joe Haldeman
1981 and Counting by Algis Budrys
"Venice Drowned" by Kim Stanley Robinson (Universe 11, 1981)
"The Quiet" by George Guthridge (The Magazine of Fantasy & Science Fiction, July 1981) – Hugo nominee
"Going Under" by Jack Dann (Omni, September 1981)
"Johnny Mnemonic" by William Gibson (Omni, May 1981)
Films and Television—1981 by Baird Searles
"Zeke" by Tim Sullivan (Rod Serling's The Twilight Zone Magazine, October 1981)
"The Saturn Game" by Poul Anderson (Analog Science Fiction/Science Fact, February 2, 1981) – Hugo, Nebula winner
"Disciples" by Gardner Dozois (More Wandering Stars, 1981)
"The Quickening" by Michael Bishop (Universe 11, 1981) – Hugo nomineee, Nebula winner
"The Pusher" by John Varley (The Magazine of Fantasy & Science Fiction, October 1981) — Hugo, Locus, & SF Chronicle Award winner 
The Claw of the Conciliator (Excerpt) by Gene Wolfe (1981)
Meeting Place, poem by Ken Duffin (Isaac Asimov's Science Fiction Magazine, November 1980)
On Science Fiction, poem by Thomas M. Disch (TriQuarterly 49, 1980)
Appendices
The Nebula anthologies (now called the Nebula Awards Showcase) are still published today. We covered the most recent, Volume 54, edited by Nibedita Sen, in December. Our previous coverage includes:
Nebula Awards One and Two
Nebula Award Stories 3, edited by Roger Zelazny, reviewed by William I. Lengeman III
Nebula Winners Fourteen, edited by Frederik Pohl
Nebula Awards Showcase 2014, edited by Kij Johnson
Nebula Awards Showcase 2015, edited by Greg Bear
Nebula Awards Showcase 2016, edited by Mercedes Lackey
Nebula Awards Showcase 2017, edited by Julie E. Czerneda
Nebula Awards Showcase 2018, edited by Jane Yolen
Nebula Awards Showcase 2019, edited by Silvia Moreno-Garcia
Nebula Awards Showcase 54 edited by Nibedita Sen
I bought my copy of Nebula Award Stories 17 as part of a collection of a dozen vintage paperbacks on eBay in December. A nice set of books for $16, about $1.30 per book.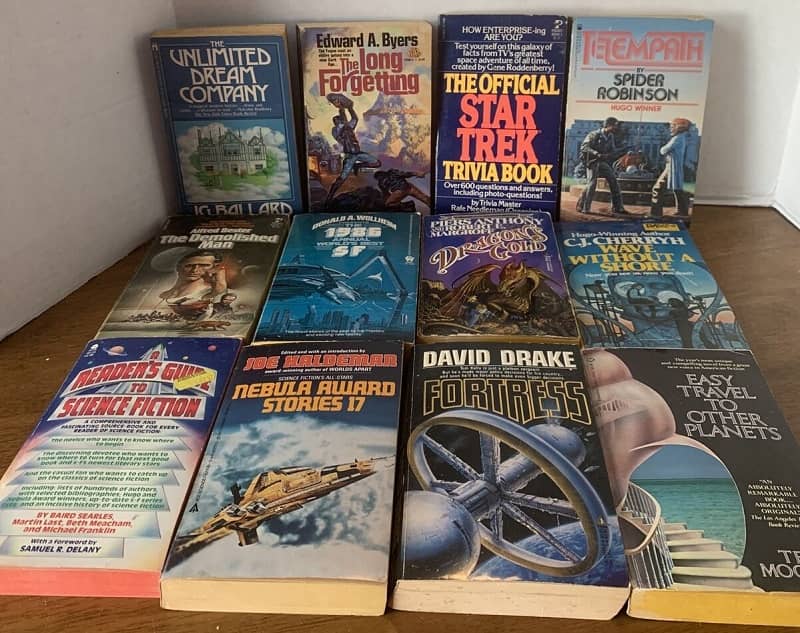 The lot of 12 vintage SF paperbacks I bought for $16 on eBay, including Nebula Award Stories 17
Nebula Awards Stories 17 was published by Ace Books in June, 1985. It is 291 pages, priced at $3.50 in paperback. It has never been reprinted, and there is no digital edtion. The cover is by Jeffrey Ridge.
See all our recent Vintage Treasures here.