Ghost Lovers with Educated Minds: Ghosts of the Chit-Chat, edited by Robert Lloyd Parry
Ghost Lovers with Educated Minds: Ghosts of the Chit-Chat, edited by Robert Lloyd Parry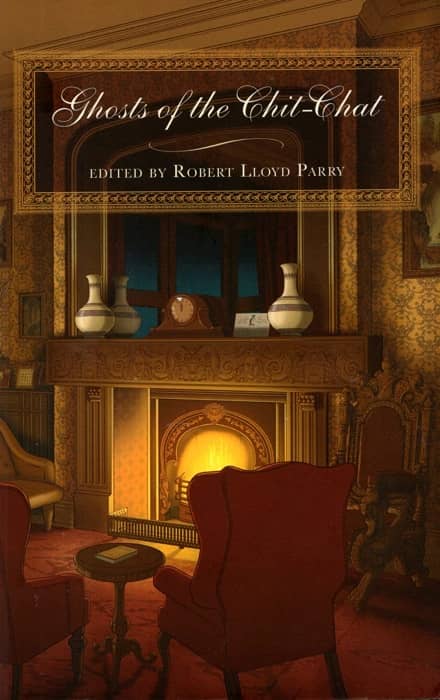 Ghosts of the Chit-Chat (Swan River Press, December 2020).
Cover by John Coulthart
Ghosts of the Chit-Chat
Edited by Robert Lloyd Parry
Swan River Press (255 pages, December 2020)
Cover by John Coulthart
There are books and BOOKS. And this one is of the latter. Not simply an anthology of supernatural and ghost stories, but also the faithful, fascinating description of a Society (or Club) flourishing at Cambridge University, the Chit-Chat, members of which included famous authors of dark fiction such as Montague Rhodes James, the three Benson brothers and others.
The volume includes profiles of the more distinguished members, their activity at Cambridge and their consequent literary achievements. For each of these writers, examples of their fictional output are featured.
MR James' work is represented here by the two "ghost" stories he read at the Chit-Chat meeting on October 28, 1893 ( "The Scrap-book of Canon Alberic" and "Lost Hearts") in slightly different versions from those included in his subsequent collections. The stories are too well known to require any specific comment in the present review.
EF Benson's contribution is " The Other Bed," a classic ghostly tale conveying a strong sense of dread, set in a hotel room where a suicide had taken place.
RH Benson's "Father Bianchi's Tale" is a dark piece with a disturbing atmosphere, blending paganism and Christian religiosity.
"Basel Netherby" by AC Benson is an intense, unforgettable novella hinting at evil powers on the loose in a mansion where the past returns to haunt the residents.
In Maurice Baring's "The Ikon," an accomplished cautionary tale, the power of foreign idols are vividly described.
"Pargiton and Harby"by Desmond Mac Carthy is a great supernatural tale in which remorse and punishment affect the mind of a guilty man.
Other Chi-Chat members whose production was less memorable include RC Bosanquet, JK Stephen, HW Tatham, Will Stone, Gerald Warre Cornish, WH Wilkins & Herbert Vivian.
The book is an exquisite reading pleasure, not only because of the featured fiction, but also for the ability to recreate the atmosphere of those past times and to portray the life of some among the cult authors of classic ghost stories.
---
Mario Guslandi was born in Milan, Italy, where he currently lives. He became addicted to horror and supernatural fiction (too) many years ago, after accidentally reading a reprint anthology of stories by MR James, JS Le Fanu, Arthur Machen etc. Most likely the only Italian who regularly reads (and reviews) dark fiction in English, he has contributed over the years to various genre websites such as Horrorworld, Hellnotes, The British Fantasy Society, The Agony Column and many more. His last review for us was Children of the Fang and Other Genealogies by John Langan