The Adventure Stories We've Needed: Crossbones & Crosses: An Anthology of Heroic Swashbuckling Adventure, edited by Jason M Waltz
The Adventure Stories We've Needed: Crossbones & Crosses: An Anthology of Heroic Swashbuckling Adventure, edited by Jason M Waltz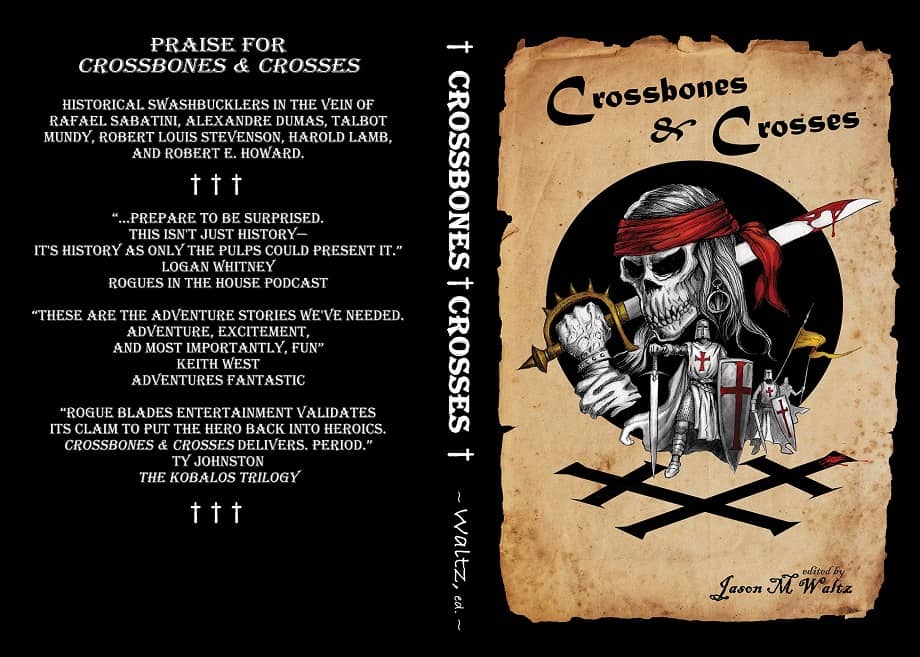 Art by Dieder Normand
There's been no shortage of publishing events in 2019, but one of the most exciting for me personally has been the return of Rogue Blades Entertainment.
In its heyday about a decade ago, RBE was well on the way to becoming the most important adventure fantasy publisher in the US. With a back catalog that included Writing Fantasy Heroes (which included contributions from luminaries such as Steven Erikson, Brandon Sanderson, Orson Scott Card, Glen Cook, and Howard Andrew Jones), and hit anthologies like Rage of the Behemoth (2009) and Demons (2010), it had built a loyal customer base and a stellar reputation. Then the creative mastermind behind Rogue Blades, Jason M Waltz, scaled back operations to make certain they could reliably deliver on their long-term commitments.
It was a strategy that paid off. The contest anthology Challenge! Discovery, RBE's first new book in four years, appeared in 2017, and Crazy Town, a brand new anthology of hard boiled tales, arrived to wide acclaim in November. And the book I've really been waiting for, Crossbones & Crosses, an anthology of Heroic Swashbuckling Adventure, was published just last month with a stellar cover by artist Dieder Normand.
Crossbones & Crosses is a collection of new and reprint tales of swashbuckling historical adventure featuring pirates and crusaders. Contributors include Howard Andrew Jones, Keith Taylor, C.L. Werner, and many others. Here's a snippet from Keith West's review at Adventures Fantastic.
Crossbones and Crosses harkens back to the days of Raphael Sabatini, Talbot Mundy, Robert E. Howard, and Harold Lamb. These are the adventure stories we've needed. When too many anthologies are full of message fiction, RBE has given us something different. Adventure, Excitement, and most importantly, fun… In this anthology you'll find 22 (if I counted correctly, I'm not fully caffeinated yet) items, mostly fiction with a few poems thrown in… To my delight and surprise, I liked every single one. I'm not going to list my favorites in this review because I'm not sure I can.
And here's the publisher's description.
Pirates & Crusaders, ahoy! Hoist your banners, unsheathe your blades, kiss your crosses, and search for booty across the seas and the sands! More of the age of steel than shot and no fantastical elements, this is a lineup of the strongest of swashbuckling historical adventures. Gritty, dangerous, and bloody tales of the past, realistic without being nihilistic. The anthology kicks off with a rousing foreword by swashbuckling and sword-and-sorcery guru Howard Andrew Jones. This is followed by 3 sections of adventure: 7 tales each of pirates and crusaders, and 3 tales combining the two. Sections contain stories by current bestselling authors, up-and-coming authors, and classic tales from 1910. Epic verse and song round out each section of historical action.There's never been anything like this. It's a massive tome of piratical and crusading adventure you'll be delighted to read! Includes: Daniel Amatiello, Jennifer Rachel Baumer, Eadwine Brown, W.D. Clifton, Hermann Contractus of Reichenau, Commander E. Hamilton Currey, R.N., David R. Downing, Jeff Draper, Teel James Glenn, Juleigh Howard-Hobson, Howard Andrew Jones, L.E.L., Kate Martin, KT Morley, Alex Ness, Henry Ram, Daniel R. Robichaud, J. Stewart, Kate Dickinson Sweetser, Keith Taylor, Carl Walmsley, and C.L. Werner.
Over the years Waltz has demonstrated real skill finding exciting new writers. He is one of the best adventure fantasy editors we have, and Crossbones & Crosses is a fine showcase for his considerable talents. It's one of the most ambitious projects he's attempted, and I'm very much looking forward to settling in with this one.
Crossbones & Crosses was published by Rogue Blades Entertainment on May 13, 2019. It is 280 pages, priced at $17 in trade paperback and $5 in digital formats. The cover is by Dieder Normand.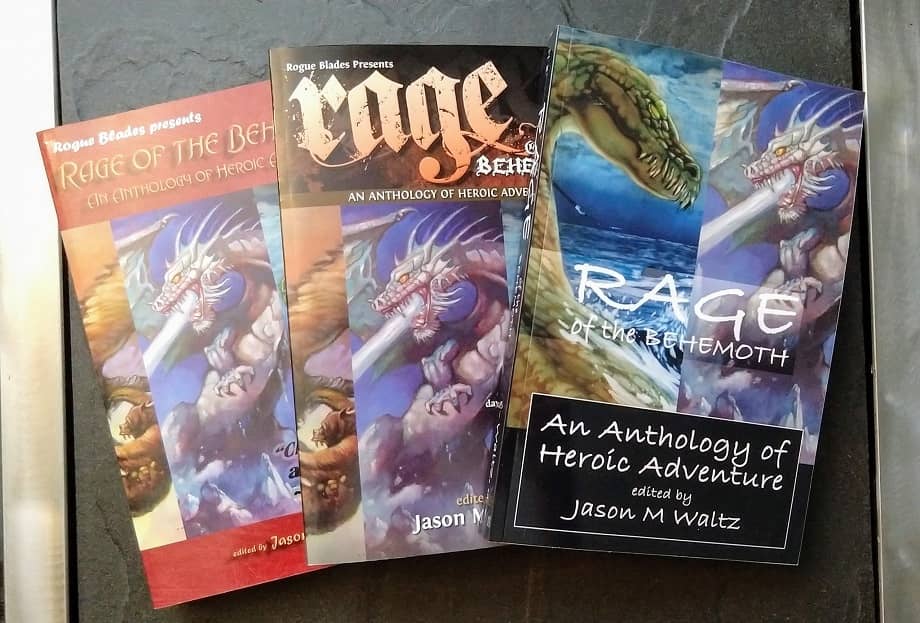 Three different editions of Rage of the Behemoth, edited by Jason M Waltz
Our previous coverage of Rogue Blades Entertainment includes:
Rogue Blades Entertainment releases Rage of the Behemoth
Rogue Blades Entertainment conjures Demons
Rogue Blades Entertainment Announces Winners of Challenge! Discovery 2010 Contest
Sale at Rogue Blades Entertainment
Rogue Blades Entertainment Reveals the Secrets of Writing Fantasy Heroes
Teaching and Fantasy Literature: Writing Fantasy Heroes by Sarah Avery
Teaching and Fantasy Literature: More on Writing Fantasy Heroes by Sarah Avery
Lee Kemp Reviews Writing Fantasy Heroes: Powerful Advice from the Pros by Lee Kemp
James McGlothlin Reviews Writing Fantasy Heroes: Powerful Advice From the Pros by James McGlothlin
Can't Keep a Great Buncha Folks Down by Jason M 'RBE' Waltz
RBE returns with a WWE-style SmackDown: Challenge! Discovery by Jason M 'RBE' Waltz
Sharpen Those Writing Pens: Rogue Blades Entertainment Open to Submissions for Three New Anthologies
3 New Titles at Once: Rogue Blades Entertainment's Ambitious New Agenda by Jason M. Waltz
Get all the latest RBE news at their Facebook Page.