Goth Chick News: The Time We Went on the Mother of all Haunted House Bus Tours
Goth Chick News: The Time We Went on the Mother of all Haunted House Bus Tours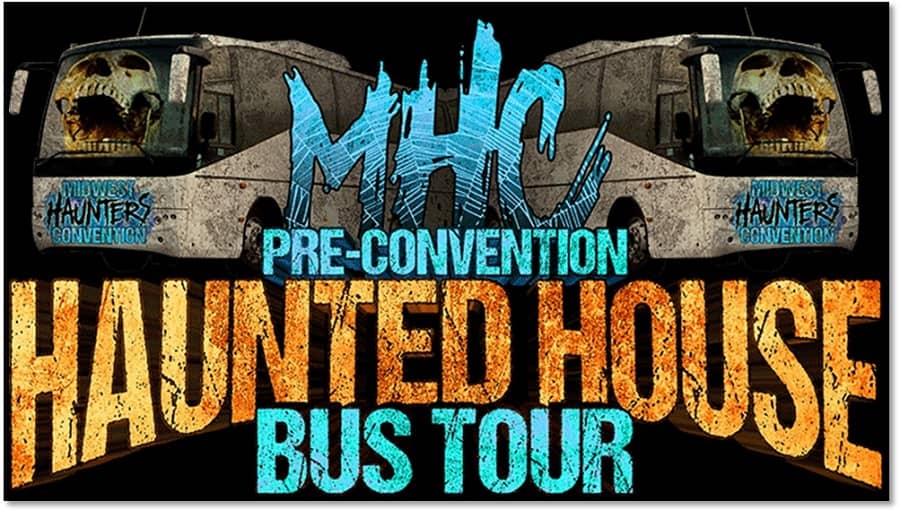 Though there is no denying that the opportunity to talk to you about my favorite genre each week is in general the most awesome job ever, there are certain Goth Chick News situations which transcend awesomeness into full-on unbelievable. Just such a situation occurred last week when Black Gate photog Chris Z and I were invited to join the Midwest Haunters Convention's pre-convention, haunted house bus tour.
The MHC, which unlike the HAA is open to the public, is a show we've talked about covering for years, but until 2019 it had been held in Columbus, OH. That meant signing up to a 12-hour round trip car journey, which in and of itself isn't horrible, until we considered the sort of overnight accommodations our Black Gate expense account would allow us… in Columbus, OH. While we were considering the viability of sleeping in the car, the show organizers, Transworld, made the incredibly convenient decision to move the MHC to a Chicago suburb.
Insert fan-girl squee here.
In advance of the show, MCH organized a Haunted House Bus Tour consisting of a 13-hour odyssey to visit four of the top, professional haunts in Chicagoland. These attractions would be fully staffed and operational (on a Thursday in June by the way) for the enjoyment of the guests who would experience each of them twice; once as visitors do during "the season" in October, and once with the lights turned on and all the magic revealed.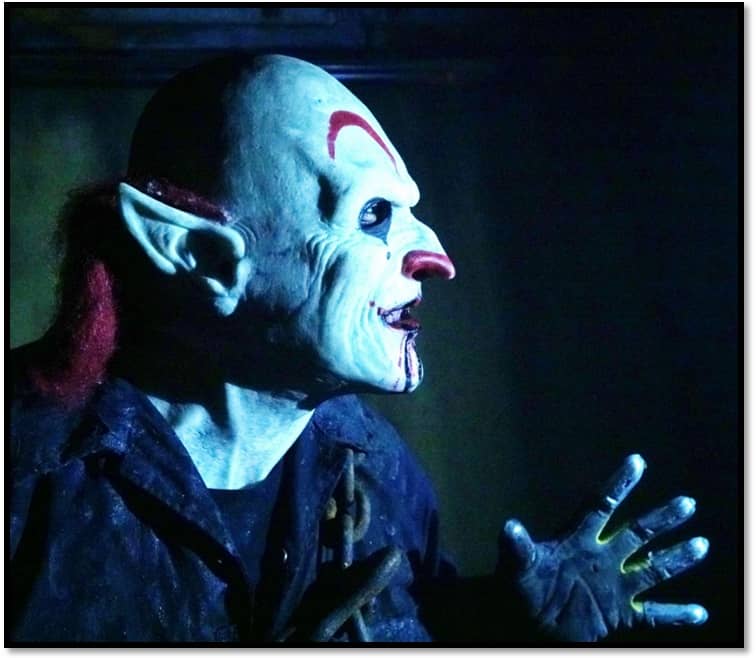 Along the way there would be food, music, entertainment, and the chance to meet all sorts of fun new industry friends – and in the case of bus #2, all fueled by copious quantities of adult beverages. In fact, the website for the event clearly states the following about specifically requesting seating on one of the four tour buses: "Bus 2 is the party bus, so if you prefer to be in a more relaxing atmosphere select bus 1, 3 or 4. No, seriously."
Bus 2, here we come.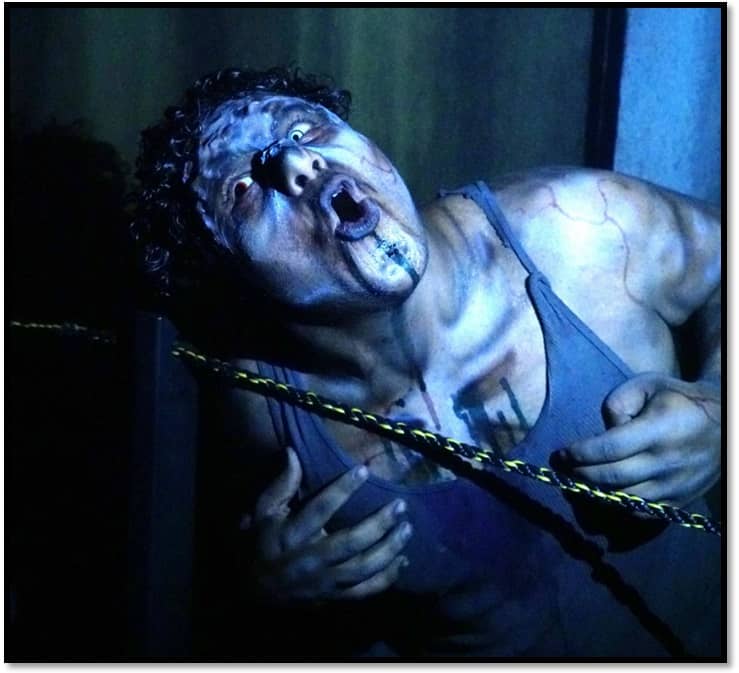 When we arrived to board at 10 a.m., our first impression was, "sweet ride." The bus in question was not only brand new, but fully tricked out for more than just a comfortable road trip. To give you an idea, we were asked to be careful not to vomit and to considerately leave the place spotless as it was being used to transport a large wedding party the following Saturday. And though we were not asked to sign a non-disclosure agreement, we were asked to do the next most binding thing, which was to raise our right hands and swear we would not discuss specific occurrences or share photos from bus number 2. And though that makes it difficult to describe how the day went, I can ask you to imagine your favorite, raucous party with 40 caffeined-up friends, all the trimmings, minimal supervision and a designated driver.
Meaning, it was one of the most entertaining and memorable events of the past ten years… no exaggeration.
What I can tell you about is the four places we visited. The following descriptions are paraphrased from the bus tour brochure, with my color commentary added in: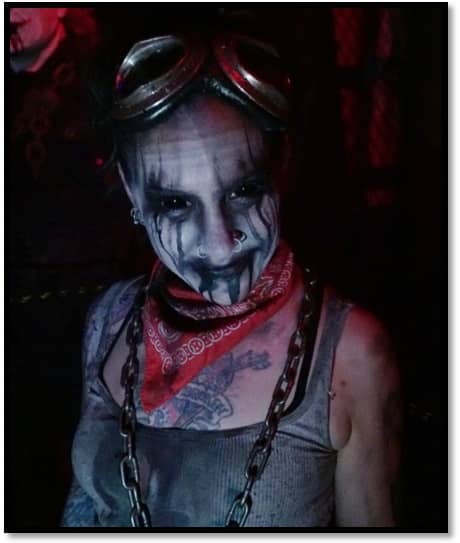 Stop #1: Midnight Terror, which has been in business for 20 years, had what I would characterize as an elaborately constructed, steampunk feel. The proprietors fill their 26,000 square feet with old school scares and new school technology, creating an imaginative and uniquely terrifying experience which is highly interactive for the guests. We maneuvered our way through multi-level (and multi-height) mazes and incredibly realistic sets, manned with dozens of actors who not only sported superb makeup and costumes, but created a truly creepy atmosphere that definitely did not rely on traditional "jump scares".
Four slices of pizza, a short drive, a Fireball shot and three Jello shots later we were at…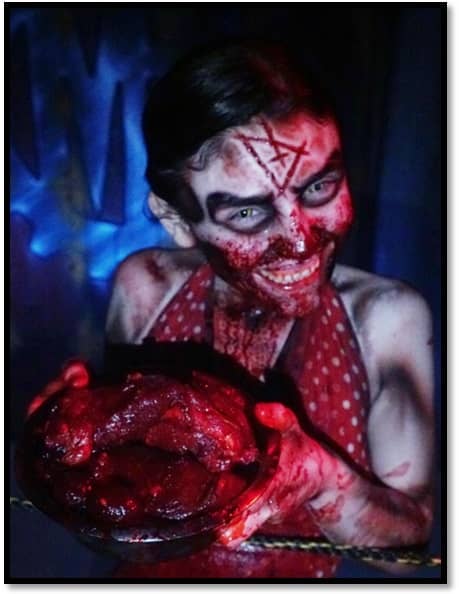 Stop #2: The Dead Rising was smaller and more "traditional" as professional attractions go, and though it too was fully manned and fully functional, we didn't necessarily get to experience it at its gory best. We were instructed to be careful not to brush against the walls which were sticky with the fake blood which October guests can agree to be splashed with. We also heard the attraction hosts seasonal "adult nights" which involve the signing of waivers and a doing away of the standard, "don't touch the monsters and they won't touch you" rule. Still, we were growled at, jumped at and yelled at by enthusiastic freaks who were clearly, like us, doing what they loved.
Two large margaritas, another Fireball shot, a sip of something being passed around in a mason jar, a trivia contest, and several bags of chips later we pulled into…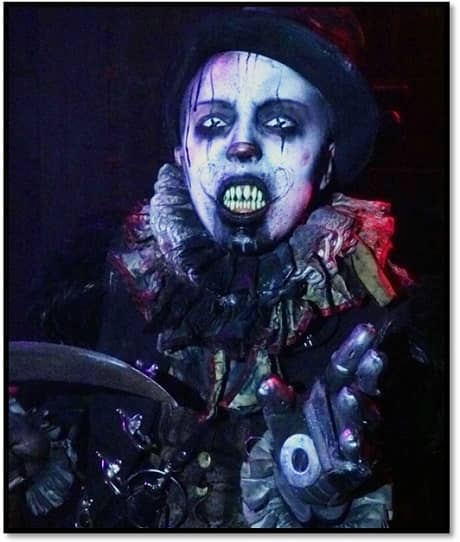 Stop #3: The Massacre Haunted House which was my favorite of the four. The Massacre has been voted one of the top 10 haunted houses nationally by USA Today and the number 1 haunted house in Illinois by the Chicago Tribune, and it was easy to see why. Newly renovated every year and ready to deliver the scares, The Massacre was comprised of over 20,000+ sq. ft. of enjoyable madness. It's a fully-custom-built attraction where visitors walk through in small groups, and is designed to give mature audiences the scare of their lives. It's literally a haunted labyrinth with over 60 rooms of terror manned by over 100 ghastly clad actors. Each area was super detailed and divided by sections of complete darkness requiring us to feel our way forward while hearing other "things" sneaking up from behind. At one point or another The Massacre assaulted all five senses making it and all-around awesome experience.
Then it was "I think I'll switch to water before I hurl" and a granola bar before we arrived at…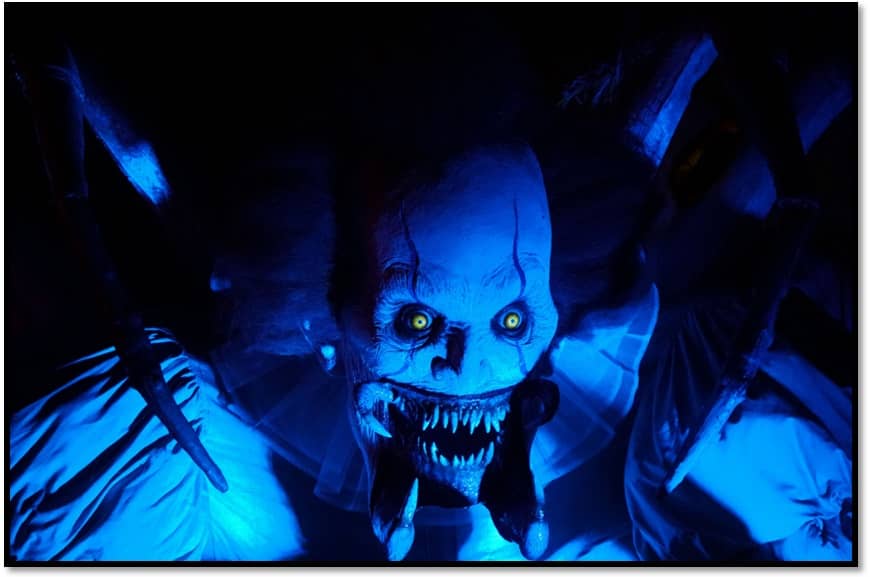 Stop #4: The Basement of the Dead, which in the late 1920's originally opened its doors as largest laundry company in Aurora, IL. Local urban legend states that around 1945 Imus Kilya was working there as maintenance engineer and his son Al came to work as his assistant in 1960. Heat for the building and steam for the presses was supplied by a coal fired boiler installed when the building was built. Al and Imus continually complained that it needed to be replaced, but management wouldn't spend the money. In 1964 the boiler exploded maiming and scalding Al and Imus. They never returned to work and rumor was they had vowed to get even.
Under the streets and building were sewer lines and tunnels well known to Al and Imus. A year or so after the explosion people from the laundry started to disappear and body parts were found in the river near the drainage pipes. Al and Imus were suspected but never found. The laundry eventually closed and the basement was never used again. Businesses have come and gone but nobody stays. Basement Of The Dead is proof that Al & Imus still exist and have made this basement their home.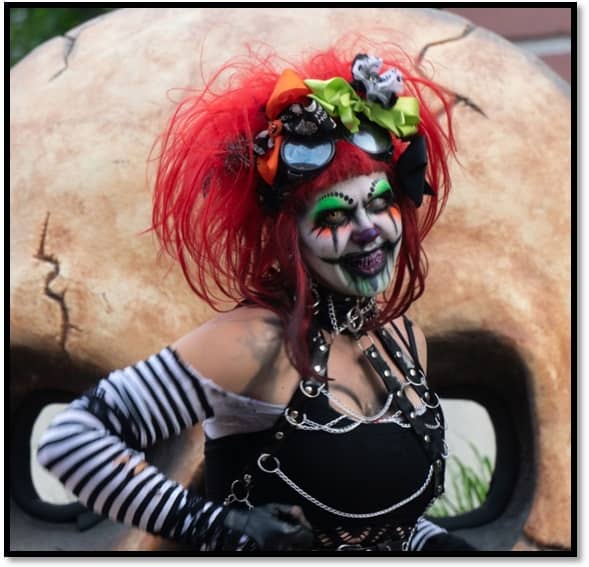 Hauntworld Magazine has bestowed multiple honors on Basement as has the website Buzzfeed. The location itself is as scary as you can imagine being in the literal basement of a large industrial building, of which the proprietors take maximum advantage. You can see where the Basement gets its soul. Silent Hill, The Hills Have Eyes, Saw, Texas Chainsaw Massacre and Insidious are definitely the horror movie inspirations. Owner David Seneker states, "We believe that if you want to really scare someone, you need to help them forget that they are safe and that these are just a bunch of actors in masks and make-up. We do this by creating rooms that are so believable our customers get engrossed in the atmosphere. Then, the customers can't help but believe they are in real danger.  For example, we want them to think they really could be locked in our broken-down walk-in freezer with a humanoid pig freak."
The MHC bus tour ended there with dinner in a restaurant near Basement followed by an outdoor afterparty with a DJ, hors d'oeuvres, yet more adult beverages and costume-clad actors to interact with.
Chris and I had long since switched to Diet Coke and water.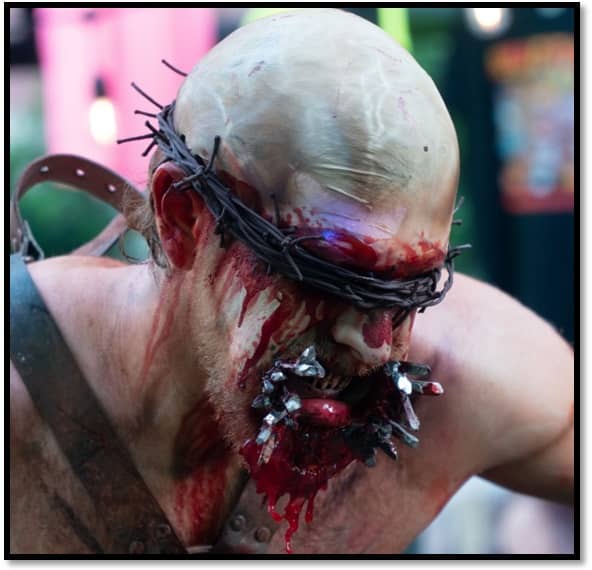 We'll definitely hit some of these places up again when "the season" kicks off in a few months, adding them to our other favorites. And remember, this was the pre-show event. I haven't even told you about the actual Midwest Haunters Convention, which I'll do next week.
A special thank you to Jen Braverman, at Transworld for hooking us up on bus #2 and to all the haunters, sponsors and attendees who made this an event for the records. And to BG photog Chris Z for what I think might be his best work yet.