Vintage Treasures: Classic Science Fiction: The First Golden Age, edited by Terry Carr
Vintage Treasures: Classic Science Fiction: The First Golden Age, edited by Terry Carr
Terry Carr may be my all-time favorite editor. His Creatures From Beyond (1975) was one of the very first SF anthologies I read in Junior High, and the sixteen volumes of The Best Science Fiction of the Year he produced remain a high water mark for the genre. Carr died in 1987, at the too-young age of 50, but I still read his books with enormous pleasure today.
It may be a sign of age (mine, not Carr's), but I usually associate him with modern science fiction. So I was a little surprised to discover his anthology Classic Science Fiction: The First Golden Age, which collects a dozen stories published in pulp magazines in 1940-41. This is not an easy book to find; it had a single hardcover printing from Harper & Row in 1978, a UK reprint from Robson a year later, and then promptly vanished. There's been no paperback, no reprint since 1979, and no digital version. If I hadn't stumbled on a copy on Amazon through blind luck back in 2011, I probably still wouldn't know this book existed.
I love pulp SF, so it's always nice to get a new selection of Golden Age tales, especially from an editor with Carr's eye. Here he includes a handful of classics, like Asimov's "Nightfall," Kuttner's "The Twonky," and Heinlein's "By His Bootstraps," and "–And He Built a Crooked House–," but also stories I've never seen before, like Lester del Rey's "The Smallest God," Ross Rocklynne's "Into the Darkness," and Leigh Brackett's "Child of the Green Light."
But even more interesting than that, at least for me, is Carr's lengthy editorial material exploring the history of SF's Golden Age, the major personalities involved, and the stories behind the fiction. Easily 20% of this book (some 90 pages) is written by Carr, and he draws from a great many sources, including a lot of personal correspondence and interviews, to tell some fascinating anecdotes and illuminate the surprising history of some of the greatest science fiction ever written. This is a book that belongs in every serious library of pulp SF, alongside The Science Fiction Hall of Fame, Asimov's Before the Golden Age, and Healy and McComas' Adventures in Time and Space.
[Click the images for Golden Age-sized versions.]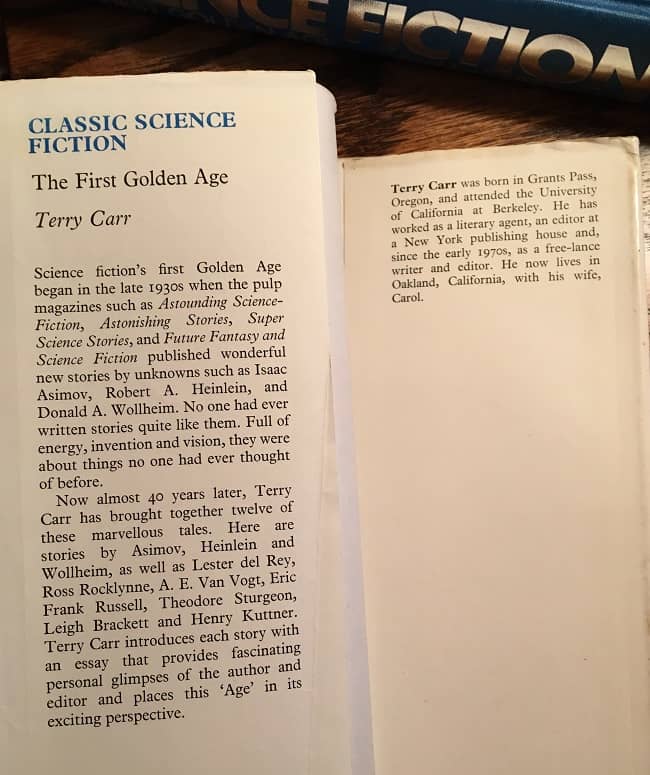 Here's a snippet from Carr's splendid 17-page introduction, which begins and ends with perhaps the most important figure in SF's Golden Age, John W. Campbell.
The one era of sf's history about which all readers agree is that of the early 1940s; it was such a remarkable time for science fiction that even the most critical admit that it was a "Golden Age." Those few years between the end of the Great Depression of the 1930s and the chaos of World War II produced an explosion of new science fiction magazines, new writers, ideas and techniques; the results were sensational then and they remain so today…

Usually the sf historian who wants to sum up the Golden Age of the early 1940s resorts to just one name: John W. Campbell, Jr… Having quit writing himself, Campbell fed ideas for stories to many of his writers. The details of how he suggested the idea for Asimov's "Nightfall" will be told later in this book, and it's already well known that Heinlein's Sixth Column was based on a story Campbell had actually written but had never published. Lester del Rey has said that "nobody has any idea of how many of the stories in [Campbell's] magazines came from ideas he suggested, but a group of us once determined that the figure must be greater than half." Cleve Cartmill, who lived in California, relates that Campbell "wrote his writers at great length and in detail. I have letters from him about story ideas that add up in wordage equal to the wordage of the finished stories."
For the curious, here's the complete first three pages of the intro (click for legible versions.)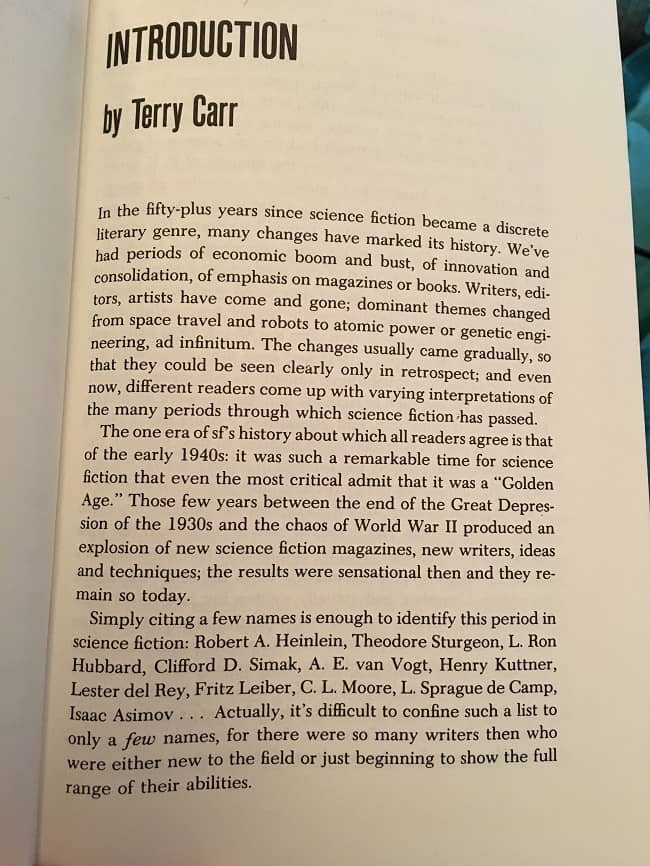 With its focus on Campbell, Classic Science Fiction makes a solid companion volume to Alec Nevala-Lee's groundbreaking work of SF history Astounding (which Thomas Parker reviewed for us just last week). This isn't just a fine anthology, it's a well-researched (if rather randomly-organized) bit of scholarship about the Campbell era, with 5-6 page introductions for every single story. Intros that reveal fascinating tidbits about how these young writers entered the new field of science fiction, gradually made connections and became part of the community, and produced some of their best work.
Here's a typical excerpt, this one from Carr's rambling and informative introduction to Theodore Sturgeon's classic "Microcosmic God."
His sales were coming so quickly that in 1940, at the age of twenty-two, Sturgeon decided he could support a family, so he married his high school sweetheart. He was at his most prolific now; he was even struck by a story idea during his honeymoon, and wrote the classic fantasy story "It" in one ten-hour session. Others followed, including "Microcosmic God," but in 1941 the wellsprings dried up and he found himself unable to write.

He took a job running a luxury resort hotel in Jamaica, hoping the change of scene would stimulate his imagination; but by the end of the year the United States was at war. Sturgeon's heart condition kept him out of the armed services, but he ran bulldozers for the Navy in Puerto Rico, working seventy hours a week. He managed to write only one story during the war, the famous novella "Killdozer," based on his experiences in Puerto Rico. It wasn't until 1946 that Sturgeon's byline again began to grace the pages of science fiction magazines.

He had made his mark during his first two years, though, and "Microcosmic God" was his most successful science fiction story of this period; its impact was so great that decades later the Science Fiction Writers of America voted it one of the five best sf stories of all time. Despite this, Sturgeon himself has never liked the story. When I told him I wanted to reprint it in this book he said. "Oh God, not that one! It's so badly written!"

This seemed odd, considering the story's popularity over nearly forty years, but the fact is that Theodore Sturgeon has always concerned himself with style — he was one of the very first science fiction writers whose prose was as important as his ideas — and it's the lack of "literary cadence" in the story that distresses him. Moreover, I found while putting together this book that several of the authors included were chagrined at the quality of writing in their stories: Eric Frank Russell felt "The Mechanical Mice" was poorly written, and Isaac Asimov feels that way even about "Nightfall."

As we've seen, Russell wrote his story under difficult circumstances, and Sturgeon and Asimov were both very young men when they wrote their stories. But their writing, despite any imperfections, was nevertheless superior to that in the vast majority of science fiction of the time.
Not to be too harsh on "Microcosmic God," but modern readers will find Sturgeon's assessment more correct than Carr's. The ideas still shine as brightly as ever, but structurally and from a prose point of view, the tale is a mess, especially compared with later Sturgeon. Still, not bad at all for a 23-year-old writer publishing in a pulp magazine in 1941.
Carr draws from a treasure trove of material for each of his mini-essays, including personal correspondence, unpublished interviews, fanzine articles, book introductions, and much more. Carr's research library was legendary, and when he died his fanzine collection — 71 linear feet and almost 2,000 titles — became part of the Eaton collection of Science Fiction at the University of California, Riverside. He cites his sources for every one of his intros; here's just a part of the References section for his introduction to Sturgeon's "Microcosmic God."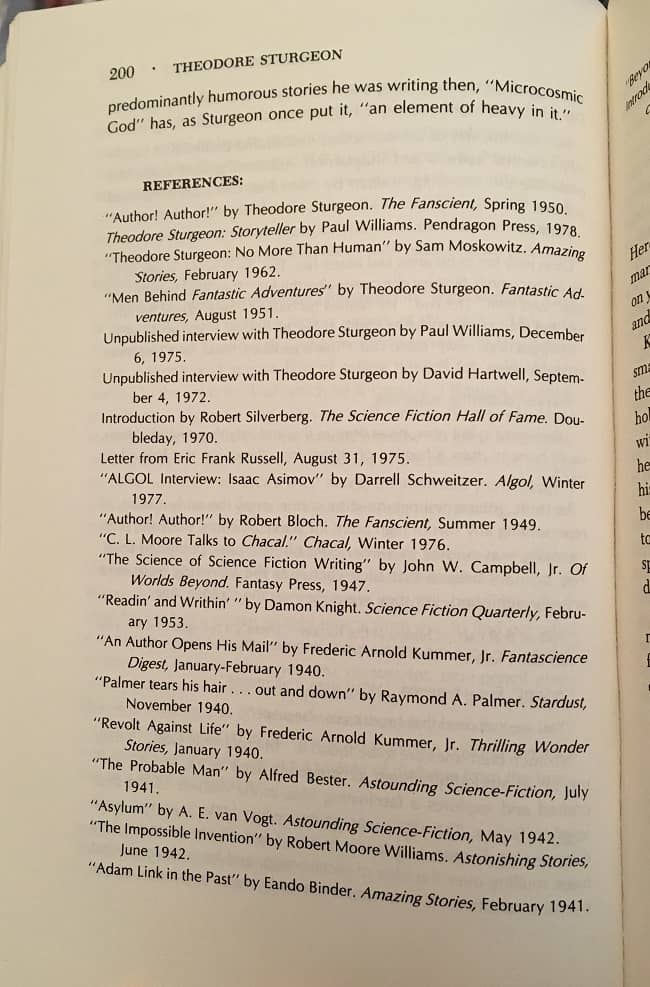 Classic Science Fiction includes mostly short stories, although there is one novella, Heinlein's "By His Bootstraps." All but four of the stories originally appeared in Astounding. The TOC attributes "The Mechanical Mice" to Eric Frank Russell, though today the ISFDB credits both Russell and Maurice G. Hugi.
Here's the complete Table of Contents.
Introduction by Terry Carr
"The Smallest God" by Lester del Rey (1940)
"Into the Darkness" by Ross Rocklynne  (1940)
"Vault of the Beast" by A. E. van Vogt  (1940)
"The Mechanical Mice" by Maurice G. Hugi and Eric Frank Russell  (1941)
"—And He Built a Crooked House" by Robert A. Heinlein  (1941)
"Microcosmic God" by Theodore Sturgeon (1941)
"Nightfall" by Isaac Asimov (1941)
"By His Bootstraps" by Robert A. Heinlein  (1941)
"Child of the Green Light" by Leigh Brackett  (1942)
"Victory Unintentional" by Isaac Asimov (1942)
"The Twonky" by Henry Kuttner and C. L. Moore (1942)
"Storm Warning" by Donald A. Wollheim (1942)
And here's the copyright page showing the story attributions.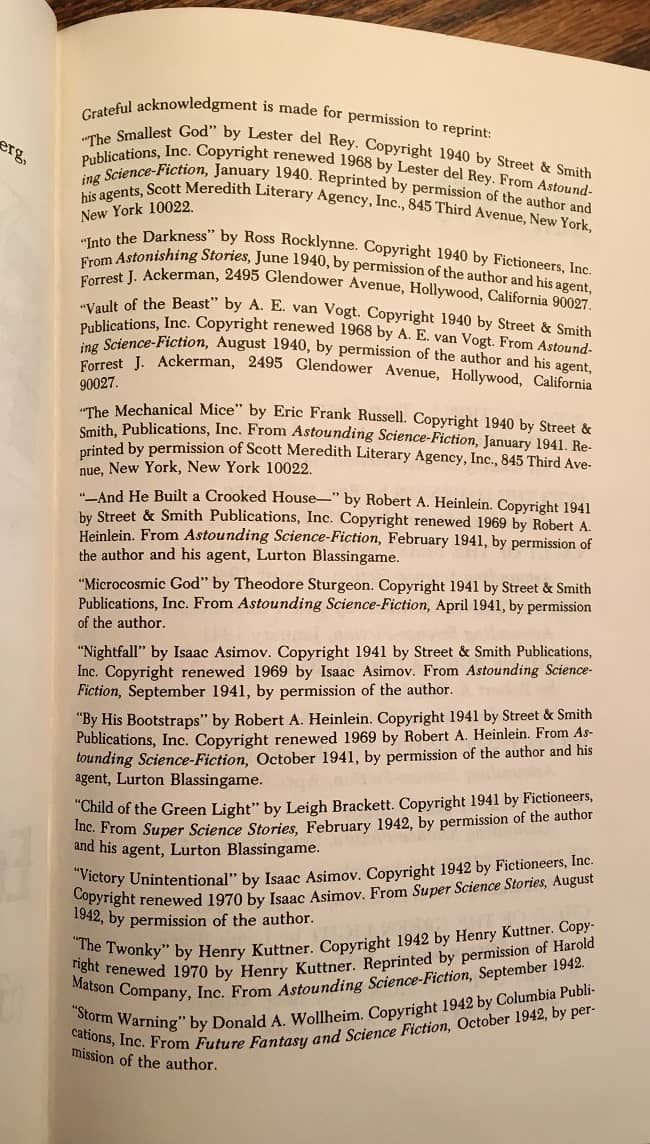 Classic Science Fiction was originally published in hardcover in the US in 1978; here's the Harper & Row edition.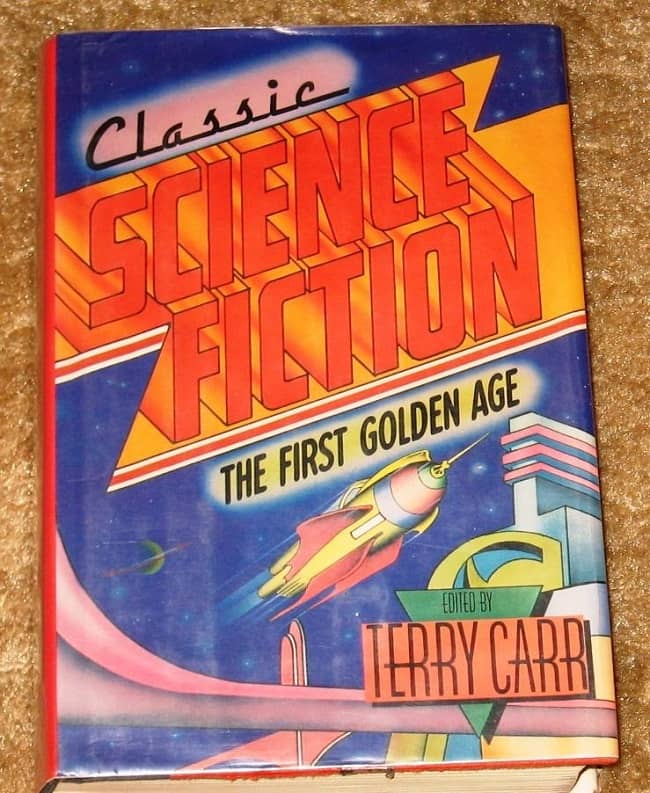 Our recent coverage of Terry Carr includes:
Decadent Alien Races and Electricity Creatures: Rich Horton on Warlord of Kor/The Star Wasps (1963)
World's Best Science Fiction 1965 – 1970, edited by Donald A. Wollheim and Terry Carr (1965-1970)
The Best Science Fiction of the Year #3, edited by Terry Carr (1974)
The Best Science Fiction of the Year #4, edited by Terry Carr (1975)
The Best Science Fiction 1974, edited by Lester del Rey, Terry Carr, and Donald Wollheim
A Return to Terry Carr's Best Science Fiction of the Year
Creatures From Beyond, edited by Terry Carr (1975)
The Best Science Fiction Novellas of the Year 1, edited by Terry Carr (1979)
Thomas M. Disch on the Best Science Fiction of 1979
Universe 3: The Golden Age of Science Fiction is Twelve
Universe 13 edited by Terry Carr (1983)
Classic Science Fiction: The First Golden Age was published by Harper & Row in October 1978, and reprinted by Robson Books in the UK in 1979. It is 445 pages, priced at $14.95 in hardcover. There are no paperback or digital editions, and it has been out of print since 1979. I paid $3.42 for a good condition used copy in 2011.
See all of our recent Vintage Treasures here.