Time Travel, Shoggoths, and the Land of the Witches: The Year's Best Science Fiction & Fantasy 2018 edited by Rich Horton
Time Travel, Shoggoths, and the Land of the Witches: The Year's Best Science Fiction & Fantasy 2018 edited by Rich Horton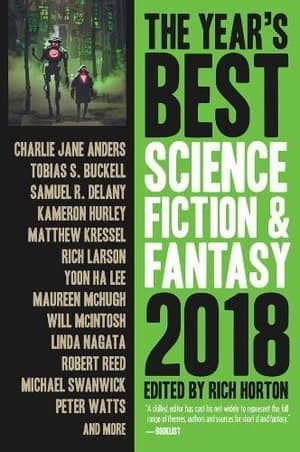 I always enjoy Rich Horton's introductions to his annual Year's Best collection, and this one doesn't disappoint. I was especially delighted to see him select one of my favorite stories of last year for this year's volume, and to see him call it out in the intro:
One source of originality is new voices, and thus I am excited every [year] to see new writers producing excellent work… But one of the reasons I choose stories by some writers over and over again is that they are always fresh. What story this year is stranger than C.S.E. Cooney's "Though She Be But Little?"
This year's volume is dedicated to Gardner Dozois, who passed away in May, and I was particularly touched by Rich's thoughtful reminiscence.
As for Gardner Dozois, who was closer to me in a personal sense — I was really shaken by news of his passing. He was one of the greatest editors in the field's history (an argument can be made — and I've made it — that he ranks at the top); and he was also a very significant science fiction writer…

We who produce these similar books, the best of the year volumes, never regard ourselves as rivals. Our books are paragraphs in a long conversation about science fiction. I talked with Gardner about science fiction for years, in different ways — face to face, or on message boards, discussing our different ideas about who should have won the Hugo in 1973 or whenever; month by month in our columns in Locus; or in the tables of contents of these books, each of us proposing lists of the best stories each year. I always looked eagerly for Gardner's "list," and his stories for me represented a different and completely interesting angle on what really mattered each year.

I already miss that voice.
Rich's 2018 volume is so crammed with fiction that the publisher had no room for the traditional "About the Authors" and "Recommended Reading" sections in the print edition; instead they'll make them available online for free at the Prime Books website (and in the ebook version). They're not available yet — and in fact the Prime website looks like it hasn't been updated since 2016? — but presumably they will be soon.
This year's volume has stories by Samuel R. Delany, Rich Larson, Sarah Pinsker, Michael Swanwick, Peter Watts, Nina Kiriki Hoffman, Kathleen Ann Goonan, Charlie Jane Anders, Robert Reed, Maureen McHugh, Sofia Samatar, Yoon Ha Lee, Kameron Hurley, and many others. Here's the complete Table of Contents.
"Time Travel is Only for the Poor" by S. L. Huang (Analog)
"Emergency Protocol" by Lettie Prell (Analog)
"Persephone of the Crows" by Karen Joy Fowler (Asimov's)
"Cupido" by Rich Larson (Asimov's)
"Winter Timeshare" by Ray Nayler (Asimov's)
"Soulmates.com", by Will McIntosh (Asimov's)
"Red Bark and Ambergris" by Kate Marshall (Beneath Ceaseless Skies)
"Whatever Knight Comes" by Ryan Row (Beneath Ceaseless Skies)
"Don't Press Charges and I Won't Sue" by Charlie Jane Anders (Boston Review)
"The Significance of Significance" by Robert Reed (Clarkesworld)
"The Secret Life of Bots" by Suzanne Palmer (Clarkesworld)
"The Tale of the Alcubierre Horse" by Kathleen Ann Goonan (Extrasolar)
"Marley and Marley" by J. R. Dawson (F&SF)
"The Hermit of Houston" by Samuel R. Delany (F&SF)
"Rings" by Nina Kiriki Hoffman (F&SF)
"Starlight Express" by Michael Swanwick (F&SF)
"The Sacrifice of the Hanged Monkey" by Minsoo Kang (Fantastic)
"ZeroS" by Peter Watts (Infinity Wars)
"Ugo" by Giovanni de Feo (Lightspeed)
"Love Engine Optimization" by Matthew Kressel (Lightspeed)
"This is for You" by Bruce McAllister (Lightspeed)
"One Hour, Every Seven Years" by Alice Sola Kim (McSweeney's)
"Montreal, 2014" by Madeline Ray (Mothership Zeta)
"Sidewalks" by Maureen McHugh (Omni)
"Shoggoths in Traffic" by Tobias S. Buckell (Patreon)
"The Fisherman and the Pig" by Kameron Hurley (Patreon)
"Utopia LOL?" by Jamie Wahls (Strange Horizons)
"An Account of the Land of Witches" by Sofia Samatar (Tender)
"Extracurricular Activities" by Yoon Ha Lee (Tor.com)
"The Martian Obelisk" by Linda Nagata (Tor.com)
"Hexagrammaton" by Hanus Seiner (Tor.com)
"Though She Be But Little" by C. S. E. Cooney (Uncanny)
"And Then There Were (N – One)" by Sarah Pinsker (Uncanny)
"Fandom for Robots" by Vina Jie-Min Prasad (Uncanny)
To see Rich what means by these books being "paragraphs in a long conversation about science fiction," you can compare his TOC above to the other Year's Best volumes released this year. Here's a list with Tables of Contents for the other major 2018 volumes from Neil Clarke, Jonathan Strahan, Gardner Dozois, John Joseph Adams, Paula Guran, Jane Yolen, Michael Kelly, David Afsharirad, and others.
The Best Science Fiction of the Year, Volume Three edited by Neil Clarke (Night Shade Books, April 3, 2018))
The Best Science Fiction and Fantasy of the Year, Volume Twelve, edited by Jonathan Strahan (Solaris, April 17, 2018))
The Year's Best Military and Adventure SF, Volume 4, edited by David Afsharirad (Baen, June 5, 2018)
The Best Horror of the Year Volume Ten, edited by Ellen Datlow (Night Shade, June 12, 2018)
The Year's Best Science Fiction: Thirty-Fifth Annual Collection, edited by Gardner Dozois (St. Martin's Griffin;, July 3, 2018)
The Year's Best Science Fiction & Fantasy 2018, edited by Rich Horton (Prime, August 7, 2018)
Nebula Awards Showcase 2018, edited by Jane Yolen (Pyr, August 7, 208)
The Year's Best Dark Fantasy & Horror 2018, edited by Paula Guran (Prime, September 11, 2018)
The Best American Science Fiction and Fantasy 2018, edited by N.K. Jemisin and John Joseph Adams (Mariner Books, October 2, 2018)
The Year's Best Weird Fiction, Volume Five, edited by Robert Shearman and Michael Kelly (October 2018)
The Year's Best Science Fiction & Fantasy 2018 was published by Prime Books on August 7, 2018. It is 576 pages, priced at $19.95 in trade paperback. The cover art is by Tithi Luadthong.
See all of our recent New Treasures here.