Vintage Treasures: Conquerors from the Darkness by Robert Silverberg
Vintage Treasures: Conquerors from the Darkness by Robert Silverberg
1979 Ace edition, paired with Master of Life and Death. Cover by Frazetta.
Robert Silverberg's novella "Spawn of the Deadly Sea" appeared in the April 1957 issue of Science Fiction Adventures. He expanded it to novel length in 1965, retitling it Conquerors from the Darkness in the process. It wasn't one of Silverberg's more successful novels, at least from a commercial standpoint. Today it's considered a juvenile, and it was reprinted only a handful of times, including a 1979 Ace paperback in which it was paired with Master of Life and Death and given a typically colorful Frank Frazetta cover (above).
In his introduction to the Ace edition Silverberg talks about Robert E. Howard, and it's one of Silverberg's few early SF novels with a clear Howard influence. Perhaps as a result, the book certainly has its fans. Here's an extract from James Reasoner's enthusiastic review on his blog.
Conquerors from the Darkness is exactly the sort of vivid, galloping action yarn that made me a science fiction fan in the first place. At first it seems like a heroic fantasy novel, set in some totally different universe than ours. The oceans cover the entire planet except for a few floating cities. The only commerce is between those cities, and keeping the seas safe for the merchant vessels is a Viking-like group known as the Sea-Lords. The hero of the novel, a young man named Dovirr, lives in one of the cities but wants to be a Sea-Lord and take to the oceans. He gets his wish and rapidly rises in the ranks, and along the way the reader learns that this is indeed Earth, a thousand years after alien invaders flooded the planet for reasons known only to them, preserving a little of humanity in those floating cities… the alien Star Beasts return to take over the planet again, and Dovirr and his comrades have to find some way to stop them with swords and sailing ships.
[Click the images for bigger versions.]
I really enjoyed this book. In his introduction, Silverberg mentions reading the work of Robert E. Howard, and I can see some Howardian influence in Conquerors from the Darkness, most notably in the way Dovirr manages to seize command of every situation in which he finds himself, much like Conan, and in a very Howard-like final line. The pace is fast, the writing colorful, and the inner 14-year-old in me just loved it. The adult reader in me thought some parts of the story could have been developed a little more and a little better, but hey, adult readers weren't the target audience for this yarn… I highly recommend Conquerors from the Darkness.
Master of Life and Death hasn't faired much better. It was originally serialized in New Worlds in 1956, and made its paperback debut as half of an Ace Double the next year. It's been out of print for nearly 20 years (although I did see a self-published trade paperback edition pop up on Amazon last month, if you're in the market for this one).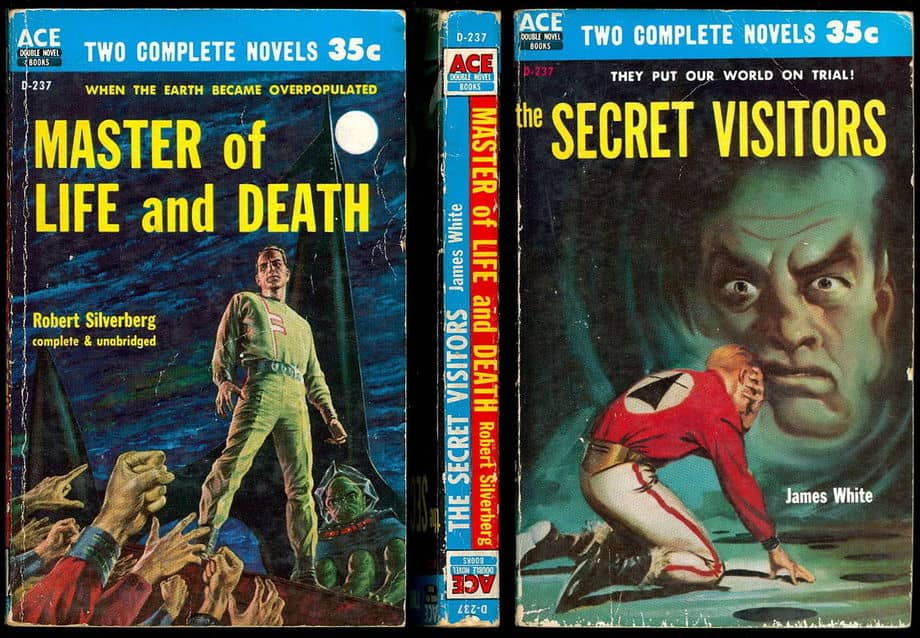 Ace Double D-237 (1957). Covers by Ed Emshwiller
Silverberg was one of the writers who introduced me to the genre, with his novel Collision Course; I've been a fan ever since.
I wasn't familiar with Conquerors from the Darkness however, until I came across a copy  of the 1986 Tor paperback edition in a small paperback collection I bought online last month. The cover of this one intrigued me in ways the others hadn't, and it's the perfect size (213 pages) for a quick weekend read.
1986 Tor edition. Cover by Tom Kidd
Our recent coverage of Robert Silverberg includes:
Oz Reviews The Book of Skulls by Robert Silverberg by Nick Ozment
First-Person Singularities by Robert Silverberg
Robert Silverberg's Tales of Majipoor
Tales From Super-Science Fiction, edited by Robert Silverberg
Birthday Reviews: Robert Silverberg's "When We Went to See the End of the World" by Steven Silver
No Slimy Monsters, No Princesses: The Bantam Spectra Omnibus Robert Silverberg
When Men Were Men and Aliens Were Green and Up to No Good: The Pulp Tales of Robert Silverberg
Sample the Finest Short Stories of a Science Fiction Great: The Best of Robert Silverberg: Stories of Six Decades
Worlds Imagined: 14 Short Science Fiction Novels, compiled by Robert Silverberg and Martin H. Greenberg
Great Short Novels of Science Fiction, edited by Robert Silverberg
Robert Silverberg on the First Year of Galaxy Science Fiction
Robert Silverberg on the Tragic Death of John Brunner
Robert Silverberg on Cannon Propulsion in Space
How Galaxy Magazine Saved Robert Silverberg from a Life of Smoking
Are the days of the full-time novelist numbered? by Robert Silverberg
Purists in the audience (you know who you are) may be interested in the original magazine edition of Conquerors from the Darkness, which is available online for about the cost of a new paperback.
Science Fiction Adventures, April 1957. Cover by Emsh.
Conquerors from the Darkness was published by Tor Books in July 1986. It is 213 pages, priced at $2.95. The cover is by Tom Kidd. It is still in print, in a modern trade paperback edition from ReAnimus Press.
See all our recent Vintage Treasures here.