New Treasures: Tales From Super-Science Fiction, edited by Robert Silverberg
New Treasures: Tales From Super-Science Fiction, edited by Robert Silverberg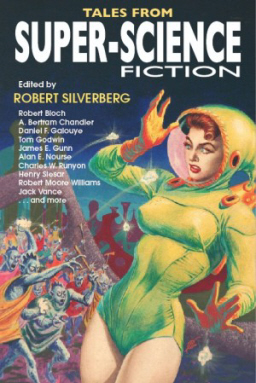 You really have to admire the team at Haffner Press. These guys must work night and day. Hot on the heels of their last release just two months ago — the gorgeous Kuttner collection Thunder in the Void — they've now published Tales From Super-Science Fiction, a thick anthology of fourteen stories from the legendary 50s SF magazine Super-Science Fiction. I'm not sure how they do it.
As usual the team at Haffner is firing on all cylinders, and both the marketing team and the production staff deserve kudos for a top-notch production. The Art Director and Book Designer have hit it out of the park, and —
What's that? There is no "team" at Haffner Press? It's just one guy, Stephen Haffner?
Ha. Like I'm going to believe that. Just take a look at their schedule of upcoming titles. There's nearly a dozen. Maybe Stephen is the front man, but nothing can convince me he doesn't have two dozen gnomes in a sweatshop in his basement. There's no other explanation.
However he does it, I hope he keeps it up. Tales From Super-Science Fiction contains fiction by A. Bertram Chandler, Robert Bloch, Jack Vance, Robert Moore Williams, Daniel L. Galouye, Alan E. Nourse, Tom Godwin, Robert Silverberg, and others. Here's the book description:
Super-Science Fiction was launched during the sf boom of the mid-1950s. Paying a princely rate of 2 cents a word the magazine attracted fiction by Isaac Asimov, Robert Bloch, Harlan Ellison. James Gunn, Jack Vance, and Donald Westlake, and featured cover art by Frank Kelly Freas and Ed Emshwiller. Running for 18 bi-monthly issues (Dec '55 to Oct '59), the magazine eventually devolved into a publication capitalizing on the then-current craze of "monster" stories. Editor Silverberg traces the genesis of Super-Science Fiction from its beginnings as an outlet for numerous colonization/expedition stories to its conclusion with such stories as "Creatures of the Green Slime," "Beasts of Nightmare Horror" and "Vampires from Outer Space."
Tales From Super-Science Fiction is 400 pages, with a cover price of $32. It is illustrated by Ed Emshwiller and Frank Kelly Freas, with cover art by Freas. You can find the complete Table of Contents at the Haffner website.
See the complete list of recent New Treasures here.