Robert Silverberg on Cannon Propulsion in Space
Robert Silverberg on Cannon Propulsion in Space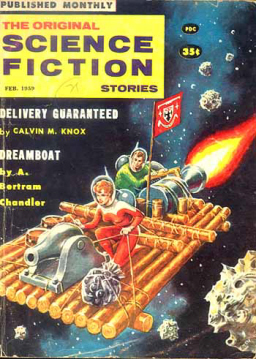 In my Sunday article on The Art of The Original Science Fiction Stories magazine, I called out the bizarrely goofy February 1959 cover (right), illustrating "Delivery Guaranteed" by Calvin M. Knox (Robert Silverberg). It's the kind of gonzo image that only could have fit on a 1950s science fiction digest; but I was dying to know if Bob's story actually had an intrepid couple piloting a cannon-powered wooden raft in space, and how the cover came about. Bob was gracious enough to answer; here's what he said:
I often worked with Ed Emsh to produce cover/cover story combos for [editor Robert] Lowndes. Ed would come into the office with an idea, I would wrap a plot around it, Ed would go home and paint a picture, and I would write the story. It was Ed who thought a cannon might be sufficiently Newtonian to provide reaction mass in space; I agreed in delight, and that was how "Delivery Guaranteed" happened. (Randall Garrett sometimes wrote cover stories too, and one time Ed turned in a painting showing the drive room of a spaceship, with his signature, EMSH, on the base of the biggest gizmo. Randy promptly dubbed the gizmo "the Remshaw Drive" and made it clear that the four visible letters were part of the manufacturer's label.)
I also asked about the cover of the November 1955 issue, illustrating Clifford D. Simak's "Full Cycle," which was re-used on the March 1959 issue of Double-Action Detective and Mystery Stories. (See the full article for details.)
In the case of the Simak/Silverberg story, Bob Lowndes was just being thrifty toward the end of the life of his magazine group, and recycled that Simak painting to use with my story in his crime mag a couple of years later.
Read the complete article here. And thanks to Robert Silverberg for being gracious enough to solve those mysteries for us!